Giuliani Deletes Tweet That Hutchinson Not There 'When I Asked for Pardon'
Rudy Giuliani has erased a tweet that attacked January 6 committee witness Cassidy Hutchinson but also hinted at self-incrimination by saying she wasn't present when he asked then-President Donald Trump for a pardon.
The former Trump advisor on Wednesday deleted the tweet a day after Hutchinson, a former White House aide, told the congressional investigation panel that Giuliani and others asked for pardons. Hutchinson's bombshell testimony has renewed scrutiny of the actions of Giuliani and other members of Trump's inner circle leading up to the January 6 siege on the U.S. Capitol.
Political commentator and attorney Ron Filipkowski tweeted a screenshot of Giuliani's now-deleted tweet:
"The January 6 Witch Hunt Cabal has now exceeded even its prior fraudulent," reads the tweet. "The last witness was a reckless liar. Contrary to her false testimony she was never present when I asked for a pardon."
Giuliani, in the tweet, also denied asking Trump for a pardon.
"Actually, I told the President I did not want or need one," Giuliani said.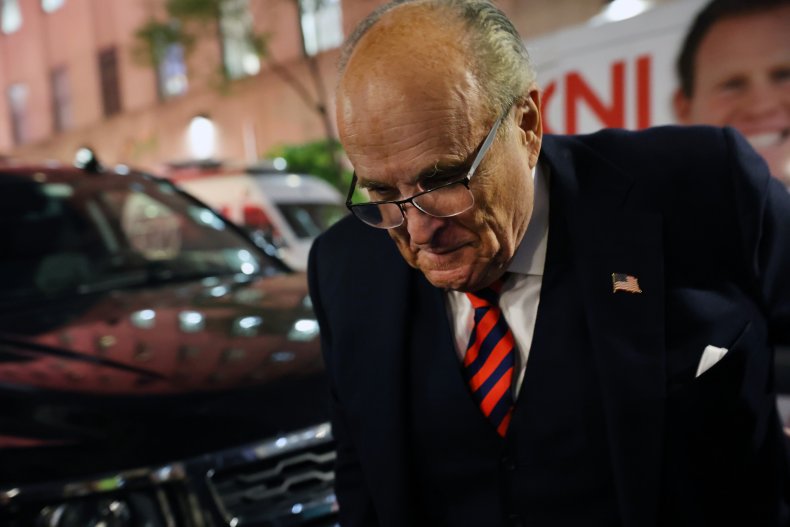 Giuliani, who served as Trump's personal attorney, has previously denied reports he asked Trump for a pardon during the waning days of his administration. In a statement sent to NBC News Tuesday by his attorney, Robert Costello, Giuliani again denied asking for a pardon.
The House January 6 committee in recent months has turned its investigation toward what connections Trump and members of his inner circle may have had to the mob that stormed the U.S. Capitol as Congress was certifying the 2020 presidential election. Earlier this month, the committee began a series of nationally broadcast hearings rolling out its key findings.
Hutchinson worked for Mark Meadows, Trump's chief of staff. Her striking testimony on Tuesday has been presented as a White House insider's account of the chaos that surrounded Trump and his top aides on January 6, 2021.
Hutchinson testified that she was told by Tony Ornato, the assistant director of the U.S. Secret Service Office of Training, that Trump angrily demanded to be taken to the Capitol on January 6 and got into a physical altercation in the president's limo. Trump has denied her account.
"Ms. Hutchinson stands by all of the testimony she provided yesterday, under oath, to the Select Committee to Investigate the January 6th Attack on the United States Capitol," her attorneys Jody Hunt and William Jordan told Newsweek in a statement Wednesday.
During the hearing Tuesday, Hutchinson was asked by Republican Representative Liz Cheney, the committee's vice-chair, if Giuliani had ever expressed interest in a presidential pardon related to January 6.
"He did," Hutchinson replied.
Hutchinson's testimony, released in court filings in April, stated that Giuliani was present at meetings with Republican lawmakers and other Trump allies who are suspected of being involved in a plot to prevent the certification of the 2020 presidential election for Democrat Joe Biden.
Newsweek has reached out to Costello for comment.
Update 6/29/22, 6:35 p.m. ET: This story has been updated with comment from Hutchinson's lawyers.