While hospitalized with COVID-19, on Tuesday, Rudy Giuliani, the personal lawyer of President Donald Trump, called into a radio program to criticize the widespread use of face masks and social distancing restrictions to prevent future coronavirus outbreaks. He also said that COVID-19 is "curable" even though it has killed over 285,000 Americans.
On Sunday, Giuliani was admitted to the Georgetown University Medical Center in Washington, D.C. after testing positive for COVID-19. Two days later, he called into his own daily radio program on WABC-AM in New York to provide an update of his medical care. The program's interviewer asked if contracting the virus had changed his view of its handling by political leaders.
"Things happen in life and you have to go with them," Giuliani said. "You can overreact to them. Otherwise, you let the fear of illness drive your entire life. So I've never overreacted to it.... I'd rather face risk than live in a basement all my life."
Giuliani then said that state shutdown measures mean to prevent COVID-19 outbreaks are "destroying American small business in five or six or seven major cities," adding, "I've been watching that on television. It's probably getting me angrier than anything else."
He then referenced Mac's Public House—a bar in Staten Island, New York City which re-opened in defiance of shutdown restrictions—and Sheila Kuehl, the Los Angeles County supervisor who was seen eating outdoors hours after voting to ban outdoor dining throughout the county.
"They enforce these mask rules," Giuliani said, "and the rules are so ridiculous they can't live by them."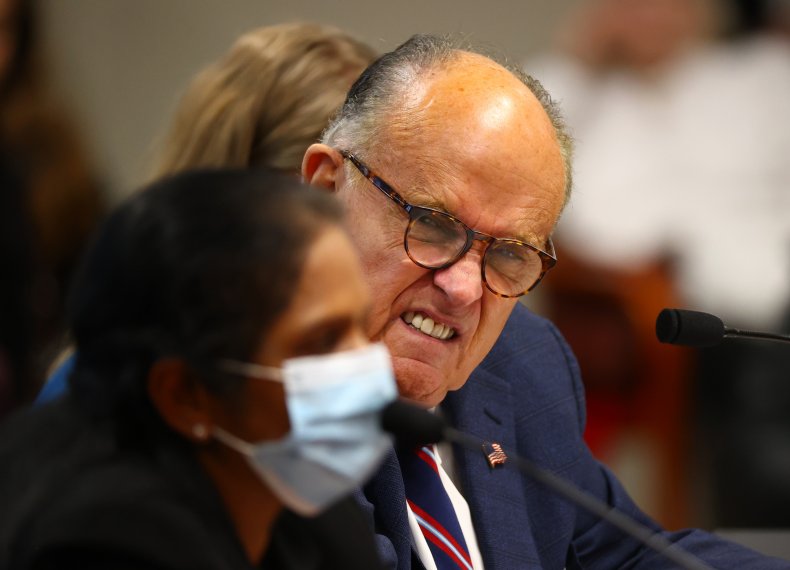 A WABC interviewer then asked Giuliani how he felt about President-elect Joe Biden's plea for Americans to wear masks for 100 days after his inauguration.
"I think you can overdo the masks," Giuliani said. "You can overdo almost anything. Everything done in moderation makes much more sense. And what we're doing to American business right now is disgraceful, and it's not based on science. This is a curable disease at this point... the mortality rates are nothing like they were five, six months ago."
While the national COVID-19 mortality rate has declined since the pandemic began, the total number of deaths is rising. The mortality rate's decline may have been caused by improved medical care or a decrease in the average age of people with COVID-19, Dr. Barry J. Make, a pulmonologist and critical care specialist at National Jewish Health told the website Healthline.
Giuliani is at least the 40th person in Trump's administration, campaign and family to become infected with COVID-19 in recent months. Despite appearing maskless at numerous public hearings seeking to overturn state election results in Trump's favor, Giuliani has sought to calm fears that he may have infected many others before testing positive himself.
The former New York mayor told the radio interviewers that he received a medical cocktail of remdesivir and dexamethasone as treatment and has been feeling "100 percent better" since. When one interviewer pointed out that not every hospital can provide similar medications to other people with COVID-19, Giuliani remarked that he didn't know that.
Newsweek contacted Giuliani for comment.