Glenn Youngkin Won't Say Whether He Would Back Full Abortion Ban
Virginia Governor Glenn Youngkin declined to say whether or not he would ever support a full ban on abortion in his state on Sunday, as lawmakers restrict abortion rights for millions of women across the country.
The Supreme Court last month overturned Roe v. Wade, the 1973 landmark decision that federally guaranteed abortion rights, prompting Republican governors to move to ban abortion, with some conservative states pursuing a total ban on it. Youngkin, a Republican, proposed a 15-week ban on the procedure in Virginia, which is considered a more moderate state.
During an appearance on CBS News' Face the Nation, Youngkin was pressed on whether or not he would back a full ban on abortion in his state.
The governor said that while he believes life begins at conception, he is focusing on a way to "get something done," opting for the 15-week ban that would more likely pass in Virginia—while not giving an answer about whether he would support banning abortion in Virginia from conception.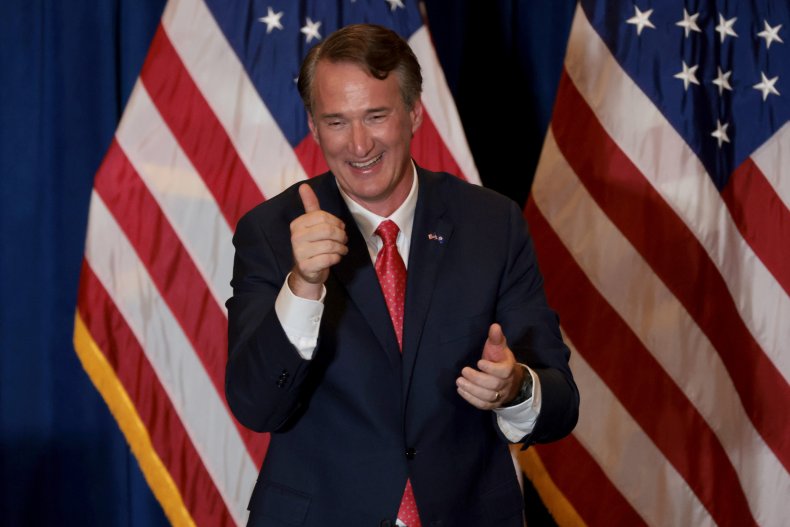 "The reality is that as a pro-life governor in a state like Virginia, where I have a Senate that's controlled by Democrats and a House that's controlled by Republicans, we have to find a way to get things done," he said, adding that he supports exemptions for rape, incest, and for when the life of the mother is in danger.
Any abortion ban would likely face several hurdles in Virginia, however. As Youngkin pointed out, Democrats hold a majority in the state Senate and would be unlikely to pass such a bill.
A total ban on abortion would also be unpopular among Virginia voters, according to polling. A Roanoke College poll released in June, before the court overturned Roe, found that 35 percent of Virginians believed abortion should be legal under any circumstances, and that 53 percent believed it should be legal under some circumstances.
Only 11 percent of Virginians believe abortion should be completely illegal, according to the poll.
When reached by Newsweek for further comment, a Youngkin spokesperson referred to his remarks on Face the Nation.
Virginia state Senate President Pro Tempore L. Louise Lucas hit back at Youngkin on Twitter on Sunday, writing: "I love watching @GovernorVA go on national TV and talk about what he *can't do* because of our Democratic State Senate. Cry harder baby!"
Youngkin delivered the GOP a surprise win in the gubernatorial race last November, when he eked out a victory in the state, which trended Democratic during the Trump era, and was won by President Joe Biden by about 10 percentage points.
His victory quickly launched him to national prominence, and his remarks on Sunday come only a day after he delivered a speech at the Nebraska GOP convention, sparking speculation that he may be considering a 2024 presidential run due to the state's proximity to Iowa, where the first presidential primary contest is set to take place.
Updated 07/10/2022 3:08 p.m. ET: This story was updated with response from Governor Youngkin's office.