'Glory to God': Rep. Lauren Boebert Celebrates Overturning of Roe v. Wade
One prominent Republican took to social media to express her joy after the U.S. Supreme Court issued its ruling Friday in a case that overturned the landmark Roe v. Wade decision.
On Friday morning, Colorado Representative Lauren Boebert posted on Twitter, giving thanks for the decision handed out by the highest court in the land.
"LIFE WINS! Glory to God," she wrote.
The Supreme Court, by a 6-3 margin in the Dobbs v. Jack Women's Health Organization case, overturned the 1973 landmark decision that legalized the medical procedure across the country.
Boebert, a freshman lawmaker, has been vocal in her opposition to the controversial procedure. In the past, Boebert has labeled some of her colleagues on the other side of the aisle as "baby-killing advocates."
She has also said that those who claim "abortion is good for women" are lying, going on to call it "fake news."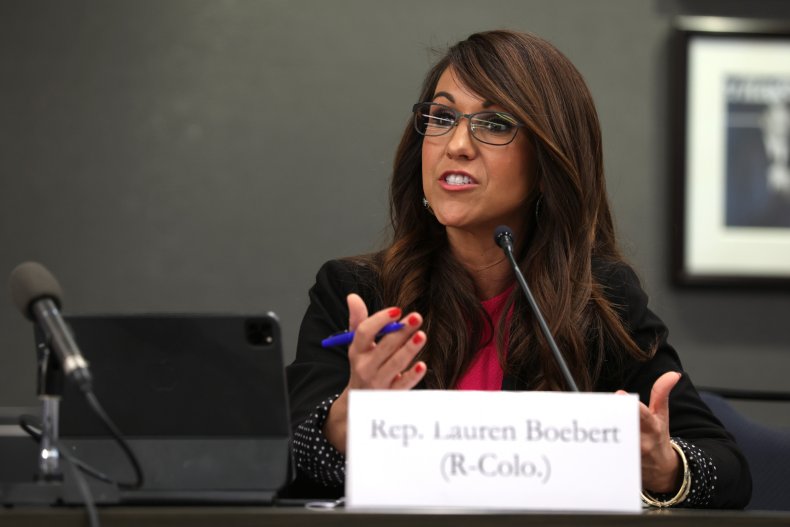 Late last year, while speaking on the floor of the House on a plan by Democrats to codify Roe v. Wade into law, Boebert said that women who become pregnant due to rape do not need abortions.
Instead, she said, they need to be armed.
"They need love. They need support. They need safety and healing. They needed a Glock-19 when it happened," she said.
"It's time we start addressing killing the raper [rapist], rather than the baby."
Boebert was not the only conservative to share her happiness following Friday's Supreme Court ruling.
House Minority Leader Kevin McCarthy on Twitter called the ruling from the court "historic."
"Every unborn child is precious, extraordinary, and worthy of protection. I applaud this historic ruling, which will save countless innocent lives. The Court is right to return the power to protect the unborn to the people's elected representatives in Congress and the states," he wrote.
Georgia Republican Representative Marjorie Taylor Greene in a video posted on her Twitter page called the ruling "awesome." She went on to say that she "can't believe they just did it" and said the ruling is "amazing."
Texas Republican Senator Ted Cruz posted on social media that Friday's ruling from the court will "save the lives of millions of innocent babies."
"The Supreme Court's decision in the Dobbs case, reversing Roe v. Wade, is nothing short of a massive victory for life, and it will save the lives of millions of innocent babies," he wrote.
On Thursday, Boebert displayed her enthusiasm on social media after another ruling from the court striking down a gun law in New York.
"SCOTUS just struck down New York's unconstitutional gun law! Glory!," she posted on Twitter.
Newsweek reached out to Boebert's office for comment.
Update 6/24/22, 12:59 p.m. ET: This story was updated with additional information.