The premise of the 10-episode Netflix series GLOW —a 1980s comedy set behind the scenes of a women's professional wrestling show that blends fake grappling and farcical sketches—sounds absurd, but it is based on an actual TV show that aired for four seasons, beginning in 1986.
The highly camp Gorgeous Ladies of Wrestling featured caricature competitors with names like Princess Darkness, Matilda the Hun and Mount Fiji, a lei-wearing island girl. The show's creators, David McLane and Matt Cimber, chose the 12 competitors, most of them aspiring models and "actresses," for attributes other than their wrestling ability. The coach on the series would train them hard for six weeks and organize them into teams, like the Bad Girls and the Good Girls, run by Jackie Stallone, Sylvester's mother and owner of the women-only Los Angeles gym Barbarella's. Who could resist such a premise?
GLOW's creators, Liz Flahive and Carly Mensch (producers of Nurse Jackie ), and executive producer Jenji Kohan (creator of Orange Is the New Black ) certainly couldn't. And neither could the game Alison Brie ( Community , Mad Men ), who tops a cast of mostly unknowns.
Flahive and Mensch stumbled on the idea when they watched a 2014 documentary, The Story of the Gorgeous Ladies of Wrestling, about the original series. "That kind of put our brains on fire and then we went back and watched old clips on YouTube," says Flahive. It didn't take much effort to convince Kohan to come on board—"I think we sent her a one-sentence email, 'Do you want to work on a show about women's wrestling?' and she replied with just, 'Yes,'" Mensch recalls—and the show was snapped up by Netflix, home to OITNB , in May 2016.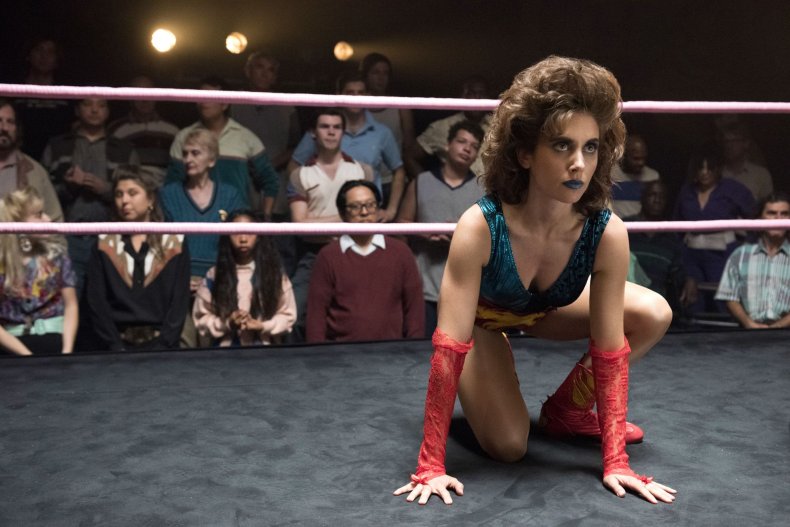 The showrunners had one key requirement for their wrestling comedy—their cast of actors, like their real-life counterparts, needed to learn to wrestle. "We wanted no stunt doubles," says Mensch. "We were pretty adamant about building a season shape that would allow us to use the real women as they were actually trying to wrestle. Every move you see was done by our women."
Like her character, out-of-work but highly ambitious actress Ruth, Brie had zero wrestling experience and spent four weeks before the shoot began training under Chavo Guerrero Jr.—whose uncle Mando Guerrero was the trainer on the original Gorgeous Ladies of Wrestling . "That was one of the things that excited me—getting to do something so physical and scary," says Brie. "Similar to Ruth, I wanted to show the world I'm capable of more than people think."
"I'm great at getting body-slammed," says Brie, who somehow makes glitter eye shadow, big hair and neon spandex alluring. "There were a lot of Epsom salt baths" to soothe aches and pains, adds the actress, who didn't suffer any serious injuries, except perhaps an olfactory assault. "You're doing such intense moves and getting the wind knocked out of you, and there were some moments where different girls, myself included, would accidentally pass gas. An audible fart would slip, and we'd all just lose our minds laughing."
Brie says that, stepping into the ring herself, she has learned to admire the athletic abilities of professional wrestlers such as the musclebound stars of WWE, who are often ridiculed for taking part in scripted and choreographed matches. "There's nothing fake about landing on your back on a wrestling mat in the ring," she says. "Whatever people think about wrestling, these guys are top-tier athletes and performers. I have a deep love and respect for it now."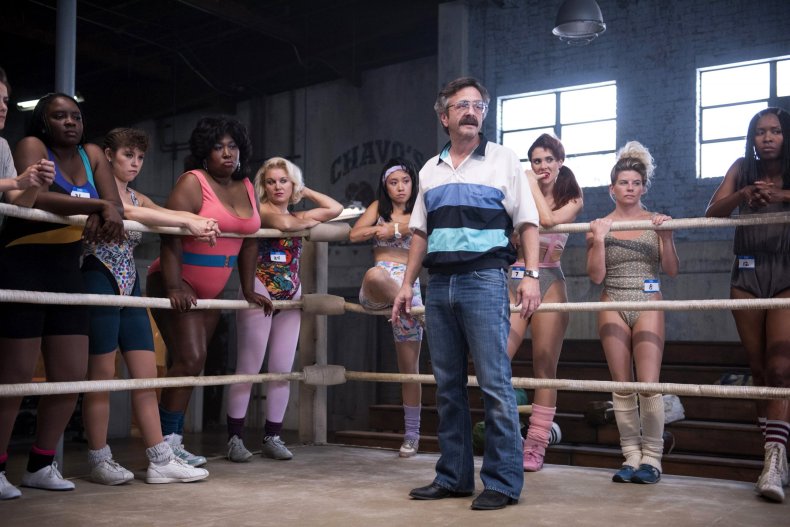 Watching her onscreen, Brie carries herself with all the sheen of a box office movie star, but Flahive and Mensch admit they feared she was almost too perfect for Ruth. "She landed us. We weren't sure she was completely right...she's so gorgeous and talented. Our first idea of Ruth was somebody who was a less shiny [star] but outwardly capable," says Flahive. The actor won them over by showing the same tenacity as go-getter Ruth. "There was something about how she pursued the role; it was like how Ruth would pursue a role— so balls out—and she fought for it. It was a real discovery for us, too. She's spectacular."
Related: Inside Netflix's 'The Keepers,' the Story of a Murdered Nun and Catholic Church Child Abuse
Brie is joined in GLOW by Betty Gilpin as Ruth's friend-turned-wrestling rival, Debbie; Marc Maron as the director of the wrestling show-within-a-show, Sam Sylvia; and British singer Kate Nash as fellow wrestler, Rhonda.
But one of the GLOW wrestlers, viewers might be surprised to learn, is already a pro. Kia Stevens, 39, is better known by her ring name Awesome Kong, a towering beast who can ragdoll her opponents halfway across the ring. Stevens, who also briefly competed in WWE as Kharma, makes her acting debut as Tamee, one of the potential stars of Sylvia's kitsch wrestling show.
Stevens may be GLOW's greatest talent discovery, Mensch says. "We don't have an encyclopedic knowledge of wrestlers. We had a writer who said, 'She's incredible. Have you seen her?' and we were like, 'Of course we haven't seen her, we have no idea who Kia Stevens is.'"
GLOW's creators first saw the wrestler-turned-actor in footage of a match from Tokyo, where wrestling is taken much more seriously.
"She's not a classically trained actor, but she has the wonderful instincts of an actor. And you get her in the ring, she's such a powerhouse. It's unbelievable," Mensch adds.
The wrestling in GLOW may not be great, but it's not supposed to be—at least not yet. "I'm revved up," says Brie. "I'm like, 'What if we go to secret wrestling camp and learn some crazy moves and bring them back for season two?'"
GLOW streams on Netflix from June 23