Inside the 'Orange is the New Black' Season 5 Riot: Taystee is Ready to Die, Says Danielle Brooks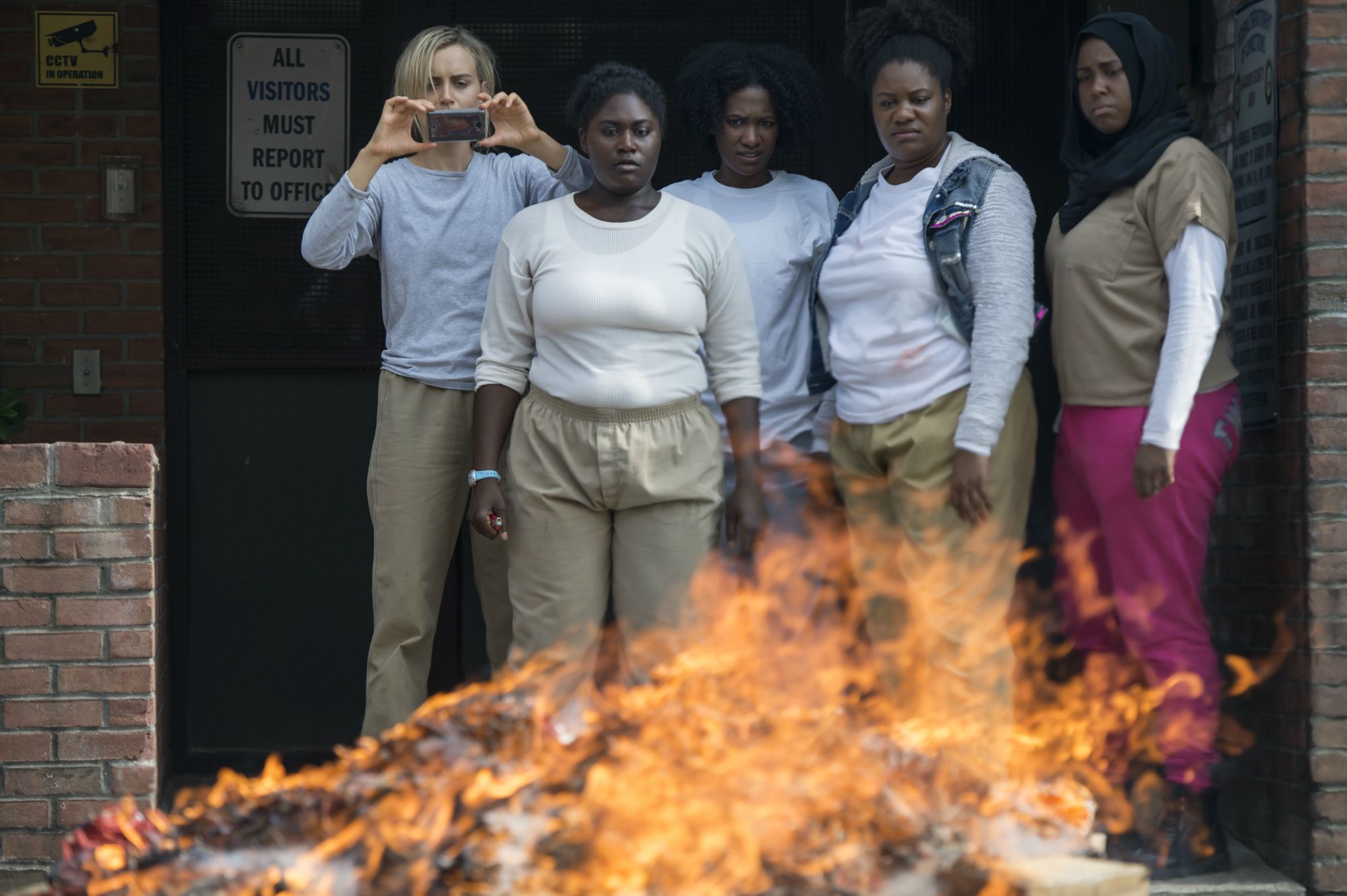 When Orange is the New Black returns for its fifth season Friday, expect the hit Netflix dramedy to feel more claustrophobic and way more intense. That's because Season 5 will chart the events of just 72 hours inside Litchfield penitentiary as a prison-wide riot breaks out in the wake of fan favorite Poussey's death.
The last season of OITNB ended with revolt inside Litchfield, started by Poussey's best friend Taystee (played by Danielle Brooks) who was angered by the lack of justice after Poussey died at the hands of one of the prison's correctional officers, Baxter Bayley, who accidentally suffocated her. The scene resonated so much thanks to its echoes with the real-life deaths of African-Americans in police-related incidents.
Season 5 picks up immediately where the last season ended, with Dayanara Diaz (Dascha Polanco), holding another of the guards, Thomas Humphrey, at gunpoint, while her fellow inmates spur her on to shoot.
OITNB has tackled issues of mental health, transgender rights, police brutality and race with great dignity over the last four years. But this season's theme of uprisal against injustice is particularly pertinent. The injustice in show creator Jenji Kohan's fictional prison is a microcosm of the U.S., where Donald Trump's administration has been criticized for jeopardizing the rights of immigrants, women and transgender students. "It feels like we're living in a time when there's no way around addressing these issues head-on, especially in this show," actor Natasha Lyonne tells me.
I meet Lyonne, who plays OITNB's acerbic recovering addict Nicky, and Brooks during a temporary release from Litchfield in May. They have upgraded from their usual quarters—grey four-by-four cubicles—to individual private suites in a luxury London hotel. There, I find them both, albeit in separate interviews, sprawled out on plush sofas. Lyonne is slumped against the back of hers, feet resting on a nearby armchair; Brooks is lying down on her side, one hand propping up her head, like she might at any time utter: "Draw me like one of your French girls." Is it the emotional toll of Season 5 that has them so exhausted? Unfortunately, they can't give away any major Poussey-sized spoilers—but there is still plenty they can divulge.
Read on for news on Season 5, how Poussey's death impacted the cast and how the women of Litchfield would have reacted to President Trump.
The cast really miss Samira Wiley
Not only did viewers lose a character they loved in Poussey, but OITNB's tightknit cast and crew said goodbye to a member of their family last season. "I make no secret, Samira Wiley has been one of my favorites out of the bunch of us from day one," says Lyonne.
"She's very beloved. When she told me about [Poussey's death], we were both crying. That night, shooting, we were drinking in every last moment of it and not wanting it to end. We were weeping, eating bad Chinese food, making jokes."
Poussey may be gone, but Wiley has moved onto an equally brilliant show: Hulu's The Handmaid's Tale, which also deals with the subjugation of women in a thought provoking way. She also wed one of the show's writers, Lauren Morelli, in March.
Taystee has crossed the point of no return
One of the show's most lovable characters, Taystee, is not going to be as jovial this season. "She is down to fight," says Brooks, adding that "she has nothing to lose" after the death of her best friend.
Brooks teases that Taystee, the culprit behind the riot, may not make it out of Season 5 alive because of her decision. "It's one thing to think of a riot, but if you really think of it, whoever started that has to be willing to die," she says. "You started a riot! In a prison! She wants to get justice for her girl and she will do anything to do that."
Nicky's homecoming
Nicky's battle with drug addiction led to her being ostracized from her prison family, led by Red (Kate Mulgrew), but the mother figure broke down in tears at the end of Season 4 when she saw just how far Nicky had fallen.
Season 5 will see "an interesting shift in their dynamic that we've never really explored before," said Lyonne. But it looks like all is finally well between Red and Nicky. "They are surely family and it's for life."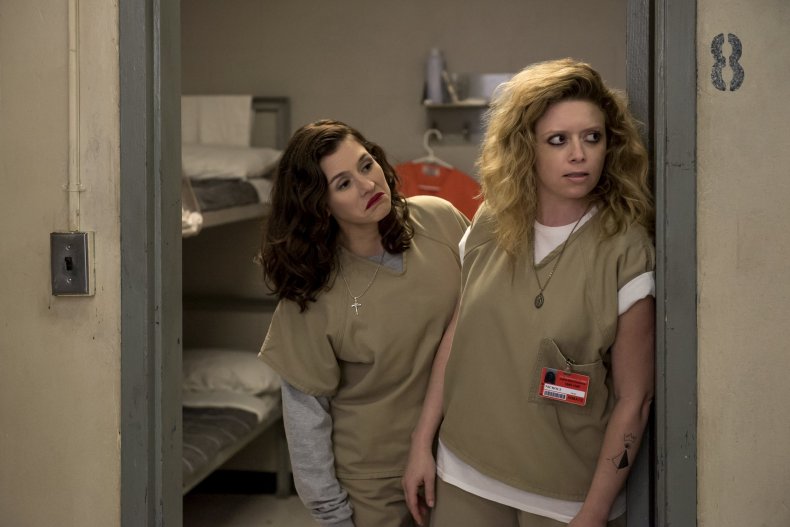 How OITNB is starting necessary conversations
Poussey's death in Season 4 mirrored the deaths of young African-American people such as Trayvon Martin and Michael Brown. Season 5 reflects the riots, such as in Ferguson, that broke out in response to their deaths. OITNB and Netflix's Dear White People, which featured a police brutality storyline, as well as the hit movie Get Out, have given some fictional representation to the Black Lives Matter movement. But can they make a difference? Brooks says yes, they can.
"Art has the power [to effect change]. I'd rather us be talking about it than stuff that doesn't matter," says Brooks.
"What I appreciate about our show...it takes people who are locked up, for God's sakes, finding a way to fight for justice—to say, We don't deserve to lose our lives. Because we're doing that I hope that somebody will look at these characters and say: If Taystee can do this, I know I can."
The Trump factor
The fight against injustice in OITNB in Season 5 feels like a wider comment on the injustices in Donald Trump's America. "It's a devastating dead-ringer parallel," says Lyonne. "I wish this was fiction using current events as a jumping-off point. But no amount of crippling fictional horror that Jenji [Leslie Kohan, the show's writer and producer] could construct could be as terrifying as current events."
So, how would the Litchfield inmates react if they saw Trump's presidency play out on the news in the rec room? "With this particular headcase we've got in office, they'd be screaming at the screen repeatedly," says Lyonne.
Brooks adds: "If some of them saw what's going on in the world now, I think they'd say, Shit, I feel safer in here than I do out there."
Orange is the New Black Season 5 streams globally on Netflix from June 9