Uzo Aduba on 'Orange is the New Black' Season 4 and Show's Shelf Life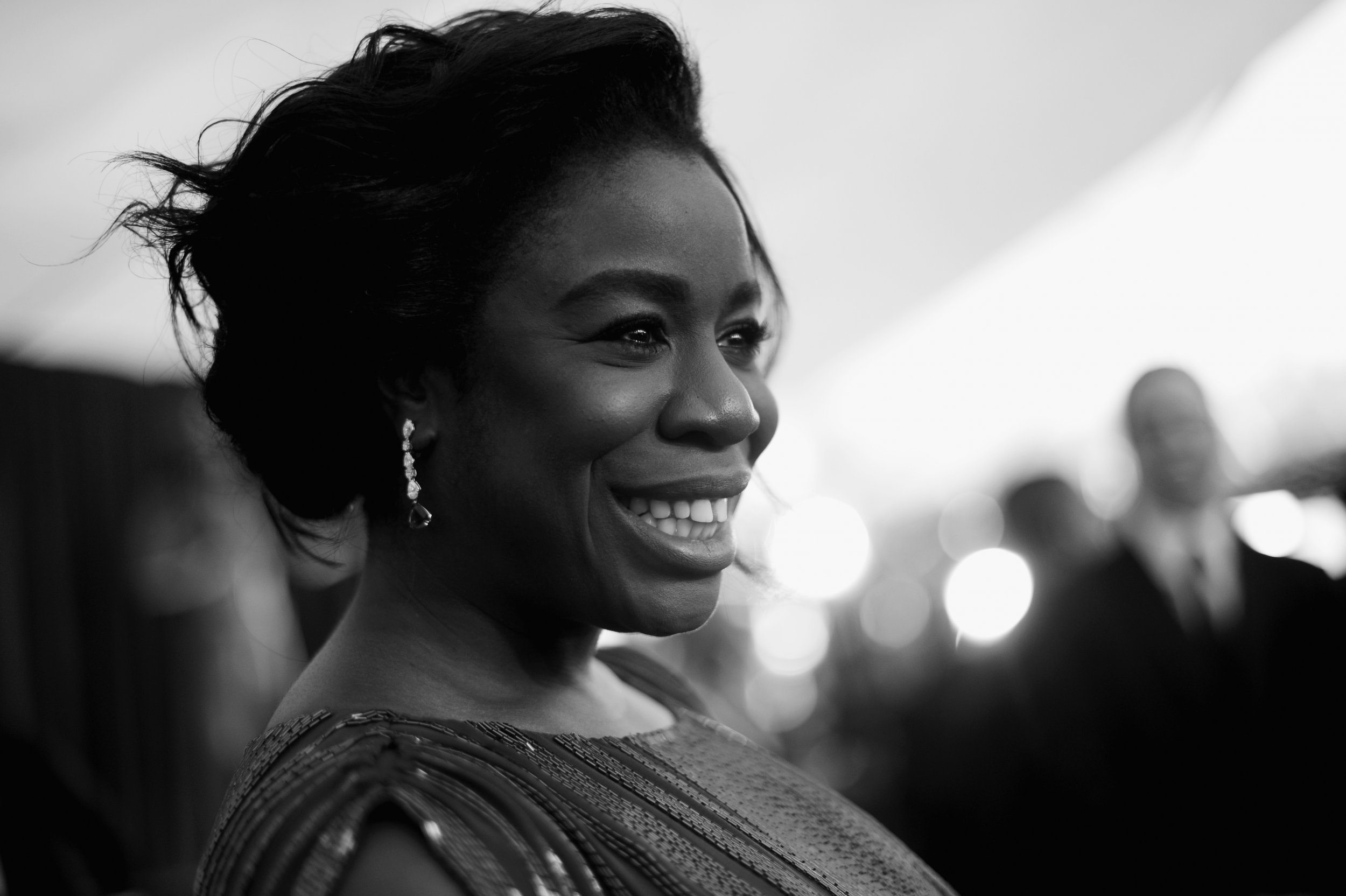 As Uzo Aduba is ushered into a cosy green room in the dark reaches of a London theater, she breaks into a smile, her eyes exuding warmth. "Crazy Eyes" is not, in fact, crazy. There are no orange jumpsuits today; instead Aduba dresses down, in a comfortable striped white T-shirt, her natural cornrowed hair covered by a short, black wig. The 35-year-old actor may appear boisterous, untameable even, in her role as Suzanne "Crazy Eyes" Warren in Netflix's Orange is the New Black but Aduba is the opposite: poised, refined, elegant. Her voice is soothing—what, one might imagine, the best of psychotherapists spend years training to achieve—and each thought she shares, one might intimate through the careful pauses as she speaks, is delivered with meaning. Perhaps it's this center of gravity with which she carries herself that makes it so joyous, for her and viewers, to see her thrust into her signature role with such abandonment.
Aduba has been living in the British capital, where she is starring in Jean Genet's seminal play The Maids, for three months when she meets Newsweek. She is excited to enjoy her first experience of that quintessential British meal, fish and chips, with her visiting mother. "Your chips are fantastic—chips and crisps, the English have that down. Nobody should rival you," she says.
By now, Aduba will undoubtedly be plane-hopping and swapping hotel for hotel as part of Netflix's annual pilgrimage around the globe to promote the fourth season of Orange . It's the women's prison dramedy created by Jenji Kohan—the woman behind Emmy-winning comedy Weeds—for which she can thank her recent excursion to London. Aduba's success on the series has afforded her diverse opportunities including The Maids in London's West End and a starring role in a risky live television production of musical The Wiz . "I don't think of myself so much as an actor. I just like to make things," she says of her wide-ranging choice of roles.
The fourth season of Orange, Netflix's most-watched original series, is streaming now, but such is the fan goodwill for the inmates of Litchfield Penitentiary, the fictional prison the show is set in, that buzz began almost immediately after the third season premiered in June 2015. The series launched to widespread acclaim in 2013: It was praised for humanizing female prisoners through thoughtful, multifaceted characters, and didn't shy from embracing sexually charged lesbian relationships. LGBT+ audiences flocked to the romance between Piper Chapman (Taylor Schilling)—based on Piper Kerman, whose life and book the series takes as inspiration—and Alex Vause (Laura Prepon). The series effected change off-screen too: Laverne Cox became the first openly transgender actor to earn an Emmy nomination for her role as Sophia Burset.
Orange 's appeal can be surmised from its unvarnished portrayal of real women of all different shapes, sizes, colors and creeds, challenging the traditional leading lady stereotype of women being unattainably beautiful, smart and funny all in one package. Kohan has also earned plaudits for using Orange as a vehicle for social commentary; the show has previously tackled corruption in the penal system, racial tension, LGBT rights, and, in Aduba's character, "Crazy Eyes," mental health.
The latter is a subject that has in the past been minimized and used as a peripheral device plot on television—seen as something that can be developed and "cured" over the course of a story arc, as if recovering from the common cold. But that is changing—and Orange has been one of the programs leading the change. In 2015, as Vulture noted, there were more depictions of mental health than ever before. As well as "Crazy Eyes," there's Claire Danes' bipolar CIA agent Carrie Mathison in Homeland, Netflix animation BoJack Horseman, about an anthropomorphic horse tackling depression, and even a musical-comedy, Crazy Ex-Girlfriend, in which the lead deals with anxiety and depression.
Aduba says: "I personally believe the honest conversation with mental health is just now being given the platform to be heard, discussed and debated, and challenged."
Mental health issues, according to U.K. charity MIND, affect one in four people every year. In the U.S., that number is one in five, according to the governmental agency Substance Abuse and Mental Health Services Administration (SAMHSA). With Orange's expansive global viewership, the responsibility that it bears isn't lost on Aduba. "I have had my own encounters with the mentally ill…and I never want anyone to feel like they have been misrepresented, or in any way shortchanged," she says. "I know what it feels like to be shortchanged, or feel like I'm not seeing myself in its fullness reflected back. I would never want to do that. As fun as our show is, and as fun as Suzanne can be, I take her feelings seriously. I feel very protective of her."
Through "Crazy Eyes," in three seasons viewers have seen portrayals of how the mentally ill can be marginalized within society: we've seen her mocked by her inmates and given her cruel nickname, we've seen her misconstrue gestures as simple as a hug and subsequently beat herself up—sometimes literally—upon realizing her misunderstanding, and we've also seen her innocent disposition preyed upon by those with darker intentions than her own. Aduba's depiction of the character could easily be a caricature of mental illness, but the actor's delicate balance of drama, humor and quiet heartbreak has seen viewers take "Crazy Eyes" to their hearts—and Emmy voters, too. (The actor has won two best actress prizes for the part.)
Says Aduba, "I think she's become very real to people; she's very real to me…I have developed an affection for the nickname 'Crazy Eyes.' There have been moments I've thought she might be like, 'Yeah, I know you call me that, and guess what? Today that girl is showing up. How about that?' She knows when someone is laughing with her and at her. So I've been able to take on affectionately those times when people are with her saying 'Crazy Eyes,' versus at her."
In the upcoming season, it appears Kohan will explore how mental health can affect that most universal of feelings: love. Where Crazy Eyes' unrequited infatuation with Piper in the show's first season was fleeting and, at times, played for laughs, the third season in 2015 concluded with Suzanne getting close to fellow inmate Maureen Kukudio (Emily Althaus). "I always pray for Suzanne to find the love of her life, and to find love with someone that's deserving of the love that she's prepared to give," says Aduba, teasing a possible romance in the fourth season.
She feels Kohan and the show's writers would accurately, and sensitively, portray what it might be like for her character to be in a relationship where one or both partners has mental health issues. "I know their top priority is to handle things respectfully, honestly and responsibly. They wouldn't write something insincere," Aduba says. "They all care. Jenji is leading the charge. If she's going to enter that realm I know she's going to enter it with the respect it deserves—if we're talking about issues of mental health, with the respect it hasn't been given. I think she would give it the respect it hasn't been given."
Aduba continues: "There is a lack of care and respect being paid to the mentally ill. It has been stigmatized: people battling mental illness have been marginalized in society, [told] they're not really full-rounded people, so it's OK to mock them; we've seen that throughout our history from racial groups, to sexual orientation groups, that it's OK to mock someone that we don't consider to be a whole human being when the truth is, that is a moving, thinking, alive person who actually does feel those wounds."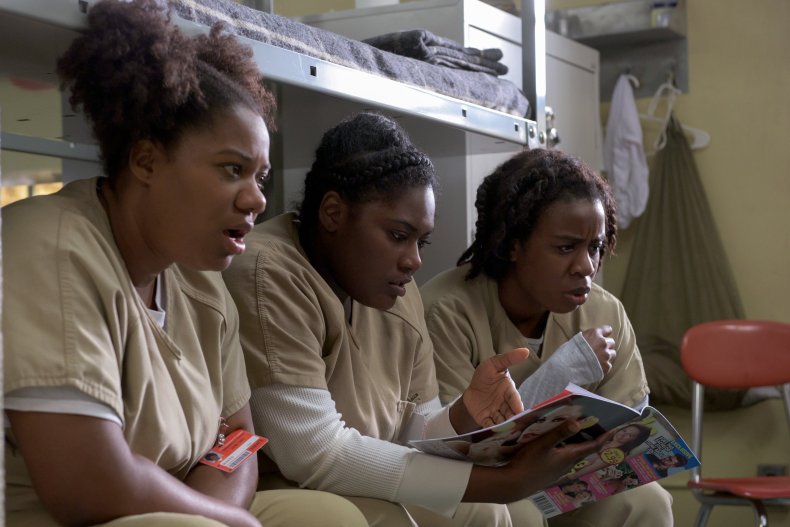 The actor's faith in the show's executive producer also extends to possibly acting in lesbian sex scenes—something the show has got a lot of media attention for. Co-stars Schilling, Laura Prepon and Natasha Lyonne are just some of the actors whose characters have had sex everywhere from Litchfield's laundry room to the prison bunks and, yes, even the chapel. Would she be prepared to do the same? "I don't know," Aduba admits. "That's a conversation to have with Jenji to discuss the intention. I can't go on enough about how much I love Jenji—she will get on the phone, sit down with you at lunch to talk through any concerns."
Orange 's fourth season was preceded by the news in February that Netflix has renewed it for three more seasons. There has been some speculation that this might be a sign Kohan is planning its endpoint. If Aduba is aware of Kohan's game plan, she isn't sharing. "What I do know is that Jenji knows the story she is telling," she says teasingly. "I learned back in season two there's a greater story she is telling and in season one she was setting that up. If you watch it closely, you start to realize: 'Oh, this woman has a long objective for this show.'" An example, Aduba says, is the fleeting introduction of Miss Rosa (Barbara Rosenblat), the cancer-stricken bank robber introduced in season one, who ultimately played an integral role in the downfall of villain Vee (Lorraine Toussaint) in season two. "You start to realize Jenji has a long game for all of these people. She's threading a needle very clearly."
She adds with a laugh: "Seven years is a long time, but anything can happen in the Litch."
For as long as the show airs, Aduba, "Crazy Eyes" and Kohan will hopefully continue to champion the oft-maligned mentally ill community. "I've had so many people reach out, be them people suffering from mental illness, parents with children with mental illness, teachers whose students are mentally ill, nurses, doctors…to say how they've been so happy with the way that the show has dealt with this subject. I take that very seriously."
No, Uzo Aduba is not "Crazy Eyes" in real life—but would it be so insulting if she was?
Orange is the New Black season four is streaming now on Netflix.