GM Hits Reset Button With the Chevrolet Bolt Aiming to Regain Trust
General Motors is set to launch a new ad campaign to regain customers' trust in the Chevrolet Bolt EV and EUV, which were plagued with an expensive battery recall and production halts for more than a year.
In 2021, multiple reports of battery fires led GM to issue a massive recall for any Bolt EV made since the start of production in 2017. The cost of replacing the batteries made by its partner LG Energy Solution was estimated to cost $2 billion.
Federal regulators were aware of 24 incidents, and GM said that it was aware of 19 related vehicle problems.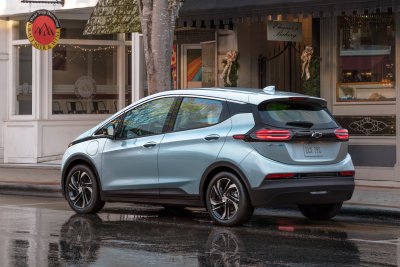 Starting today, Americans can expect to see the new ads rollout in a national television campaign that doesn't mention the recall.
When reached for comment, Shad Balch, director of Chevrolet communications, told Newsweek that the campaign is meant to convey the ease and convenience of living with an electric vehicle.
In one spot, the Bolt's range is played up by showing a driver listening to his talkative mother during a long drive. Another, called "Life Changes," features an expectant mother learning about the charging process.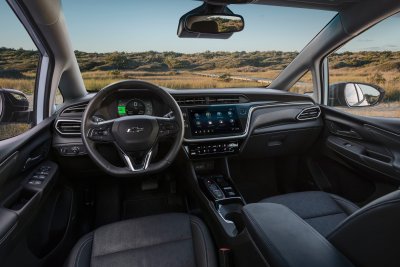 When asked what consumers should consider when thinking about purchasing a Bolt and its past battery issues, Balch said that the Bolt represents a focus on gaining consumer trust and a good entry point for drivers thinking about switching to an all-electric experience.
"We have kept our customers first in every step of this process and will continue to reaffirm that commitment," he said. "For consumers we will focus on the attributes that make Bolt EV/EUV the perfect choice to switch from gas to electric: long-range EV loaded with technology at an affordable price."
He added that the company is confident that it will set a sales record for the Bolt and improve on that projected record in 2023.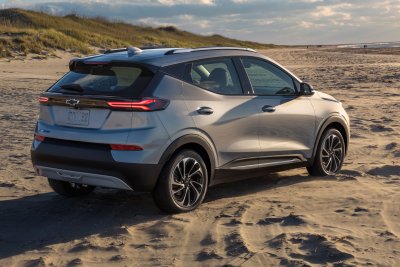 In 2021, the company sold 24,828 Bolt EVs and EUVs.
The initial recall notice went out in November 2020, when GM said that 50,932 vehicles that were produced from 2017 to 2019 were a fire risk, telling customers to avoid charging the high-voltage lithium-ion batteries to full capacity.
After a string of fires were reported involving the battery, the company expanded that recall in August 2021 to include every Bolt produced since 2017.
While customers waited for the faulty batteries to be replaced, GM told drivers to limit their battery capacity to 90 percent, keep the battery charged to a minimum of 70 miles or range, park their vehicles outside and to not leave them charging overnight.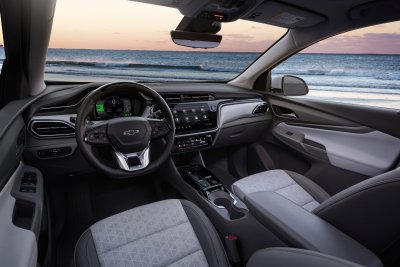 In December, GM released a software update that automatically set the vehicle's top charge limit to 80 percent, which allowed drivers to leave the car charging overnight and to park indoors.
Production was also halted throughout this process due to supply chain issues interfering with the manufacturing of replacement batteries. GM issued production halts for the Bolt line that was prolonged until production restarted this month.
The 2022 Chevrolet Bolt EV starts at $31,500 and has an EPA-estimated range of 259 miles. Its bigger EUV counterpart starts at $33,500 and is equipped with 247 miles of EPA-estimated range.