GM and Pilot Are Adding 2,000 New Electric Vehicle Chargers at Gas Stations
General Motor is putting its money where its electric vehicles are. The auto industry giant is partnering with the Pilot Company (of Pilot and Flying J gas stations) to put EVgo chargers at hundreds of locations across the United States. It won't just be for Ultium-powertrain vehicles, but those will get preferential treatment.
GM says the project demonstrates how public and private businesses can come together to build out the country's EV infrastructure.
The program will install 2,000 charging stations, which will be cobranded Pilot Flying J and Ultium Charge 360, at up to 500 Pilot and Flying J travel centers. Those GM customers will get reservations, discounts on charging and a more streamlined charging process through Plug and Charge. The stations will be integrated into GM's apps providing charger availability and route planning.
"We are committed to an all-electric, zero-emissions future, and ensuring that the right charging infrastructure is in place is a key piece of the puzzle," said Mary Barra, GM Chair and Chief Executive Officer in a press release. "With travel centers across North America, Pilot Company is an ideal collaborator to reach a broad audience of EV drivers."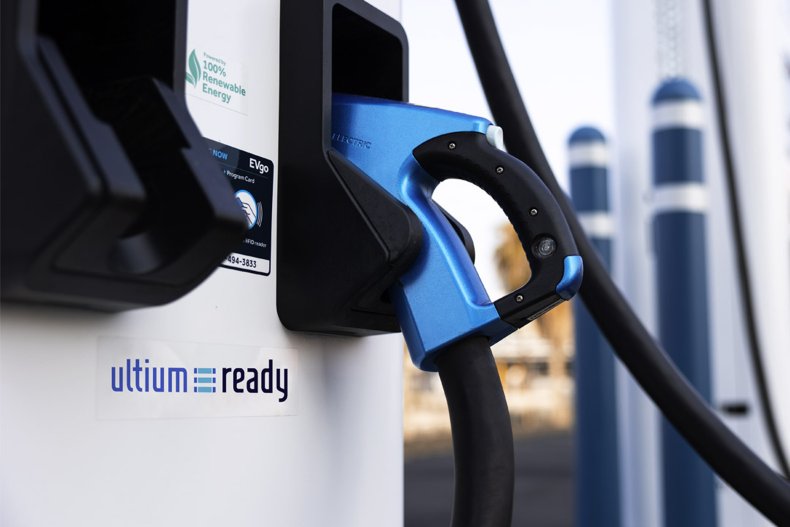 The EVgo stalls are capable of fast charging at up to 350 kW, good for a quick recharge on anything but the Hummer EV Edition 1, which regains about 100 miles in 10 minutes with that wattage. The new Hyundai Ioniq 5 can go from 10 to 80 percent in just 18 minutes with the same power.
GM chose EVgo because of its previous expertise in operating these fast chargers. The charging company is already working with the automaker to add more than 3,250 fast chargers in cities and suburbs. GM says the new stalls will feature canopies to protect customers from the elements. It will also feature pull through chargers for bigger vehicles and ones with trailers.
"GM and Pilot Company designed this program to combine private investments alongside intended government grant and utility programs to help reduce range anxiety and significantly close the gap in long-distance EV charger demand," said Shameek Konar, Pilot Company Chief Executive Officer in a press release.
"Our travel centers are well-equipped to accommodate EV charging with 24/7 amenities and convenient proximity to major roadways across the country. We look forward to collaborating with GM and the U.S. Department of Transportation to make convenient coast-to-coast EV travel a reality through our national network of travel centers."
The plan is to install the charging station in 50-mile intervals as part of its $750 million investment in the ecosystem. When all is done there will be more than 100,000 charge points in the US and Canada, in addition to the 3,000-plus EVgo network in metro areas.
Additionally, it will be installing 40,000 chargers at local dealers, focusing on underserved communities.
"There's no doubt the current charging infrastructure has a long way to go before many buyers will have the confidence that driving an EV is a real option. Range anxiety is still a very real thing and much of the concern is rooted in a lack of suitable charging options in many areas of the country," Paul Waatti, Manager, Industry Analysis at AutoPacific told Newsweek.
"Having convenient charging options that don't require much additional effort from EV drivers to recharge is key, and since drivers are already accustomed to refueling at gas stations, adding charging options to gas stations that are already widely used by drivers helps to bridge the transition from gas-powered to electric vehicles," he said.
"GM has done a great job of focusing efforts not only designing and building EVs but also making investments in surrounding technologies like charging infrastructure to support the rollout. Investing in charging is a win for GM and its pursuit in going all-electric but it's also a win for the entire industry as it will more broadly support democratization of EVs across all brands."