Golden Globes Will Have No Stardom nor a TV Slot Sunday, Which Questions Its Relevancy
Blame it on not enough coffee intake or an inability to see the names through his dark shades, but the rapper Snoop Dogg with his red hoodie and usual laid-back panache did well to shrug off his mispronunciations, including that of best supporting actor nominee Ben Affleck as "Bin U-fleck" during this year's Golden Globe nominations.
The awkward blunder, immediately corrected by the congenial media personality, even became fodder during an appearance later by Affleck promoting his new film The Tender Bar on Jimmie Kimmel Live. Kimmel jokingly cut to the clip of the butchering of Affleck's name when introducing the Academy Award winner as he walked on stage.
"Yet another indignity," quipped Affleck, referring to the clip in addition to the press's recent pounding of him after snippets from a two-hour interview with Howard Stern were taken out of context in which Affleck commented that "he'd still be drinking if he remained in his marriage to Jennifer Garner."
The takeaway from the low-key announcement last month at the Beverly Hilton (unlike those in previous years with the usual bevy of network news crews and entertainment magazines on hand) may be that the bumbling mispronunciations of nominee names proved more memorable than the news of the nominees themselves.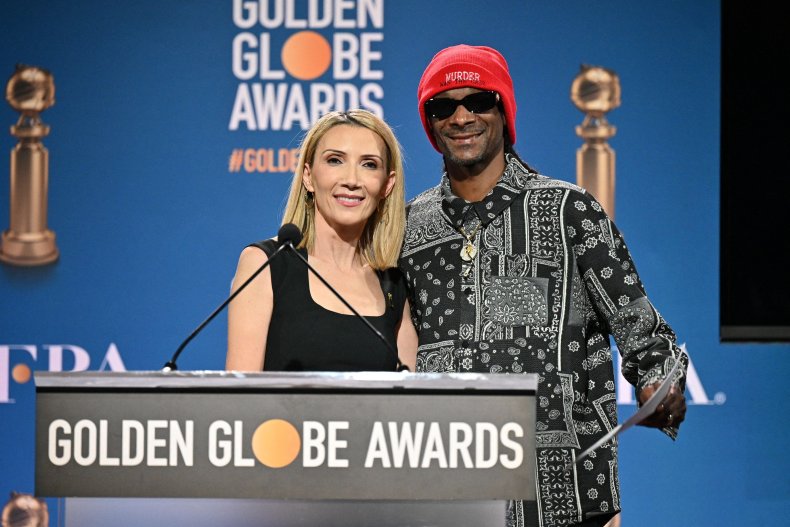 The Golden Globes, for years known as "Hollywood's biggest party," isn't being televised after NBC dropped it due to criticism over a lack of racial diversity and other issues. And even if it were, would anyone watch? The boycott of the Hollywood Foreign Press Association (HFPA) by many of Tinsel Town's biggest stars after being called out for a lack of diversity had many celebrities unwilling to attend, whether on principle or for fear of backlash by woke Hollywood.
"Part of the reason that it's not going to be the normal pomp and circumstance is that no celebrities are going to show up," said Variety's Michael Schneider to Inside Edition's Jim Moret during an interview at the Golden Globes nomination ceremony on Dec. 13. "There's no way they're gonna get any major stars to come to this."
New HFPA President Helen Hoehne's take was a little gentler and definitely more congenial when she was interviewed by Moret.
"For eight months we've worked tirelessly as an organization to be better. We also have 21 new members, the largest and most diverse now in the 79-year-old history," Hoehne said. "We always said that it wouldn't be the celebrity-driven event as it has been in the past so we're not going to have a red carpet, but we're still going to celebrate the best in film and television and we're also going to look maybe shine a light on our philanthropy which we're very proud of."
On Thursday, the HFPA said the Globes would be held as a private event with no red carpet or celebrity guests and the winners would be announced only online. During the program, Kyle Bowser, senior vice president of the NAACP Hollywood Bureau, will discuss the "Reimagine Coalition," a joint five-year initiative to increase diversity, equity and inclusion across the global entertainment industry.
"Select members and grantees—those are who we are honoring on Sunday," Hoehne told Newsweek, noting the winners would be announced in front of a small group of members and grantees, with the decision made partly due to the recent rise of cases from the Omicron variant. "We hope we win the hearts back of our critics but our focus is really on our meaningful change and what we've done. We also want to be respectful and we know there's a lot of suffering out there with Omicron. It's not going to be the party of the year."
A year ago, the Golden Globes were second only to the Academy Awards in stature of Hollywood's awards ceremonies. They also served to boost the campaigns of Oscar hopefuls. But since last February, the HFPA—the voting members behind the awards—has best been known for being embroiled in controversy.
While the organization has faced some debatable behavior in the past, severe scrutiny began with a Los Angeles Times expose that detailed, among other grievances, the HFPA's 87-person body had no Black members. That revelation, emphasized against the backdrop of global outrage at the killing of the unarmed Black man George Floyd by police in Minneapolis, served to shut the HFPA away even more.
Long-running criticism towards HFPA members also revolved around their reputation for accepting gifts, including trips and access to the stars, from publicists. Foreign members based in California have also been denunciated for doing less than substantive journalism or writing for publications with little significance.
That's while the HFPA was criticized last year for overlooking the nomination of Black-led movies, which some in the entertainment media noted as a pattern.
While stars and studios began boycotting the HFPA, things kept sliding downhill for the organization. A new strategic diversity advisor was hired who vowed 13 percent of its membership would be Black. That's before eight-term president and 44-year veteran member Philip Berk, 88, was fired after a "copy and pasted" email that included an article and commentary from a conservative publication hinting at improprieties of Black Lives Matter (BLM) co-founder Patrisse Cullors. It also called BLM a "hate movement" and described its supporters as "race rioters (who) burned buildings and terrorized communities." Following that, the HFPA's crisis communications firm and diversity consultant departed.
Netflix, Amazon Studios, and WarnerMedia all announced that they'd boycott the HFPA until there was more meaningful change. In May, NBC said it wouldn't be airing the Golden Globes in 2022.
Still, some inside the HFPA who wish to remain anonymous have their own take on the situation. They've noted the unfair treatment they've received from publicists who, in light of the boycott, have prevented their celebrity clients from being interviewed and for a lack of access to the productions they as voters are meant to be comparing. Their livelihoods have been profoundly affected, they say, noting it's the publicists who should be held partly responsible for offering the hospitality, trips and other gifts in the first place.
"Look we've really reflected on some of our missteps – some of the criticism may be justified – what I would have loved to see is that people continued to do their work while they change," said Hoehne, referring to that treatment. "You have to change and have to become better and rectify mistakes but you can still work while still doing the work."
Now, after new reform, which includes more Black members and those from other underrepresented backgrounds, the Globes is moving forward with hopes to air the show in January 2023. Hoehn said she recognizes the more meaningful change Hollywood is demanding takes time and noted the five-year partnership formed with the NAACP.
"We've put in a lot of work over the eight or nine months but you know this is a commitment and a journey – and we've learned that – this is a new journey for us and we're so happy to collaborate and support this initiative – and hopefully create pathways for young artist and journalists of color," said Hoehne, pointing out that the HFPA has donated over $50 million to over 70 charities in its 79-year history.
According to Hoehne, the organization is now made up of 48 percent women, 29 percent Black, 24 percent Asian and 29 percent from Latin America.
"We're very excited to have this variety of journalists now from 50 countries," she said.
Yet, further grumblings remain from some inside the HFPA that the journalistic credentials of various new members are arguably less important than their ethnic background. They note that in an effort to change an HFPA body filled with unqualified voters from the wrong variety of ethnic backgrounds, they have ended up with a larger group of differently unqualified voters from a differently proportioned—if more diverse—group of ethnic backgrounds.
New HFPA member Kelley Carter told Newsweek she finds that view "highly offensive." Carter works as a senior entertainment writer for ESPN's The Undefeated and previously worked for USA Today and BuzzFeed, among other media outlets.
"Any of the people I came in with are by and large some of the hardest working entertainment journalists for their outlets," said Carter, noting fellow new HFPA members K.J. Matthews of DW News and Yong Chavez of ABS-CBN. "Unfortunately, we have to work for writing some wrongs, a lot of times when the door gets open, I think there's always going to be some push-back."
Carter also noted her initial concern of looking like she was hired because of her race.
"I definitely had a moment of buyer's remorse because I didn't want to be the token Black person—my career is extremely important to me," Carter said. "I didn't want to be the lone person propped out there but I wanted to have a voice and a seat at a table because I should have a voice ... I should be able to say what I think are among the best and brightest. I am a global journalist."
Still, some in Hollywood circles are wondering that because this Sunday's ceremony is minus a televised ceremony without hosts, attendees and presenters, let alone movie stars, directors and publicists, if it will leave any impact at all.
Whether or not Affleck wins in his category, fans won't have the chance to see him ogling over new girlfriend Jennifer Lopez inside the Beverly Hilton showroom as viewers normally would. That, and how some prior HFPA members are feeling left behind, begs the question if the Golden Globes will ultimately survive beyond this year.
For the entertainment industry, it depends on how the press agents and disapproving stars and studios will react to the more diverse members and other changes moving forward. It remains to be seen if audiences will ultimately care after seeing Hollywood has in a sense cancelled its own.
"I hope that our tradition—what we've done in 79 years—we have a beautiful history and I hope we'll be around for the next eight decades," said Hoehne. "We're open to change—this is a journey. We're all learning."