Golden Monolith Reportedly Found in Colombia as Photos, Videos Appear to Show New Mysterious Metal Object
A golden monolith has reportedly been found in Colombia, with videos and photos circulating social media appearing to show the mysterious metal object in an open field.
It comes as the latest in a string of mysterious structures that are being recorded around the world, prompting widespread conspiracy theories.
The golden monolith appeared near Chia in the Colombian department of Cundinamarca, on Saturday morning, according to media reports in the country.
The sighting has not been confirmed, but footage and pictures on social media appear to show the golden pointed structure standing in an open area.
Newsweek has reached out to local officials for comment.
The apparent Colombia discovery continues a strange phenomenon of monoliths popping up and disappeared over the past few weeks, sparking much attention on social media.
So far we've counted several mysterious structures that are said to have been sighted in countries around the world.
Where have monoliths appeared so far
This all started when a gleaming metal monolith was spotted in a red rock desert in Utah on November 18 by officials from the Utah Department of Public Safety in a helicopter.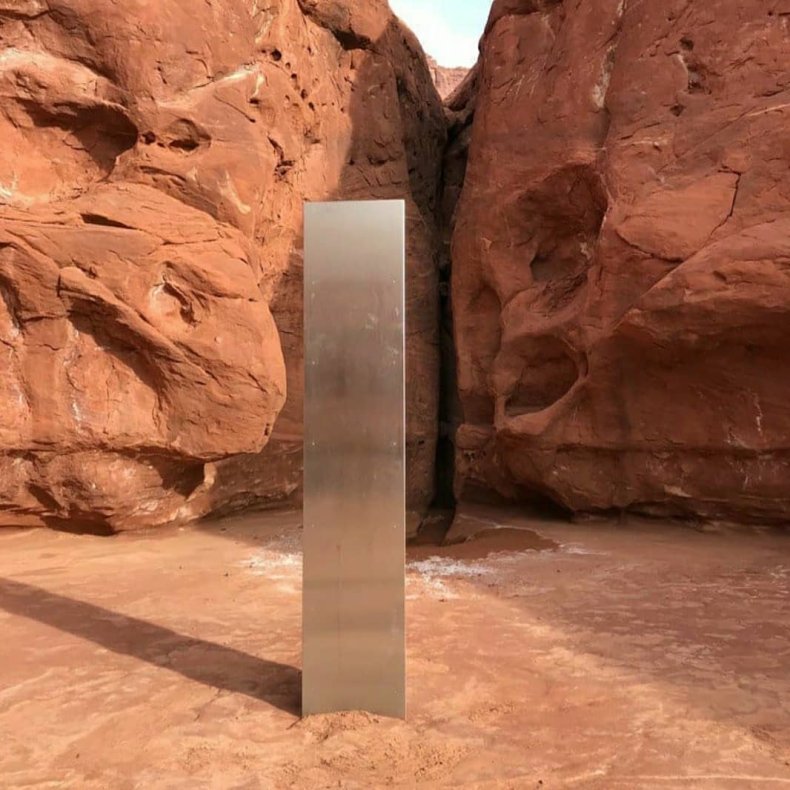 Making a comparison between the find and a similar structure in Stanley Kubrick's 2001: A Space Odyssey, pilot Ben Hutchings told a local news station that it may have been placed there by a fan of the film or it could be an art installation.
Several days later, the monolith was dismantled—although there was less mystery about the structure's removal.
A video posted on Instagram showed four men dismantled and removed the structure. A caption said that while those who took it down supported art and artists and described the dismantling as "tragic," but said the area was not prepared for "the damage caused by the internet sensationalism and subsequent reaction from the world."
But while the Utah monolith was removed, another popped up in Piatra Neamt in Romania around the same time.
According to Reuters, that structure mysteriously vanished days after it was erected, with only a small hole left behind.
The monolith sightings didn't end there—earlier this month, another one appeared in California.
Connor Allen, a reporter with the Atascadero News, tweeted that a shiny obelisk had been discovered at the top of the Pine Mountain in Atascadero.
An article in the newspaper noted that unlike the monolith in Utah, this one was not secure to the ground and "could be knocked over with a firm push."
Days later, the monolith was reportedly torn down by a group of men in a night-time raid and replaced with a large wooden cross, according to The San Luis Obispo Tribune.
Another, structure was discovered in a nature reserve near Oudehorne, a village in the province of Friesland, in the Netherlands, on Sunday, according to Algemeen Dagblad.
The newspaper reported that it was not known how the pillar ended up in the Kiekenberg nature reserve and no footprints were visible around it.
But it added that, unlike the gleaming structures that have appeared in the U.S. and Romania in recent weeks, this one was not shiny. The Omrop Fryslân television broadcaster reported that the structure may have been in the nature reserve for some time, because ice has formed around it.
Again on Sunday, another monolith was spotted on the Isle of Wight in the U.K.
Tom Dunford, 29, said he was walking his dog with his fiancee and sister at 7.30 a.m. on Compton Beach earlier that day, when he saw the mysterious mirrored object ahead.
Another monolith was discovered at the Fremont Street Experience in Downtown Las Vegas, Nevada, on Friday.
Colorado has seen numerous monoliths appear over the last few days, with some objects' origins more mysterious than others. Monoliths were spotted at Chautauqua Park in South Boulder as well as in front of McDevitt Taco Supply in South Boulder, though the two sightings could have been of the same monolith, which may have been moved.
Additionally, last week, another monolith turned up at the Colorado Air and Space Port outside of Mile High Aircraft Services, but Bill Zempel, the lead mechanic, revealed that he built it as a joke.
On Monday, reports emerged of another monolith that was found in central Spain among the ruins of the Church of Santiago in Ayllón, Segovia.
Some media outlets reported that a statement issued on behalf of the Ayllón City Council had asked neighbors to stop coming to the area.
Asked about the reports, the local mayor, María Jesús Sanzhas, denied that the council had issued such a notice and said that the monolith is probably a joke from a neighbor.