Golden Retriever That 'Speaks Hooman' Leaves Internet in Stitches
A video of a dog appearing to understand human speech has gone viral on TikTok, where it received over 572,000 views at the time of writing.
The clip, shared by TikToker Megan Parkinson (@meganparkinsontiktok), was posted with a caption that read: "[bumble bee emoji] Bumble speaks hooman, and just doesn't appreciate my tone...love her smile tho #dogsoftiktok #goldenretriever #bumble #dogmum #dogmumlife."
The video showed a woman sitting next to a golden retriever. The dog appeared to be panting, with its mouth open and tongue out.
The woman then asked: "Could you breathe any louder?" just before the golden retriever appeared to immediately close its mouth as the clip ended.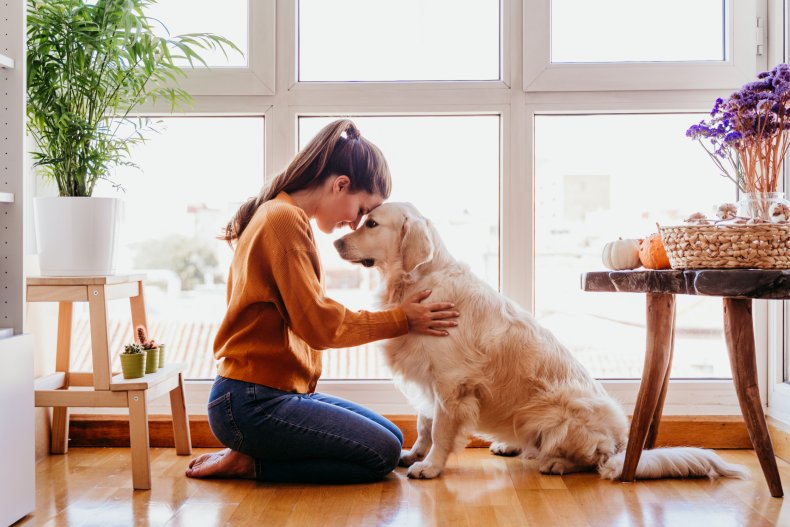 While it's unknown whether the dog in the latest video was prompted to breathe quieter following the woman's comment, previous research has shown that since dogs can learn basic verbal commands, "it is obvious that they have the capacity for discriminative processing of some aspects of human language," stated an October 2018 study in the peer-reviewed journal Frontiers in Neuroscience.
The study's findings suggested that "dogs' processing of human words utilizes basic processes like novelty detection, and for some dogs, may also include auditory and hedonic representations."
The study noted that for humans, words represent "symbolic placeholders" for various people, objects, actions and other attributes.
However, "just because a dog can match a word with an action, like 'fetch,' does not mean that the dog understands the word has meaning in the same way humans do."
For example, "dogs may rely on other cues to follow verbal commands such as gaze, gestures, and emotional expressions, as well as intonation," the study explained, citing previous research.
"This raises the question of what cognitive mechanisms dogs use to differentiate between words, or even what constitutes a word to a dog," the study said.
The latest video has amazed and delighted users on TikTok.
User c@christinecasey118 said: "Omg [oh my god] the way he stops breathing loud."
User traciekirby552 said: "I love how he just stopped [crying laughing emojis]," while user6770169203872 carol ann said: "Oh my days, this is so funny [crying laughing emojis]."
Boia simply said: "No he did not [surprised face with eyes wide open, crying laughing emojis] I'm dead now."
Newsweek has contacted the original poster for comment. This video has not been independently verified.
Do you have funny and adorable videos or pictures of your pet you want to share? Send them to life@newsweek.com with some details about your best friend and they could appear in our Pet of the Week lineup.