Golden Retriever Owner Shares How Dog Calms Him Down: 'Best Stress Relief'
The loving way a golden retriever helps her owner de-stress has received 3.8 million views on TikTok.
Chris Lindamood admits that after a long or particularly chaotic day, he often lays flat on the floor at his home in Salt Lake City, allowing him to take a moment to breathe and unwind.
Lindamood's golden retriever doesn't like seeing her owner stressed or unhappy, so she's always on hand to do what she can to help him. When Nala sees her human lying on the floor, she doesn't waste a second in getting up and going over to him. However, rather than sitting beside him, Nala lies on top of Lindamood instead.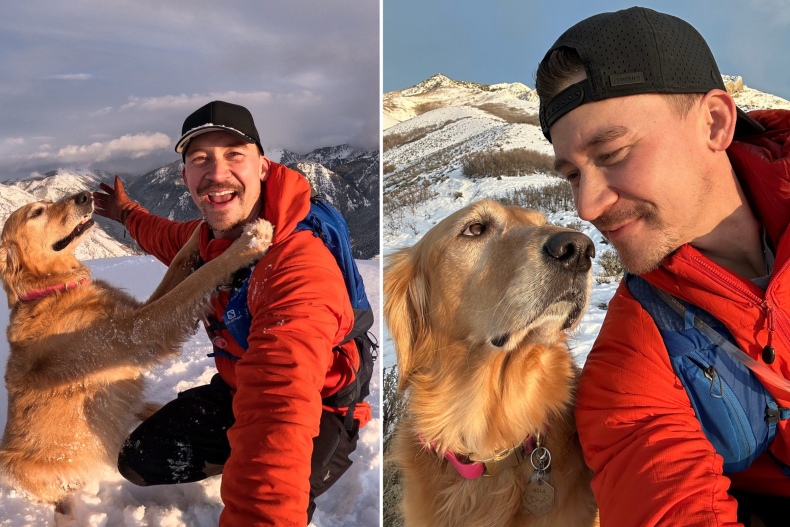 A 2018 study, titled Lateralized behavior and cardiac activity of dogs in response to human emotional vocalizations, found that dogs are able to process basic emotions from humans. They use the left side of their brain to respond to positive emotions, and the right side for processing negative ones.
Lindamood told Newsweek about Nala's ability to help calm him down with a big hug after a rough day, helping him to smile and laugh with her loving nature.
He said: "I often lay down at the end of my work day, or when I need a mental breather, and Nala likes to come over and lay down on my chest. It always makes me smile and helps me relax.
"If I start laughing, she will start rubbing and pressing her nose into my face, and it makes me laugh even more. I wanted to set a couple of cameras up to show how she does this," Lindamood added.
"I think she does it because she knows it relaxes me, makes me smile and ultimately makes me feel better."
The TikTok content creator says that moments like this with Nala make him feel incredibly lucky to have such a gentle and affectionate dog. Who wouldn't want to smile after a hug from a golden?
"I thought to myself that I'm lucky to have a dog who can do something so simple, but completely change my mood in an instant and help me relax," Lindamood added.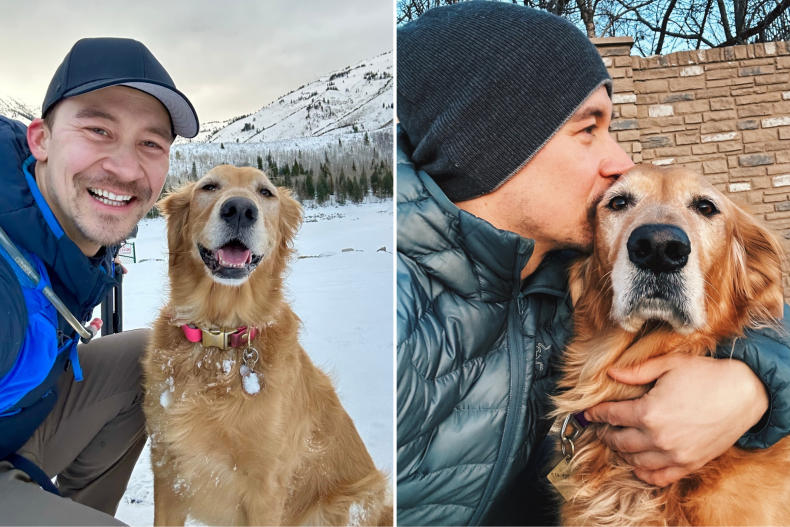 "I love to post videos that other dog owners can relate to. I think this is something that many dogs do, and it's wonderful to see in the comments when people say theirs does this, too. The positive comments reinforce how special a dog she is, and it makes me feel even more grateful that she's in my life."
Lindamood regularly shares clips of himself and Nala on his TikTok account, @adventuringwithnala, where he gives followers a glimpse of their companionship.
The video of Nala coming to lay on top of him on February 6 quickly amassed more than 560,000 likes.
There was a lot of love for Nala in the comments section, too, as one person wrote: "I would never move from that place," to which Lindamood responded: "It's hard to get up. She's the best weighted blanket. Best stress relief."
Another comment reads: "The best kind of blessing in the world is when your dog snuggles you like that."
Do you have funny and adorable videos or pictures of your pet you want to share? Send them to life@newsweek.com with some details about your best friend, and they could appear in our Pet of the Week lineup.