Foster Puppies Creating a 'Cuddle Puddle' on the Couch Melts Hearts
A litter of foster puppies has left the internet in stitches after a video of them cuddling on their mini couch went viral on social media.
In the viral clip shared on TikTok on Sunday by the dogs' foster mom, under the username Pawrudd, the four puppies can be seen climbing onto their tiny couch, lying down on top of each other, and cuddling one another.
The poster can be heard saying: "So all my fosters, they love to cuddle and I decided to film it because I think it's absolutely adorable. I hope you guys enjoy!" And her caption on the post reads: "I love this."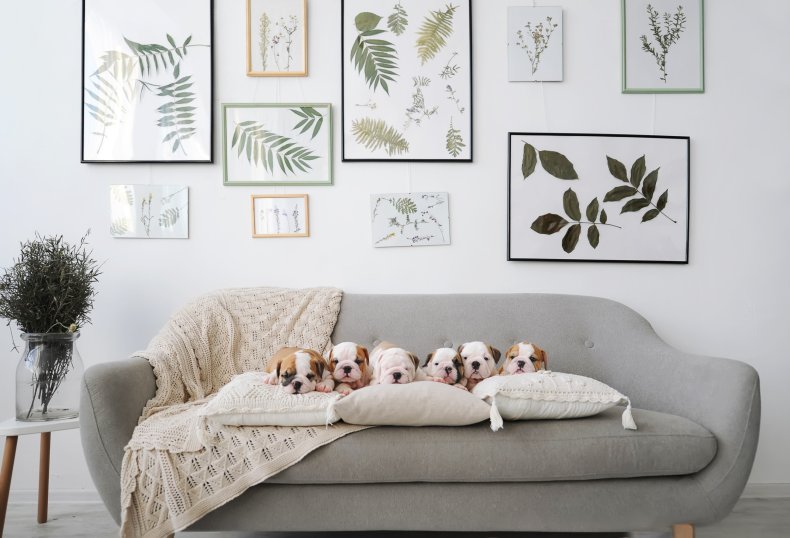 Most dogs are very sociable creatures and need their daily dose of love and affection. According to WagWalking, dogs cuddle for many reasons, mostly to get warmth, to bond, and because it releases chemicals that make them feel good.
"Dog cuddling also releases a hormone, oxytocin, the same hormone that is released during breastfeeding and childbirth. It has a calming and comforting effect, and it has been shown that only three minutes of cuddling between a dog and its owner increases oxytocin in both humans and dogs," it said.
But even though cuddling benefits both dogs and owners, you should still be aware that dogs could carry some unwanted bugs and bacteria into your bed, like Brucella Canis and salmonella, which are two illnesses that have been contracted from dogs sharing beds.
The video has quickly attracted animal lovers from all over the platform, receiving over 2.3 million views and 508,300 likes so far.
One user, criticals, commented: "I didn't realize it was a tiny couch I thought they were huge pups." And Maddie said: "This feels like an optical illusion lol I can't decide the size of anything."
Usaroni wrote: "The cuddle puddle universe is expanding." And Alex added: "it took me an embarrassingly long time to realize it was a mini couch."
Another user, bella said: "fine I'll adopt them all." And thevictoriablack wrote: "They just kept coming." Kayla added: "I need more, I can watch so many of these." jacqueline said: "I love them all. Fostering is such an amazing thing to do!"
LookingForDre asked: "is the couch small or are the dog huge?" And Grace Dunne wrote: "I'm not crying you are."
Newsweek reached out to Pawrudd for comment. We could not verify the details of the case.
Do you have funny and adorable videos or pictures of your pet you want to share? Send them to life@newsweek.com with some details about your best friend and they could appear in our Pet of the Week lineup.