According to a new poll, voters in Pennsylvania said they would not vote for a sitting Republican congressman after they learned about his anti-abortion views.
The survey was conducted by Public Policy Polling, which is affiliated with the Democratic Party, and it suggested that Republican Brian Fitzpatrick would lose his seat in Pennsylvania's 1st Congressional district to Democrat Ashley Ehasz once voters were made aware of his stance on abortion.
The poll, which was conducted after the Supreme Court voted to overturn Roe v. Wade on Friday, June 24, said Fitzpatrick led Ehasz by seven percentage points (45 percent to 38 percent) when asked an initial question about who voters would back in November's midterms.
However, once the survey respondents learned of Fitszpatrick's anti-abortion views, Ehasz gained a massive surge in support, moving to a 10-point lead over the Republican (47 percent to 37 percent).
According to the results, once voters were told that Fitzpatrick wants to "restrict abortion rights, even if the woman's life is in danger and in most cases of rape and incest," the Republican lost most of his support among Democrats and a neatly double-digit drop in support from women.
In a statement to Newsweek about the poll, Nancy McCarty, Fitzpatrick's campaign spokesperson, said: "The language in this partisan poll's script pertaining to Brian's voting record on abortion is categorically false and they know it.
"This push poll is nothing more than a desperate fundraising ploy from a flailing campaign intended to mislead voters in an attempt to make their campaign relevant."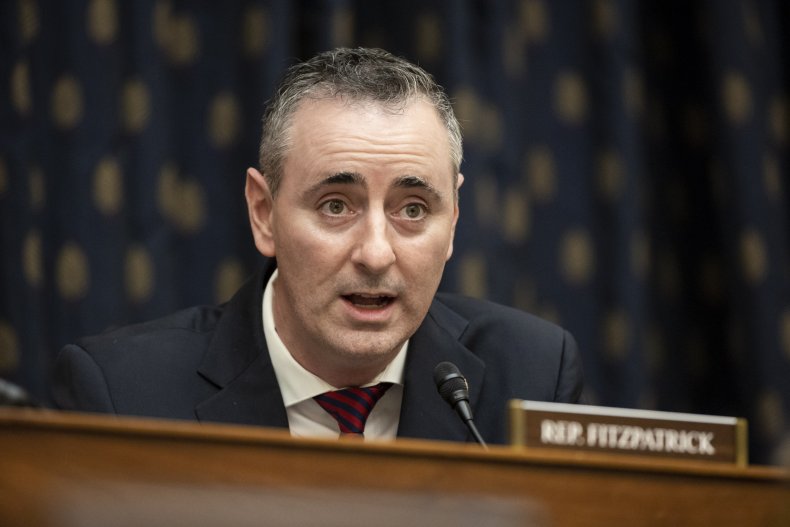 In September 2021, Fitzpatrick was among 211 Republicans who voted against the Women's Health Protection Act, which aimed to protect a person's access to abortion.
The bill was introduced in the wake of Texas' announcement that it planned to ban abortion in almost all circumstances if a fetal heartbeat could be detected, something that can occur after just six weeks, a time when most women do not know they are pregnant. The Women's Health Protection Act was blocked from a vote in the Senate by the GOP in May.
On the evening of June 24, after the SCOTUS' decision on Roe v. Wade was revealed, hundreds of protesters gathered outside Fitzpatrick's office because of his anti-abortion stance.
Ehasz was at the protest at Fitzpatrick's home in Bucks County, and she accused Fitzpatrick of supporting anti-abortion policies that hurt middle- and low-income families, according to the Bucks County Courier Times.
"While Brian likes to pretend that he supports our community, he sure is screwing over a lot of women and working families in our district," Ehasz said.
"As state legislatures across America begin to consider legislation on this extremely sensitive topic in response to today's Supreme Court decision in Dobbs, I urge all state legislatures to always start from a place of empathy and compassion," Fitzpatrick said, in a statement following the release of the court's decision.
"Any legislative consideration must start with the process of seeing the world through other people's eyes, and walking the world in other people's shoes. Any legislative consideration must always seek to achieve bipartisan consensus that both respects a woman's privacy and autonomy, and also respects the sanctity of human life. These principles are not mutually exclusive; both can and must be achieved."
Public Policy Polling conducted a survey of 626 midterm voters in Pennsylvania's 1st Congressional District on June 24 and June 25. The survey has a margin of error of +/-3.9 percent.
Correction 06/28/22, 4:08 a.m. EDT: This article has been amended to state the June 24 protest took place outside Brian Fitzpatrick's office, not his home.
Update 06/28/2022, 10:52 a.m. EDT: This article has been updated with comment from Brian Fitzpatrick's campaign spokesperson, Nancy McCarty.