GOP Adviser Says Sen. Susan Collins Is 'Dead Woman Walking' After Vote for New Testimony in Impeachment Trial
During an interview with Fox Business host Lou Dobbs on Friday, Fox News political analyst and Republican Party adviser Ed Rollins called Maine Republican Senator Susan Collins a "dead woman walking" after her vote to hear new witness testimony during the impeachment trial of President Donald Trump.
Collins, along with Utah Republican Senator Mitt Romney, aligned their votes with House Democrats in a failed effort to get the vote for witnesses and new documents approved. That motion was voted down in the Senate by a vote of 51-49.
Rollins said Trump was in a "fabulous place" because of the practically unanimous support he is currently enjoying from the Republican party.
"With the exception of Romney and Collins, who probably signed her death warrant today," Rollins said, "this party is united behind this president and basically backed him 100 percent in the house, 99 percent in the Senate."
Because of her vote Rollins said, "Collins is a dead woman walking. She's not going to get any Democrats to vote for her because she's a Republican. They're not going to vote for her."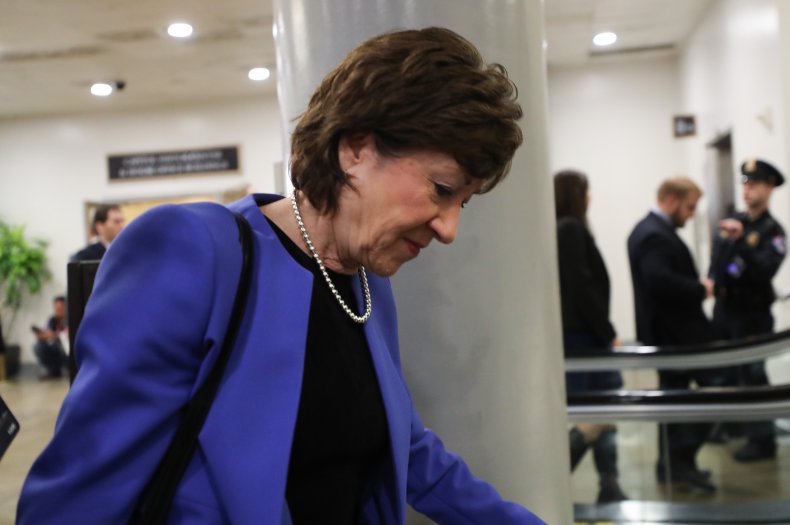 Collins explained the reasoning behind her vote in a statement released Thursday.
"I worked with colleagues to ensure the schedule for the trial included a guaranteed up-or-down vote on whether or not to call witnesses," Collins wrote. "I believe hearing from certain witnesses would give each side the opportunity to more fully and fairly make their case, resolve any ambiguities, and provide additional clarity."
Rollins also implied that Romney would suffer politically for his vote.
"He's dropping like a rock," Rollins said. "A state legislator has a bill in Utah to impeach him. I think he's going to pay a heavy price."
Newsweek reached out to Fox News for comment but did not receive a response in time for publication.
As previously reported by Newsweek, Romney has already begun to receive negative attention from the Republican Party as he has been disinvited from attending this year's Conservative Political Action Conference, an event at which Romney has been a speaker at in the past.
The Democratic Party's opinion that former national security adviser John Bolton would have been a "relevant" witness during the impeachment trial because of allegations due to be published in Bolton's upcoming book was dismissed by Trump's legal defense team.
"Nothing in the Bolton revelations, even if true, would rise to the level of an abuse of power or an impeachable offense," said Trump's defense attorney Alan Dershowitz.
Bolton reportedly claims that Trump attempted to solicit his assistance in a pressure campaign against Ukraine. Trump allegedly chose to freeze military aid to Ukraine until they announced an investigation into the business dealings of both former Vice President Joe Biden and his son, Hunter. Joe Biden is currently running for the Democratic nomination for the 2020 presidential election.