GOP Candidate Saying it's 'Totally Just' to Kill Gay People Resurfaces
A Republican candidate running for a seat in Oklahoma's state House once said it is "totally just" to kill gay people in comments that have resurfaced amid his campaign.
Scott Esk is running to represent Oklahoma's 87th House District, which includes parts of Oklahoma City. He is set to face another Republican Gloria Banister in a Tuesday runoff, but his campaign has faced scrutiny in recent days over the resurfaced comments, which began nearly a decade earlier. The comments resurfaced last year in a Facebook comment thread as many in the LGBTQ community have warned about a rise in homophobic rhetoric in politics.
In 2013, when Esk was running in a different race, the candidate commented on an article about the Pope asking "who I am to judge?" about gay people. According to MSNBC, Esk responded with Bible verses condemning homosexuality, prompting another user to ask if he believes "we should execute homosexuals (presumably by stoning)?"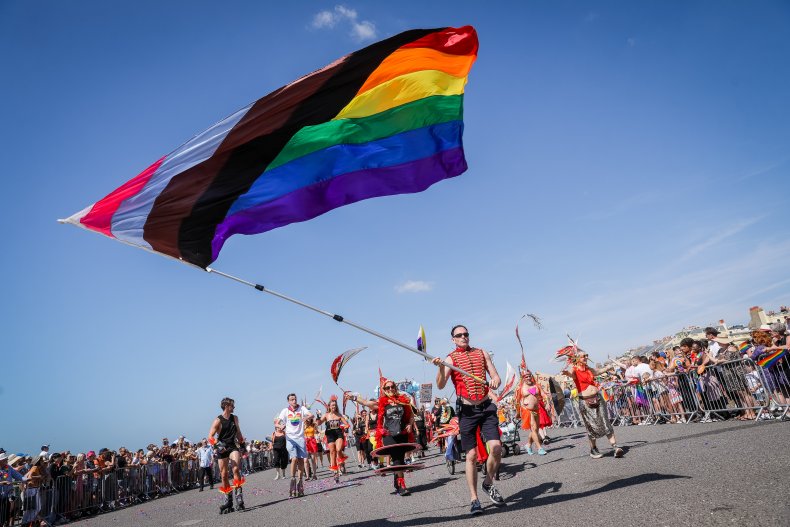 "I think we would be totally in the right to do it," he said, according to MSNBC. "That goes against some parts of libertarianism, I realize, and I'm largely libertarian, but ignoring as a nation things that are worthy of death is very remiss."
Local news outlet TheMooreDaily.com also pressed him on the remarks, to which he responded that it was "totally just" to kill gay people in the Bible's Old Testament.
"What I will tell you right now is that was done in the Old Testament under a law that came directly from God. And in that time, it was totally just—it came directly from God. I have no plans to reinstitute that in Oklahoma law. I do have very big moral misgivings about those kinds of sins, and I think that those kinds of sins will not do our country any good and certainly doesn't do anything to preserve the family," he said.
He responded to criticism in a YouTube video on July 15, when a local news station reported on his old comments. In the video, he asked if having "an opinion against homosexuality" makes him "a homophobe." However, he added that he believes it "simply makes me a Christian."
In the video, he said that he is "not for expanding the death penalty for homosexuality," but still denounced what he views as the "obscene things homosexuals do."
Newsweek reached out to the Esk campaign for comment. In remarks to The Oklahoman, Esk dismissed previous coverage of his comments as a "hit piece."
Renewed Anti-Gay Rhetoric
Esk is not the only prominent conservative figure in the United States to push anti-gay, and at times violent, rhetoric in recent months.
Pastor Mark Burns, who ran and lost a primary challenge for a South Carolina House seat, also called for the execution of gay people. He said that parents and teachers who discuss the LGBTQ community with children should be found guilty of "treason."
"We need to hold people for treason; start having some public hearings and start executing people who are found guilty for their treasonous acts against the Constitution of the United States of America. Just like they did back in 1776," he said.