GOP Is 'Dangerous,' Former Pence Adviser Defends Biden's Anti-MAGA Speech
Olivia Troye, an ex-adviser to former Vice President Mike Pence, defended President Joe Biden's anti-MAGA speech on Saturday amid GOP backlash.
Biden took aim at former President Donald Trump and his supporters during a speech in Philadelphia on Thursday about the "battle for the soul of the nation." During the fiery speech, he condemned what he views as anti-Democratic posturing from the Republican Party. He blasted them for attacking the integrity of the 2020 presidential election, opposing abortion rights, and trying "to take this country backwards." Many in the GOP have condemned the speech, as Biden faces accusations of being partisan and divisive.
"But there's no question that the Republican Party today is dominated, driven and intimidated by Donald Trump and the MAGA Republicans. And that is a threat to this country. These are hard things," Biden said in his speech.
Troye served as a homeland security and counterterrorism adviser for Pence before resigning in August 2020. She has since been a staunch critic of the Trump administration and the direction of the Republican Party. She defended Biden's speech Saturday during an interview on MSNBC.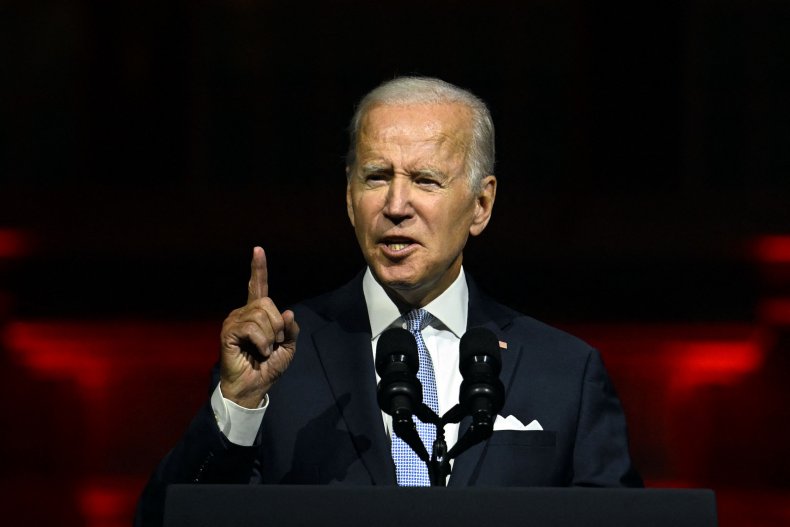 "He wasn't criticizing Republican voters, which I've seen a lot of talk about that. What he's saying is that this extreme faction...is dangerous," she said.
Even within the Republican Party, there are many people who agree with Biden's sentiments and oppose the Trump-aligned wing of the party, Troye added.
"Many of us agree. There are many of us Republican voters who are not the right-wing crazy that is taking over the party that is damaging, I would say, to the party," she said. "We don't identify with that at all. And I think as long as they continue to do this, they will lose."
However, she expects the Trump-wing of the GOP targeted by Biden's speech to hold power within the party for at least another decade. Troye added that while the midterm elections—where Republican candidates are trailing in key races—could be a reckoning, it won't change the party's direction immediately.
"Do I think that this is going to change the course of the party? Not anytime soon. We're not seeing that. That's not the trend that we're heading for. I think that we're a decade out from them figuring out the course that they want to be on," Troye said.
Biden's Speech Faces GOP Backlash
Meanwhile, many on the right took issue with the president's speech.
"If you look at the words and meaning of the awkward and angry Biden speech tonight, he threatened America, including with the possible use of military force. He must be insane, or suffering from late stage dementia!" Trump wrote on Truth Social.
Trump, despite losing the 2020 election nearly two years ago, continues to insist he was the rightful winner and that Biden only won due to widespread voter fraud. No substantial evidence has been presented to prove the election was stolen. Last Monday, he called for a "new election" that could see him reinstated as president.
Biden on Thursday slammed some Republicans for spreading conspiracies about the 2020 election, as well as for not condemning January 6, 2021, when a mob of Trump supporters rioted at the U.S. Capitol building in a failed attempt at forcing Congress to block Biden's Electoral College victory.
"And look at the mob that stormed the United States Capitol on January 6, brutally attacking law enforcement, not as insurrectionists placing a dagger at the throat of our democracy, but they're looked at as patriots," the president said.
Newsweek reached out to the Republican National Committee (RNC) for comment.