GOP Tightens Grip on Georgia Senate Race Despite Trump Supporters Threatening Boycott: Bookmakers
The GOP have tightened their grip on the Senate race in Georgia, according to bookmakers, despite supporters of Donald Trump threatening to boycott the contest.
Voters in the state will settle two runoffs on January 5 that will determine control of the U.S. Senate.
Pro-Trump Republicans took to Parler, the self-styled "free speech" social media network, to discourage members of their own party from voting. Some referenced a conspiracy theory about "rigged" ballot machines as reason not to take part.
Bookmakers said incumbent Republican candidates David Perdue and Kelly Loeffler have pulled away from their Democratic challengers, Jon Ossoff and Raphael Warnock.
Betfair, the UK-based betting company, said the GOP was 4-9 to take the seats, implying a probability of winning of 69 percent (shortened odds from 1-2 offered a week ago). The Democrats were priced at 7-4, longer than their odds of 6-4 seven days earlier, implying a probability of 36 percent.
Betfair spokesperson Sam Rosbottom said: "After a week of sustained attacks by Kelly Loeffler on her Democratic rival Raphael Warnock, the Republicans have strengthened their position in the runoff odds as odds on 4-9 favorites."
Oddschecker, which aggregates betting data from dozens of bookmakers, has the Republicans best-priced at 5-8 to take the state, a 62 percent implied probability, with the Democrats on 6-5, implying a 45 percent chance.
An Oddschecker spokesperson said the markets had seen "very little change in the past week, approximately a 4 percent shift in the implied chance in favor of the Republicans during that time as they seemingly tighten their grip."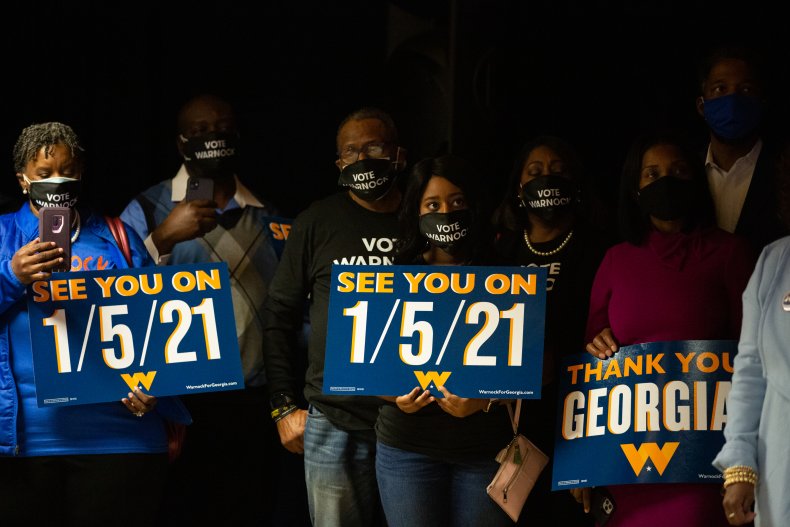 Early voting in the Georgia contests starts on December 14, with the outcome set to determine which party controls the Senate, and with it Joe Biden's ability to push through his agenda.
Democrats control the House with a slim majority and need to win both seats for a 50-50 split.
Elsewhere in the political betting world, Trump's odds of winning the 2024 presidential election were cut in half with some bookmakers.
Oddschecker said bettors were backing Trump to "bounce back from his 2020 election defeat to Joe Biden and reclaim the Presidency in 2024."
The spokesperson said: "Over the last week, 39.7 percent of all bets on the 2024 Election winner have backed Trump, despite the 74-year-old being priced as third favorite.
"Some bookies have cut odds on a Trump 2024 victory in half, from 12-1 into as short 6-1 with William Hill. The best price of 7-1 is available with one firm.
"That means the MAGA man only trails current favorite Kamala Harris (4-1) and soon to be inaugurated Joe Biden (9-2)."