GOP Rep. Mark Finchem to Run for Arizona Secretary of State as He Faces Recall Effort Over Voter Fraud Claims
Republican Arizona state Representative Mark Finchem has declared an interest in running for Arizona's secretary of state, the state's top elections official. His interest coincides with a recently-launched recall effort to have him ousted from office for baselessly claiming that the 2020 election was "stolen" from former President Donald Trump.
Finchem filed a Statement of Interest for the Secretary of State position with the Arizona Secretary of State office on March 29. The filing indicates that he will now collect signatures for a possible nomination, though such filings are not formal declarations of candidacy.
To qualify for the ballot, Arizona requires individuals to get signatures from between 1 to 3 percent of all qualified voters. The percentages represent anywhere from over 43,000 to nearly 129,000 voters in the state.
Finchem's filing comes 25 days after a group named Rural Arizonans for Accountability launched a recall effort against him. The group takes issue with his repeated and baseless claims that widespread voter fraud "stole" the presidential election from Trump.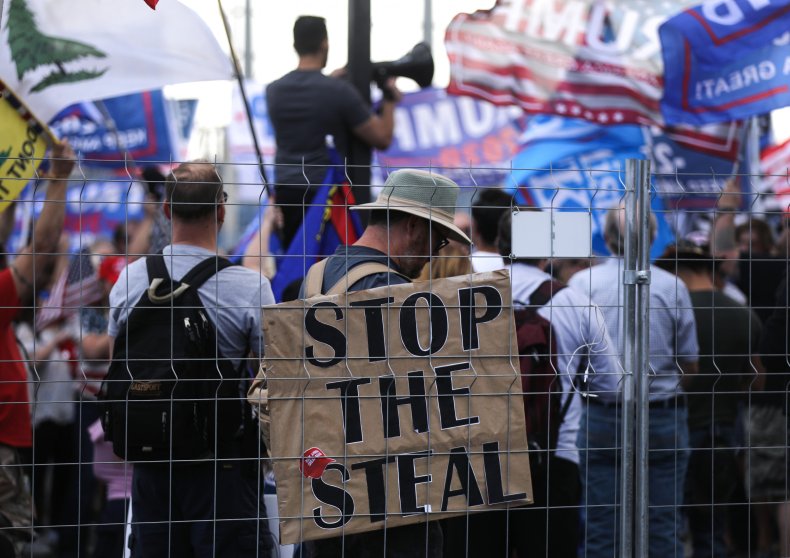 After the election was called for Democratic President Joe Biden, Finchem reportedly led the call for the so-called #StopTheSteal movement in Arizona. His now-deleted Twitter account used the #StopTheSteal hashtag 62 times from November 19 to January 6, the Arizona Mirror reported.
"#StopTheSteal has been instrumental in fighting the election fraud we've discovered!" he wrote in a December 5 tweet. His tweets also tagged right-wing Internet personalities Michael Coudrey and Ali Alexander, both of whom spread similar claims of election fraud.
Text messages published by the Phoenix New Times showed that Finchem had communicated with Alexander, one of the organizers of the January 6 Stop the Steal rally in the Capitol. In one of the texts, Finchem mentioned working on "amicus brief" to be signed by Arizona legislators in support of Texas Attorney General Ken Paxton's Supreme Court case. Paxton's case sought to overturn the election results in four blue battleground states, but the Supreme Court declined to hear it.
In a January 6 tweet, Finchem posted a picture of the insurrectionists outside of the U.S. Capitol. In his caption, he wrote, "What happens when the People feel they have been ignored, and Congress refuses to acknowledge rampant fraud."
Finchem has since claimed that Antifa, left-wing anti-fascist protesters, were responsible for the violence and destruction that took place during the Capitol riots. The FBI has said there's no evidence to back up such claims.
In a February 27 interview with The Epoch Times, a pro-Trump far-right newspaper that also spread election conspiracy theories, Finchem alleged that supervisors within Arizona's elections board might have deliberately destroyed any evidence of election fraud. He has called the state election audits a "sham" and referred to the locations where they took place as a "crime scene," the Mirror reported.
"Representative Finchem's actions have shown to undermine some of the most sacred institutions of our democracy," Pablo Correa, co-executive director of the recall group said, according to the Mirror.
Correra's group has until July 2 to collect 25,000 valid signatures to trigger a recall election. The group claims to have 50 canvassers, multiple field directors and legal counsel supporting its effort.
Finchem is also a member of the Oath Keepers, a national, right-wing, anti-government militia.
Arizona House Democrats have called for Finchem to be removed from the legislative chamber for allegedly contributing to the incitement of the riots. He was cleared of wrongdoing by the Republican chair of the ethics committee in the Arizona House, the Arizona Republic reported.
Newsweek contacted Finchem for comment.