GOP Rep Pulls Out Pistol on Video While Slamming Modest Gun Reform
Republican Representative Greg Steube showed his guns on camera Thursday as the House Judiciary Committee discussed a modest package of gun violence-prevention measures in the wake of several recent mass shootings.
Steube, who was speaking via videoconference from his home in Florida, pulled out three firearms as he argued specifically against certain restrictions the package would place on magazines.
When another representative present at the hearing was heard saying that she hoped the gun wasn't loaded, Steube responded that he was at his home and "can do whatever I want with my guns."
The session took place as the U.S. contends with the aftermath of recent mass shootings at an Oklahoma hospital, Texas elementary school and Buffalo, New York, supermarket. Democrats have renewed a push for gun reform in the wake of the attacks, but Republicans have remained resistant to the idea, instead pointing to school safety and mental health issues.
The Democratic-pushed package that was discussed at the hearing, officially titled the "Protecting Our Kids Act," seeks to "provide for an increased age limit on the purchase of certain firearms, prevent gun trafficking, modernize the prohibition on untraceable firearms, encourage the safe storage of firearms, and for other purposes." One of the proposed measures included in the package would make it "unlawful for a person to import, sell, manufacture, transfer, or possess" high-capacity magazines.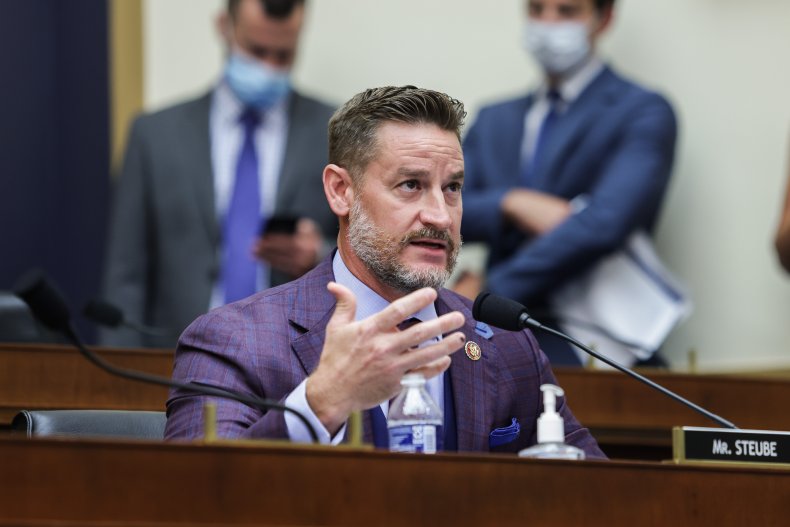 Steube's display came after hours of remarks delivered by Republicans objecting to the legislation package and Democrats pushing for its advancement. The congressman displayed several of his guns that he said would be impacted by the magazine restrictions, including a SIG Sauer P226 pistol, SIG Sauer 320 and SIG Sauer P365 XL.
"The Left continues to politicize tragedies by pushing legislation that erodes our constitutional rights," Steube said in a statement shared with Newsweek. "Today I exposed the Democrats' gun grab bill by illustrating how their proposed magazine bans effectively bans most handguns. These measures would do nothing to prevent the tragedies often cited, and would only hurt law-abiding citizens.
"The people who are offended are the same ones that want to take a shredder to the Constitution," Steube added. "Floridians elected me to defend our constitutional rights and I'm doing just that."
After the display, House Judiciary Chairman Jerrold Nadler, who sponsored the package, repeatedly asked Steube to yield for a question, but the lawmaker refused. Prior to showing his guns on camera, Steube took aim at recent remarks made by President Joe Biden, who said Monday that a 9mm bullet "blows the lung out of the body."
"So the idea of these high-caliber weapons is of—there's simply no rational basis for it in terms of thinking about self-protection, hunting...and remember, the Constitution, the Second Amendment was never absolute," Biden said. "You couldn't buy a cannon when the Second Amendment was passed. You couldn't go out and purchase a lot of weapons."
The comment inspired suggestions that Biden was calling for a ban on handguns, though the White House said Tuesday that the president does not back barring the sale of "all handguns."
Steube, in an apparent reference to Democrats' proposals, added, "They want to take away law-abiding citizens' ability to purchase the firearm of their choice, and don't let them fool you that they are not attempting to take away your ability to purchase handguns."
Update 06/02/22, 3:00 p.m. ET: This story was updated with a statement from Steube.