GOP Responds to Biden Calling Trump 'Plague,' Laughing at Inflation Joke
The Republican National Committee (RNC) Saturday criticized President Joe Biden on Twitter for his remarks that he made about former President Donald Trump and his reaction towards inflation during the White House Correspondents' Association dinner.
At the dinner, the president joked during his speech: "This is the first time the president attended this dinner in six years. It's understandable, we had a horrible plague followed by two years of COVID."
His comment about Trump prompted the RNC to respond in a tweet, which said: "Joe Biden just called President Trump 'a horrible plague.' Reminder: Biden ran on uniting the country."
This is the first time in two years that the dinner was held due to the pandemic. It was also the first time a president attended the annual dinner since 2016 as Trump used to turn down the invitation during his presidency. Saturday's dinner saw 2,600 attendees including journalists, celebrities, government officials, according to CBS News.
"Just imagine if my predecessor came to this dinner this year—now that would have really been a real coup," said Biden, who also made other jokes about his low approval rating, Republicans, and slogans that were touted by the right including "Let's Go Brandon."
"I'm really excited to be here tonight with the only group of Americans with a lower approval rating than I have," the president said. "Republicans seem to support one fella, some guy named Brandon. He's having a really good year. I'm happy for him."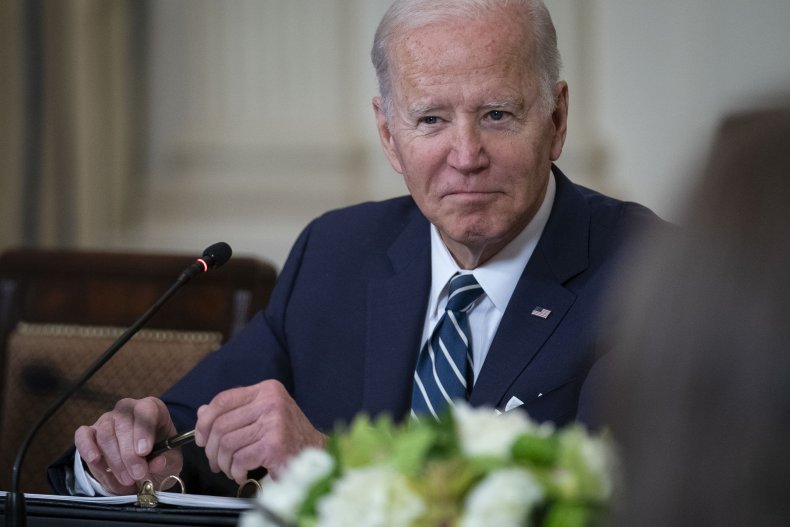 Biden was also mocked during the dinner by comedian Trevor Noah, who said: "Since you've come into office, things are really looking up. Gas is up, rent is up, food is up! Everything!" to which the president laughed in response.
The RNC also shared a clip of the president laughing on Twitter, suggesting that Biden views inflation as a joke. Meanwhile, Biden's comments drew anger from some conservatives.
"If you're an American who's barely scraping by because of massive inflation, just know that your president thinks that's hilarious," tweeted Kyle Martinsen, the Deputy Rapid Response Director of the RNC.
Sebastian Gorka, who served as deputy assistant to Trump during his presidency, also commented on the president's reaction to inflation on Twitter, writing: "Biden laughing at your suffering." In another tweet, he called Biden a "clown."
Meanwhile, Republican candidate Errol Webber, who is running for U.S. House in California, slammed the president's remarks, tweeting: "'I give my word as a Biden' might be one of Joe's dumbest phrases. That family has produced frauds, grifters and crackheads...I don't want their word."
Newsweek reached out to the White House for comment.