GOP Senator Asks if Biden's 'Ministry of Truth' Will Probe Lewinsky Scandal
A Republican senator asked Wednesday if a proposed initiative from the Department of Homeland Security (DHS) aimed at countering the spread of false information would probe the 1990s scandal involving President Bill Clinton and former White House intern Monica Lewinsky.
Senator John Kennedy of Louisiana directed the question at DHS Secretary Alejandro Mayorkas during a hearing held by the Senate Appropriations Committee. The senator specifically wanted to know if the DHS's Disinformation Governance Board (DGB) would investigate Clinton for saying under oath that he did not have sexual relations with Lewinsky when she worked at the White House. Clinton later admitted to having a relationship with Lewinsky "that was not appropriate," in his words.
Responding to Kennedy's question, Mayorkas said, "Senator, again, let me be clear that the department's responsibility is to address this information that threatens the security of the homeland."
Some critics, particularly Republicans, have compared the Biden administration's proposed Disinformation Governance Board to a fictional department called the Ministry of Truth that is in George Orwell's dystopian novel 1984. Kennedy did not refer to the board as the Ministry of Truth when questioning Mayorkas, but other politicians like Republican Senator Tom Cotton have used the term.
"The Federal Government has no business creating a Ministry of Truth," Cotton tweeted on April 29.
At Wednesday's hearing, Mayorkas answered several questions from Kennedy about how the DGB would work.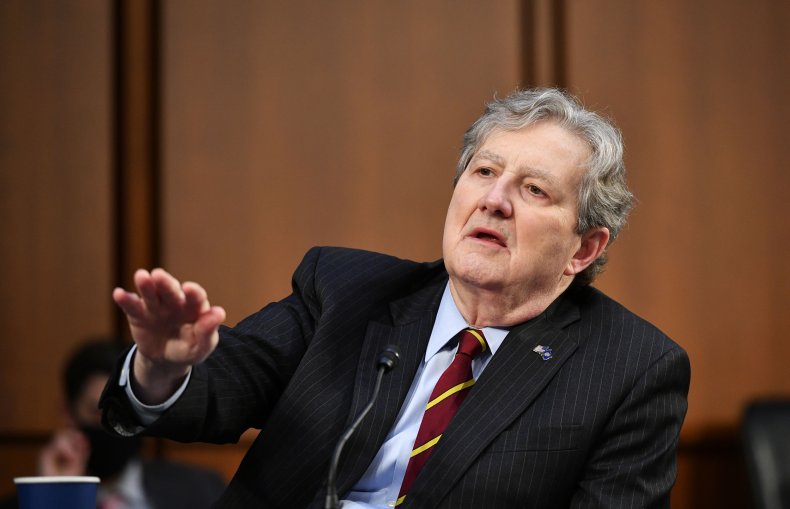 Before his question about Clinton, the senator asked Mayorkas whether the DGB would investigate matters such as when President Barack Obama "said if you like your doctor, you can keep your doctor."
Kennedy seemed to be referencing Obama's often-repeated but later criticized pledge that "if you like your insurance, you can keep it" under the Affordable Care Act, commonly known as Obamacare.
Mayorkas told Kennedy in response that the board does not have an operational authority or capability.
"But there's a more fundamental principle that really strikes at the question that you have posed, and that is that our mission is to protect the security of the homeland, and we address disinformation when it threatens the security of the homeland," Mayorkas said.
The senator interrupted Mayorkas with his question about the Lewinsky scandal before he could continue.
Kennedy tweeted out a video of his questioning with a caption that read, "Biden's Disinformation Governance Board wants the government to tell Americans what's true. What could possibly go wrong?"
A DHS fact sheet about the board explained that its goal is ensuring that protections for Americans' freedom of speech, civil rights, civil liberties and privacy "are appropriately incorporated across DHS's disinformation-related work and that rigorous safeguards are in place."
The fact sheet went on, "There has been confusion about the working group, its role, and its activities. The reaction to this working group has prompted DHS to assess what steps we should take to build the trust needed for the Department to be effective in this space."
The steps include asking the bipartisan Homeland Security Advisory Council to make recommendations on how the department can "most effectively and appropriately address disinformation that poses a threat to the homeland, while protecting free speech and other fundamental rights," the sheet said.
It added that the DHS is mulling additional ways in which it can boost the public's trust in the board.
Nina Jankowicz, an author and global fellow at the nonpartisan Wilson Center, was chosen by President Joe Biden to serve as the board's executive director.
Newsweek reached out to Kennedy and the DHS for comment.
Update 5/4/22, 4:50 p.m. ET: This story was updated with additional information and background.