Republican Senator Proves Pete Buttigieg's Debate Point, Says 'The Lesser of Two Socialists Is Still a Socialist'
Tuesday night's Democratic presidential debate was largely centered around health care, highlighting the candidates' differences in ideology.
Mayor Pete Buttigieg, one of the ten Democrats who stood on the debate stage, found himself straddling that ideological divide, with liberal candidates, like Bernie Sanders and Elizabeth Warren, on one side and more center-left moderates, like John Delaney, on the other.
But no matter what he and his fellow Democrats support, Buttigieg said, Republicans will continue to label them as "socialists."
On Wednesday, Senator John Kennedy, a Louisiana Republican, proved the South Bend mayor's point.
"I'm not buying this storyline of 'progressives versus moderates.' I would remind you that the lesser of two socialists is still a socialist," the conservative said on Fox News. "What I heard last night, even from the so-called 'less liberal candidates,' and I'm not impugning their integrity, but... I heard a job-killing, soul-crushing socialist agenda."
"The only thing missing," Kennedy continued, "was the Cuban national anthem."
The remarks by the Republican is what Buttigieg warned his Democratic competitors of on the debate stage, interjecting a discussion on health care and where they stand on Medicare for All. He rejected the notion by Marianne Williamson, an American author and spiritual adviser, and moderates that supporting the government-run health care insurance system would only provide Republicans with ammunition to attack the Democratic Party as a bunch of socialists.
"It is time to stop worrying about what the Republicans will say. If we embrace a far-left agenda, they're going to say we're a bunch of crazy socialists. If we embrace a conservative agenda, you know what they're going to do? They're going to say we're a bunch of crazy socialists," Buttigieg said, earning applause from those in attendance.
"So," he continued, "let's just stand up for the right policy, go out there and defend it."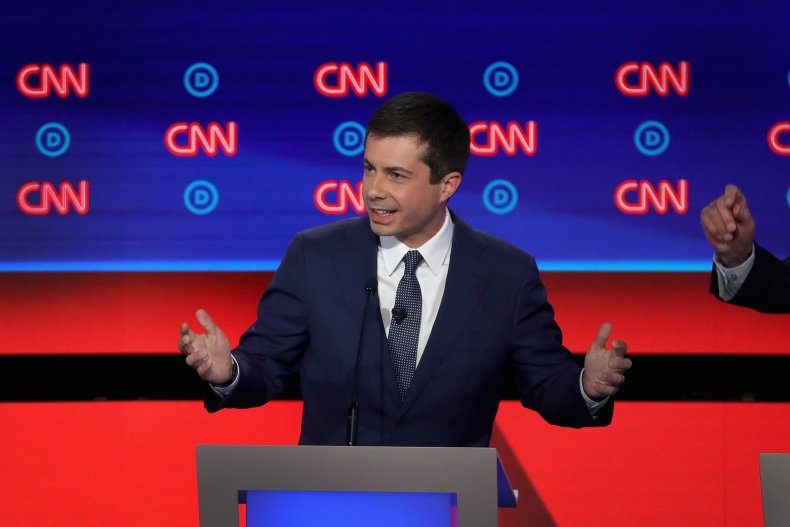 Republicans have long accused their Democratic counter-parts of embracing a "socialist agenda," highlighting the ideological shift to the left in the House with more freshmen, progressive lawmakers elected in 2018. Trump made note of it at his State of the Union speech, claiming the U.S. is "alarmed by new calls to adopt socialism in our country."
But some liberal congressional Democrats have embraced the "socialism" label, arguing that popular programs, such as Medicare and Social Security, were once considered radical socialist ideas, too.
Although Williamson is not considered to be one of the more moderate Democrats in the race—in fact, she said she's "normally way over there with Bernie and Elizabeth"—the candidate opposed Medicare for All because she feared it might not only be politically bad for the party, but that it could also create legislative gridlock.
"I do have concern about what the Republicans would say. And that's not just a Republican talking point. I do have concern that it will be difficult," Williamson said. "I have concern that it will make it harder to win, and I have a concern that it'll make it harder to govern. Because if that's our big fight, then the Republicans will so shut us down on everything else."
Buttigieg tried to balance his health care insurance position between the liberals and the moderates on stage with his proposal for a "Medicare for All who want it." Essentially, he explained, his plan would act as a mechanism to forge the pathway from corporate, private insurance to a government-run, public insurance system, like Medicare for All. But Buttigieg's proposal would not eliminate a patient's choice to keep their private insurance, as would Medicare for All.
"We'll put it to the test. That's the concept of 'Medicare for All that want it,'" he explained. "If people like me are right, then the public alternative is going to be not only more comprehensive but more affordable than corporate options around there. We'll see Americans walk away from the corporate options into that Medicare option and it will become Medicare-for-all."
The health care debate, at times, became somewhat personal, as one would expect a debate with 10 people would be. It led to Sanders, in separate instances, to throw his hands up and to say "I wrote the damn bill."
But Buttigieg described his health care insurance position as one that was morally and practically right, rather than ideologically.
"That's the policy I'm putting forward, not because I think it's the right triangulation between Republicans here and Democrats there—because I think it's the right answer for people like my mother-in-law, who is here, whose life was saved by the [Affordable Care Act], but who is still far too vulnerable to the fact that the insurance industry does not care about her."