GOP Senator Rand Paul Slams Trump's Mexico Tariffs, Says He Thinks Congress Will Block the President's Threat
Republican Senator Rand Paul hit out at President Donald Trump's threat to impose tariffs targeting Mexican imports, saying on Tuesday that he believes there are enough votes in Congress to block the president from moving forward with such a measure, even potentially overriding a presidential veto.
Paul, who represents Kentucky, explained during an interview with CNN's Newsroom that if Trump aims to use presidential emergency power to implement new Mexican tariffs, there must be a "privilege vote" in Congress. He pointed out that the vote could not be blocked and that he believed there was enough opposition, even among fellow Republicans, to stop the tariffs from moving forward.
"I think there will end up being a vote on this and I really do think that there may be enough numbers of people who think we shouldn't be allowing one person to make this decision, that we may actually have enough to override a veto on this," Paul predicted.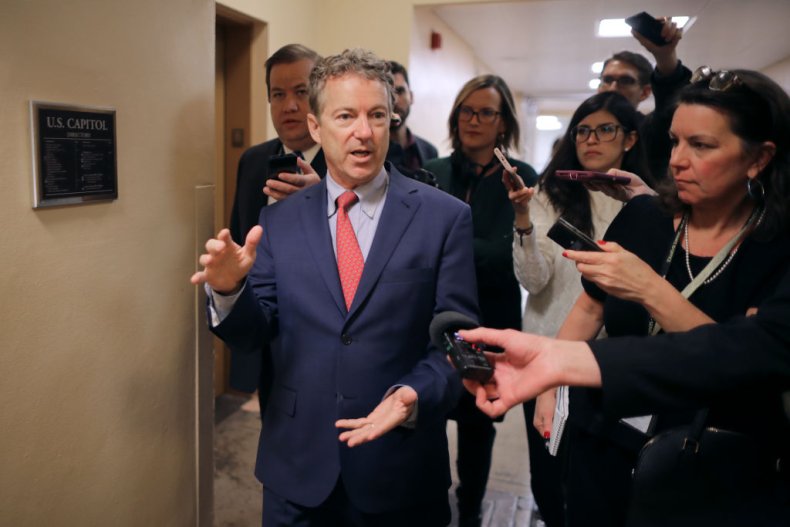 The GOP senator then attacked the threat of tariffs against Mexico, which is the second-largest trading partner to the U.S. He argued that it sends a "bad signal" as the Trump administration simultaneously tries to push through a new free trade agreement with Canada and Mexico, dubbed the United States-Mexico-Canada Agreement (USMCA), which would replace the North American Free Trade Agreement (NAFTA).
"Then to go back and say: 'Oh by the way we're going to heap on other tariffs,' I think this goes a long way to destroying the trade deal," Paul asserted. The Republican politician also argued, as he has before under Trump and former President Barack Obama, that the effort by the president was challenging the separation of powers laid out in the Constitution.
Several other prominent Republicans have come out hard against Trump's threat to add tariffs to goods shipped to the U.S. from Mexico if the wave of undocumented migrants coming to the southern border isn't addressed. The president has said that the tariffs will start out at five percent on June 10 and then steadily increase until they reach 25 percent, unless Mexico does more to stop Central American migrants from reaching the U.S. border.
"Trade policy and border security are separate issues," Senate Finance Chairman Chuck Grassley, a Republican from Iowa, said last week. "This is a misuse of presidential tariff authority and counter to congressional intent. Following through on this threat would seriously jeopardize passage of USMCA, a central campaign pledge of President Trump's and what could be a big victory for the country," he added.
For his part, Trump has dismissed criticism from Republican lawmakers, arguing that he didn't believe threats to block the Mexico tariffs.
"I don't think they will do that," he said during a news conference on Tuesday in the U.K. alongside British Prime Minister Theresa May. "I think if they do, it's foolish. There's nothing more important than borders."
Mexican officials have taken Trump's threat seriously, with a high-level delegation traveling to Washington to meet with administration officials to discuss a way forward. Although the Mexican leaders have publicly expressed optimism about finding a solution before the tariffs are added, they are reportedly privately planning to take countermeasures if necessary.