GOP Split as Some Praise, Other Denounce Lauren Boebert for Anti-Muslim Comments
As U.S. Representative Lauren Boebert faces backlash for comments deemed anti-Muslim made against Representative Ilhan Omar, some Republicans have denounced her remarks—while others have defended her.
Boebert, a freshman congresswoman from Colorado, recently referred to Omar as a member of the "Jihad Squad" during a House discussion on whether or not to censure Representative Paul Gosar.
After that remark, a video surfaced in which Boebert mentioned once being in an elevator with Omar and joking about her potentially having a bomb in her backpack.
The comments have received condemnation, with some members of her own party joining the criticism.
Congresswoman Nancy Mace, who represents South Carolina's 1st District, told CNN she "100 percent" condemns the comments. She said that members of Congress have a "responsibility to lower the temperature."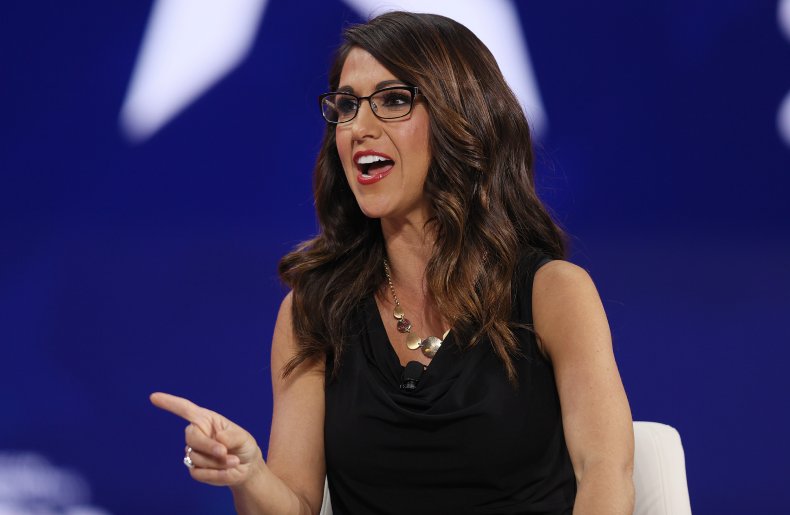 "I have time after time condemned by colleagues on both sides of the aisle for racist tropes and remarks that I find disgusting, and this is no different than any others," she said.
She added: "I didn't come to Congress to throw bombs on Twitter, to take advantage of people by saying crazy things to raise money or to be a comedian."
Representative Adam Kinzinger of Illinois retweeted a video of Boebert's remarks, adding the caption: "Boebert is TRASH."
Congressman Tom Reed of New York called her out for "high school level" antics while on CNN Monday night.
"I mean, first, obviously, I disagree and condemn the kind of comments that were made by my colleague in Congress towards a fellow colleague on the other side of the aisle," Reed said. "But you're absolutely right. This is a pox on all our houses. And I would just tell you, this rhetoric, this type of commentary, has to stop. We need to focus on the American people and solving their problems. That's got to be the mission. But these—these types of rhetoric exchanges are very disappointing."
Other Republicans have defended Boebert from the criticism, while many others have not commented on the remarks.
Representative Marjorie Taylor Greene of Georgia responded on Tuesday to Mace condemning Boebert.
"@NancyMace is the trash in the GOP Conference. Never attacked by Democrats or RINO's (same thing) because she is not conservative, she's pro-abort. Maybe you can back up off of @laurenboebert or just go hang with your real gal pals, the Jihad Squad. Your out of your league."
Mace hit back, writing: "What I'm not is a religious bigot (or racist). You might want to try that over there in your little 'league.'"
North Carolina Representative Madison Cawthorn also defended Boebert, pointing out that she apologized.
"@RepBoebert has tried to make things right but @Ilhan just wants her canceled. Sad!" he tweeted.
House Minority Leader Kevin McCarthy released a statement on Saturday, but did not go as far as to condemn Boebert, writing: "She has apologized for what she said and has reached out to Congresswoman Omar to meet next week."
Boebert and Omar continued to spar over the issue Monday after Omar accused Boebert of failing to directly apologize for the "hurtful and dangerous" remarks during a phone call.
"Instead of apologizing for her Islamophobic comments and fabricated lies, Rep. Boebert refused to publicly acknowledge her hurtful and dangerous comments," Omar wrote in a statement. "She instead doubled down on her rhetoric and I decided to end the unproductive call."
Boebert posted a video on social media later defending herself, adding "I will continue to fearlessly put America fist, never sympathizing with terrorists. Unfortunately, Ilhan can't say the same."