GOP Michigan Sen. Mike Shirkey Pictured With Whitmer Kidnap Plot Suspect
A photo shared on the social media site Parler appears to show Mike Shirkey, a Republican state senator from Michigan, with one of the men charged over the alleged plot to kidnap the state's governor, Gretchen Whitmer.
The photo was posted on the platform, which is popular with conservatives, about one month ago. It shows Shirkey, majority leader in the Michigan Senate, smiling as he stands alongside William Null, who faces up to 22 years in prison if he is convicted of domestic terrorism.
The image was uploaded by Jason Howland, co-founder of a group called the American Patriot Council. He wrote alongside the photo: "The establishment wants to remove one of Michigan's nest [sic] sheriffs for sharing a stage with an ALLEGED terrorist, but here's state senate majority leader Mike Shirkey on the same stage with the same guy… and he looks so happy."
At the time of writing, Howland's Parler page has been taken down. A message on the website reads: "The page you are looking for does not exist."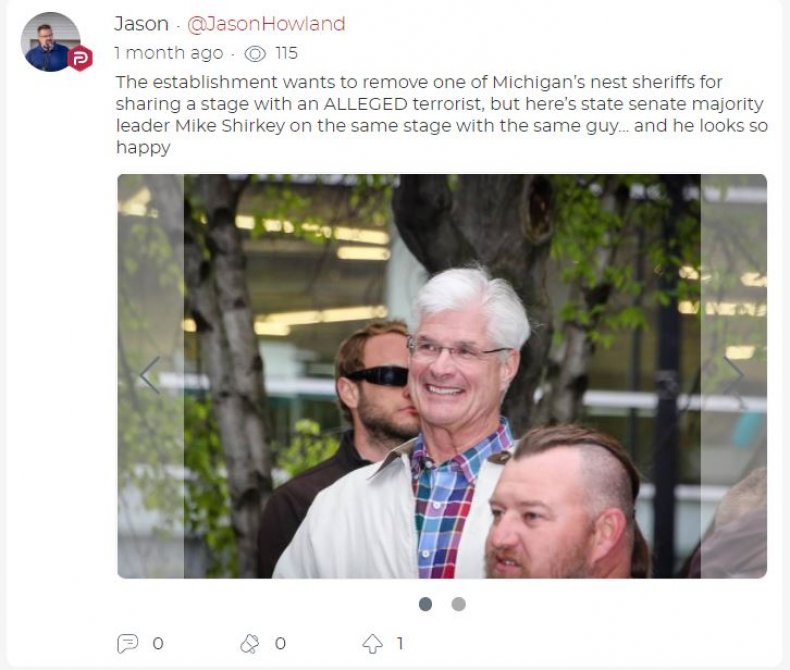 Null, 39, of Shelbyville, is one of the 14 men charged last October over the alleged plot to kidnap and kill Whitmer, a Democrat. He was also photographed among the armed protesters who stormed the Michigan Capitol in April 2020—an event that was later described by a criminal law professor as a "dress rehearsal" for the deadly riot at the U.S. Capitol on January 6.
The Parler photo was reportedly taken at an American Patriot Council rally last May. The event was organized by Howland and council co-founder Ryan Kelley, an aspiring Michigan gubernatorial candidate for 2022.
Both men have held regular rallies during the coronavirus pandemic, calling for the arrest of Michigan officials Whitmer, Attorney General Dana Nessel and Secretary of State Jocelyn Benson.
Local media reports indicate that several of the 14 men charged over the alleged kidnap plot attended the rally in May, including William Null and his twin brother Michael. The brothers have been charged with providing material support for a terrorist act and firearms offenses.
Michigan State Police said in an affidavit last year that the Null twins, along with Brian Higgins, Shawn Fix and Eric Molitor, conducted "surveillance" of Whitmer's holiday home in Antrim County. The FBI became aware of the alleged assassination plot and foiled it.
An Antrim County judge ruled on April 14 that the Null twins would not have to remain under house arrest and curfew restriction before trial. However, they will remain on electronic tethers while on their bail bond. Defense lawyers argued that the two men did not pose a threat to the community and were not a flight risk.
The brothers also face hearings to determine whether there is enough evidence for their case to go to trial.
Newsweek has contacted Mike Shirkey's office for comment on the photo and his relationship with Null.
Newsweek has also contacted Gov. Whitmer's office for comment.
Michigan Democrats reacted to the photo with dismay.
State Senator Dayna Polehanki told Newsweek: "It is troubling that my colleague in the Michigan Senate appeared on a stage with the some of the same men who allegedly plotted to execute Michigan legislators on live TV."
Senator Erika Geiss, a Democrat from Taylor, told Newsweek that Shirkey owes Michiganders an explanation for why he met with these "criminals" on multiple occasions.
"Between this and MIGOP Co-Chair Ron Weiser's comments that he would burn Gov. Whitmer, AG Nessel, and SOS Benson at the stake, Republicans are unabashedly embracing the most dangerous rhetoric and actions of the fringes among their ranks," Geiss added.
Shirkey admitted last year that he met with militia groups in Michigan after the storming of the state Capitol and offered them advice on how to get their message across.
He was also at the forefront of GOP efforts to introduce 39 "election reform bills" in Michigan in March. Democrats said the legislation would make it more difficult to vote, particularly for people in disenfranchised communities.
Reacting to the 39 election bills, State Rep. Sarah Anthony told Newsweek: "As we're seeing across the country right now, Republicans are happily doing whatever necessary to keep Trump's Big Lie alive and restrict every American's freedom to vote. What's happening in Michigan is no exception as Republican state senators have introduced a fundamentally flawed package of anti-voter bills that severely limit early voting, make it impossible for county clerks to process elections, and install partisan challengers with the sole aim of stalling the certification of results and disenfranchising voters."
The Michigan Senate majority leader has wrongly claimed that the Capitol riot was a "hoax" designed to discredit Donald Trump and the GOP.
In February, Shirkey alleged in a radio interview that "dead people voted" last November in Michigan, but not enough to change the state's results. He did not provide any evidence for the unsubstantiated claim.