Democrats Fear Michigan Will Follow Georgia in Tightening Voting Restrictions
Democrats have lambasted the Michigan Republican Party for "turning its back" on its supporters by tabling new laws intended to reform the state's voting system, in a move critics have compared to the recent electoral overhaul in Georgia.
Michigan Senate Republicans, led by Senator Mike Shirkey, on March 24 introduced 39 "election reform bills," which if passed, mean there are much stricter thresholds to being able to vote.
Michigan Republicans are touting these laws as protection from election fraud—which former President Donald Trump baselessly claimed was the reason why the November vote did not go his way. Democrats meanwhile say these bills will only make it more difficult to vote and discourage citizens from casting their ballots, particularly those in disenfranchised communities.
Unlike Georgia, where there have been similar overhauls on voter legislation by Republicans, Michigan has a Democratic Governor and Lieutenant Governor. But Michigan senators have also made it clear that they will use a petition initiative if necessary to circumvent Governor Gretchen Whitmer. If more than 340,000 signatures are collected, the GOP-controlled Legislature could approve the proposal into law without Whitmer being able to veto it.
Michigan has been a state that has led on voter rights. In 2018, it had a voters rights proposal on the ballot, which expanded access to the ballot box and removed barriers, such having to provide a reason to request an absentee ballot. Absentee ballots were key to Joe Biden's election victory in the state last year amid the coronavirus pandemic. The 2018 bill, which also made online voter registration more accessible, was supported by 67 percent of voters in Michigan, including Democrats and Republicans.
Asked about what aspects of the 39 bills were most concerning, Democratic Metro Detroit Senator Jeremy Moss told Newsweek that it was the fact that Michigan voters and state clerks "did not ask for this," calling it "an affront to the democratic process" in the Upper Midwest state.
"It's from the same playbook that they're using here in Michigan that they used in Georgia. It's incredibly distressing on its face, but even when you get into the intricacies of Michigan, we are a state that has led on voter rights, and it's only legislative Republicans that are working to dismantle those efforts," Moss, a senator for the 11th District in southern Oakland County, told Newsweek.
"Again, no one asked for this; the nonpartisan clerk's association here in Michigan said that they oppose these measures. So this does not make it easier for voters to vote, this does not make it easier for election administrators to administer an election. This is only a measure to suppress the vote, and make it harder for people to access their ballot."
Sen. Erika Geiss, a Taylor Democrat, said that by bypassing Gov. Whitmer, the Republicans were turning their backs on some of their own supporters who supported the voting rights bill in 2018.
"It's a slap in the faces of the people who filled in that circle on their ballot in 2018," she told Newsweek. "And to the new voters, because we had all the people who turned of age the day after the election in 2018, who were able to vote in their local elections in 2019 and able to vote in their first presidential election in 2020. It's turning their backs on everyone who wants to be able to vote."
Nancy Wang has been going out canvassing in Michigan trying and raise awareness to these reforms. She is the executive director of Voters Not Politicians, the main voting rights and democracy organization based in the battleground state.
"So, essentially, there are about 8 million Michigan voters, and you are allowing 340,000 people to sign something and bypass the will of the millions. Over 2.2 million people who had voted for Governor Whitmer in 2018," she said.
Wang told Newsweek that these measures will disproportionately impact younger people, including college students and communities of color. There are around 50,000 students at Michigan State University, many of whom she says will be impacted by such reforms.
"With students these days, nobody sends anything by mail. So we've heard time and time again that younger people don't even know how to get a stamp, and so of course, the Republicans know this. This is also true with our Black and brown communities and urban center, because they [the GOP] also know it's much more difficult for people to get things like stamps than it is for people that might live in the suburbs."
The Republican proposals also require people wanting to apply for an absentee ballot to include a copy of their ID printed in color. But many poorer people might not have access to color printers, meaning they won't be legible to vote.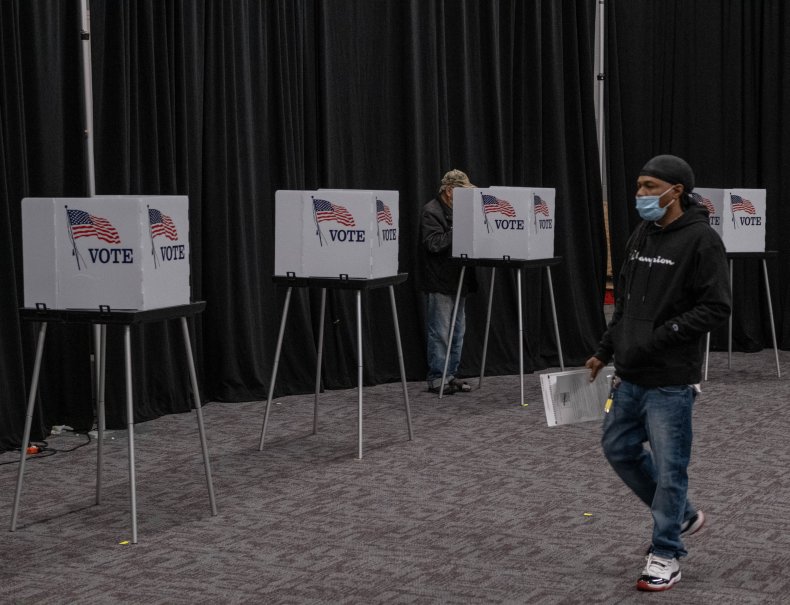 Raising awareness
Garlin Gilchrist II, the Lieutenant Governor of Michigan, told Newsweek he is working with the governor to try and raise awareness of the reforms.
"If those bills were to come to our desk, we would absolutely reject them. Especially if they make it more difficult for people to vote because we want more people to vote, we think more voting is good for Michigan, we think it's better for democracy," he said.
Gilchrist said the Republican strategy was to stop people from voting and it was "an unacceptable abuse of power to do so."
"I would hope that Republican voters would actually see this for what it is, as disrespectful to them as voters, and that they would call on their elected leaders to not go down this path," he added.
Asked about what he thinks of using electoral fraud as an excuse for bringing in tougher voter legislation, the Lt. Gov. accused the Michigan Republican Party of being "very clear and very unapologetic" of continuing to pair the new voter bill with "ridiculous, baseless, without credibility" claims about the 2020 election being fraudulent.
"It absolutely is part of their motivation or perhaps their entire motivation to want to use those lies to suppress votes going forward. And it's disgusting because they've been disproven had every opportunity, but they're demonstrating that the truth is not what matters to them in this case, only matters to them is their ability to suppress votes because they think that's a better electoral strategy than actually earning them."
Sen. Moss said that the electoral fraud reason for pushing forward these bills as "built on a foundation of lies."
"On each level, they have not been able to display that there's been any criminal activity surrounding our election all of those claims were thrown out, the Michigan Supreme Court all the way up to the US Supreme Court did not take up a challenge to our election processes here. So without anything left to do, they continue to perpetuate this lie. They've introduced these bills, and they're really fleecing their supporters," he said.
Geiss said she believed that the Republicans were scared of losing their grip over Michigan's legislature, having been in control of both chambers up until 2018. "They are having an existential crisis, because they don't have the executive branch, they have a slim majority in both chambers, and we have redistricting on the horizon," she added.
Parallels with Georgia
Democratic lawmakers have said that the Michigan GOP's strategy is from a similar playbook to the tactics they've seen in Georgia this year. On 25 March, Gov. Brian Kemp passed a law that limits absentee ballots and early voting, restricts ballot drop boxes and imposes tough new voter ID requirements. It also allows the state, currently controlled by Republicans, to take over county election boards it deems problematic.
"A lot of the language is the same or very similar, and the language that's in the bills from some of the other states are also cut and pasted content from external groups that are telling legislators and legislative bodies what to introduce," Sen. Geiss said, after being asked about whether she saw comparisons.
Both Gilchrist and Wang see the GOP activity in Michigan as part of a wider strategy by the Republicans to target voters in battleground states. The Upper Midwest state saw unprecedented voter turnout in last year's election—more than 5.5 million people in the state cast their ballot.
Moss and other Democratic lawmakers are watching large corporates such as Coca-Cola and Delta, who have spoken out against the voting reform bills that came into place in Georgia last month. He said to stop voter reforms in Michigan passing, Democrats will look to companies with sway in the state to speak out.
"We're pushing back, making it very, very public what they're trying to do. We have thousands of volunteers. We are going canvassing district by district to make sure voters know exactly what their elected politicians in Lansing are trying to do," Wang said.
She seeks to educate voters about petitions and strategies to suppress votes to fight the proposed reforms.
"We are going to appeal to these lawmakers' corporate donors, like they are doing in Georgia, to make it clear that by enabling this kind of thing, these corporations are complicit in suppressing the will of the voters," she said.
The Michigan GOP did not respond to multiple requests for comment for this article.