GOP Stimulus Bill Criticized for Denying Hazard Pay to Essential Workers
Several state and federal lawmakers criticized the Republican-backed economic relief package, citing concern that the bill makes no mention of hazard pay to workers deemed "essential" during the coronavirus pandemic.
"This is a middle finger to those struggling and to the cops, first responders, teachers, and those who have been putting their lives on the line in the fight against COVID-19," tweeted Rep. Max Rose, a Democrat from New York, adding that the proposed plan includes "$0 for states and cities, no hazard pay and slashed unemployment benefits."
Senate Republicans formally unveiled the roughly $1 trillion stimulus package Monday afternoon, titled the "HEALS Act," which will include $200 in added weekly unemployment benefits and second rounds of direct payments to Americans and Paycheck Protection Program loans for businesses.
Also in the plan was liability protections for employers of these essential workers, including schools, hospitals and other businesses worried they could face lawsuits if their workers get coronavirus—a component Democratic leaders have already said they will not support.
"What they're saying to essential workers, 'you have to go to work because you're essential. We've placed no responsibility on your employer to make that workplace safe,'" said House Speaker Nancy Pelosi during an appearance Sunday on CBS' Face the Nation.
Pelosi argued that the proposed plan is unfair, as such a measure does nothing to force employers to make their workplaces safe during the pandemic.
"And if you get sick, you have no recourse because we've given the employer protection," Pelosi said. "And if you don't go to work because you're afraid of being sick and you have that job opportunity you don't get unemployment insurance. This is so unfair."
In a news release sent to Newsweek, Rose elaborated on his stance regarding the GOP-backed legislation, criticizing Senate Majority Leader Mitch McConnell.
"This proposal is proof that Mitch McConnell wants to fire cops, first responders, teachers, and those who have been on the front lines putting their lives on the line in the fight against COVID-19," Rose said.
Vermont Sen. Bernie Sanders described the Republican's plan as a "disaster" Monday night, writing in a tweet that the bill provides "$29,400,000,000 for the Pentagon" but "$0 for hazard pay."
During an interview Monday with MSNBC, the former Democratic presidential candidate said pathetic would be "too mild a word" to describe the GOP-backed bill.
In an emailed statement to Newsweek, Sanders called the legislation "appalling."
"Workers on farms, in grocery stores, in hospitals, in meatpacking plants, and across the country have been risking their lives for low pay to keep this country running," Sanders said. "We must give them more than lip service. They deserve hazard pay, sick leave, health care and safe workplaces."
New York State Sen. Andrew Gounardes echoed Sanders' sentiment, calling the bill "disgraceful" in a tweet Monday, writing that New Yorkers and all Americans "deserve better than an aid package that cuts unemployment payments" and "doesn't include hazard pay."
Gounardes, a Democrat, added that the pandemic has been made "so much worse by the slow, stingy & even cruel response" by Republican senators.
The state senator instead voiced his support for the House's proposed HEROES Act, telling Newsweek it is "about supporting our heroes. It can't get more clear than that."
"I find it so rich that Republicans like to wrap themselves in the flag and beat their chest and say we support our first responders, we support our teachers, we support our nurses and then when the time comes to help pay them and help protect their jobs...they are absolutely no where to be found," Gounardes said.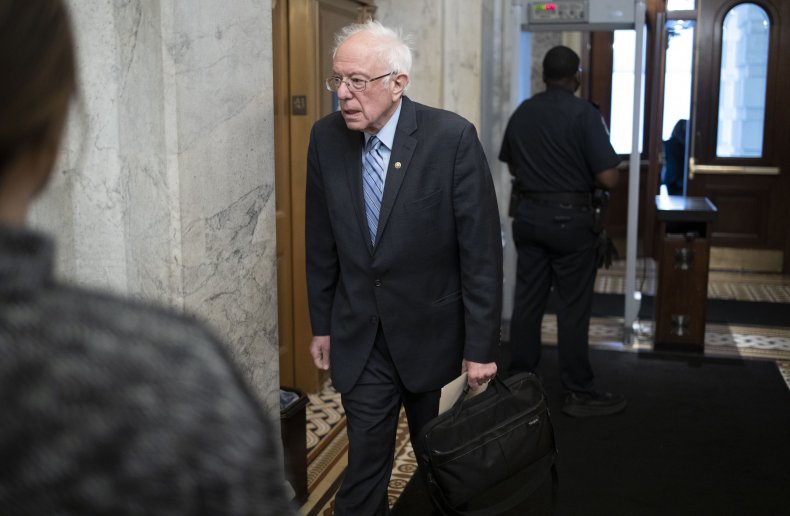 As he unveiled the Republicans' economic relief package Monday, McConnell called upon Democratic lawmakers to "put aside partisan stonewalling" and "rediscover the sense of urgency" that got the $2 trillion Coronavirus Aid, Relief and Economic Security (CARES) Act package passed in March.
"Senate Republicans have authored another bold framework to help our nation. So now we need our Democratic colleagues to reprise their part as well," the Kentucky Republican said.
The Democratic-controlled House passed its $3 trillion coronavirus relief bill in late May, which in many ways serves as the antithesis of the GOP-backed legislation formally unveiled Monday.
Under the House plan, significant funding would be provided for state, local and tribal governments, another round of direct payments would be given to Americans and undocumented immigrants, the $600 weekly unemployment benefits would be extended and $200 billion would be allocated as hazard pay for essential workers.
The gaps between the two proposed bills will likely leave Democrats and Republicans grappling to reach an agreement under a tight deadline, as expanded unemployment benefits are set to expire for many Americans later this week.
Newsweek contacted Pelosi and McConnell's offices for comment but did not hear back in time for publication.
Update (07/28/20, 4:02 p.m.): This article has been updated to include comments from Sen. Bernie Sanders and New York State Sen. Andrew Gounardes.