Senate Majority Leader Mitch McConnell on Monday unveiled the economic relief package proposed by his party and the Trump administration to address fallout from the coronavirus pandemic. The proposal would temporarily cut extra federal unemployment assistance from $600 to $200, drawing significant criticism from Democrats.
"Senate Republicans have authored another bold framework to help our nation. So now we need our Democratic colleagues to reprise their part as well," the Kentucky Republican said. McConnell urged Democrats to "put aside partisan stonewalling," and "rediscover the sense of urgency" that got the $2 trillion Coronavirus Aid, Relief and Economic Security (CARES) Act package passed in March.
But Democrats expressed disappointed with the GOP's starting point, which has also faced significant internal criticism. In May, the Democrat-controlled House passed a much larger $3 trillion relief package, which extends the extra $600 per week allocated by the federal government for unemployed workers. But Republicans in the Senate dismissed that legislation as a Democrat "wish list."
Now, McConnell's proposal aims to cut the extra $600 benefit to $200 per month until individual states can set up a system to ensure that unemployed workers aren't receiving more than 70 percent of their previous income.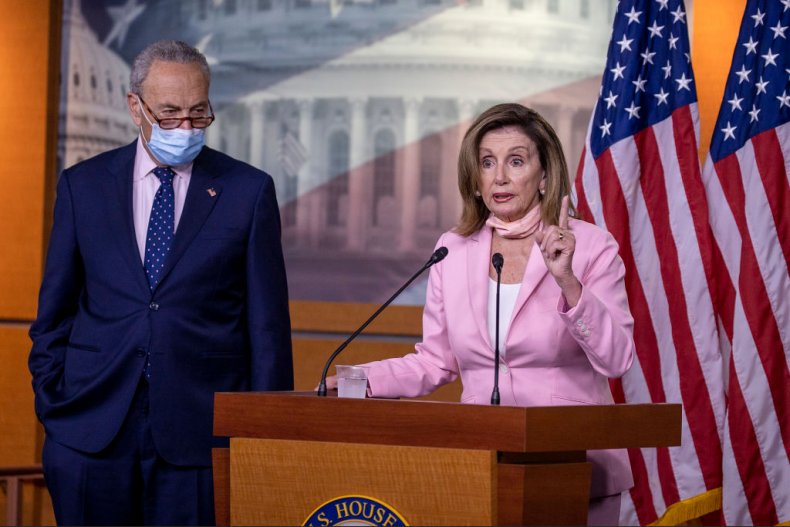 "There are trillions of dollars being used now by the Fed and our government to bolster the stock market. Stock market's in good shape, right? And that may be a good idea. Why can't we spend trillions of dollars to bolster the middle class?" House Speaker Nancy Pelosi asked Monday evening during an interview with MSNBC.
"Why are you quibbling over $600 when people need that to buy food, pay their rent?" The California Democrat asked. She pointed out that this money would be reinjected into the economy.
Senate Minority Leader Chuck Schumer questioned why Republicans were trying to take money away from jobless Americans.
"If you've lost your job through no fault of your own, Republicans want you to take a 30% pay cut. Can you believe that?" the New York Democrat wrote on Twitter. "If you've lost your job and can't go back to work Republicans now want to take $1,600 out of your pocket every single month."
Former Democratic presidential candidate Bernie Sanders, an independent senator from Vermont who caucuses with the Democrats, strongly criticized the Republican proposal during a Monday evening interview with MSNBC. Sanders said pathetic would be "too mild a word" to describe the bill.
"Bottom line here is obviously Democrats in the Senate have gotta remain strong. We've gotta make absolutely clear that workers in this country continue to receive that $600," he said.
Senator Elizabeth Warren, a Massachusetts Democrat who also sought her party's presidential nomination, called on her GOP colleagues to "wake up."
"Republicans need to wake up, extend unemployment benefits, expand the eviction moratorium, & work with Dems on a real relief bill now. It's the right thing to do for our economy & for our families," she tweeted.
Newsweek reached out to McConnell and Treasury Secretary Steve Mnuchin, the Trump administration's point man on negotiations for the next round of relief legislation, for comment, but they did not respond in time for publication.
Whether the significant disagreements between Republicans and Democrats can be resolved before the Senate's August recess begins remains to be seen. Meanwhile, McConnell's plan has also received strong criticism from within his own party's ranks. GOP Senators Rand Paul of Kentucky, Ted Cruz of Texas and Ron Johnson of Wisconsin have all suggested publicly that they would oppose the legislation.
"What we ought to focus on, instead of just shoveling trillions out the door, we ought to be passing a recovery bill," Cruz told CBS News' Face the Nation on Sunday before McConnell's announcement. "A recovery bill would be lifting the taxes and the regulations that are hammering small businesses so that people can go back to work. A recovery bill would suspend the payroll tax, which would give a pay raise to everyone in America who's working."