Representative Louie Gohmert, a Republican from Texas, on Friday appeared to speak in support of unproven treatments for COVID-19, including ivermectin, a drug that's often used as a dewormer for cows and horses.
"I don't know if y'all saw, but a month after president Trump left office the American Journal of Medicine came out with a great article that they had discovered a regimen of medication that, when taken together early in COVID, that you may have heard of it hydroxychloroquine, ivermectin, Z-Pak, azithromycin, zinc," Gohmert said during a speech at the Texas Youth Summit Friday night.
Gohmert's comments were met with cheers from the audience.
The Food and Drug Administration has said ivermectin should not be used to treat or prevent COVID-19, and that it has received "multiple reports of patients who have required medical support and been hospitalized after self-medicating with ivermectin intended for horses."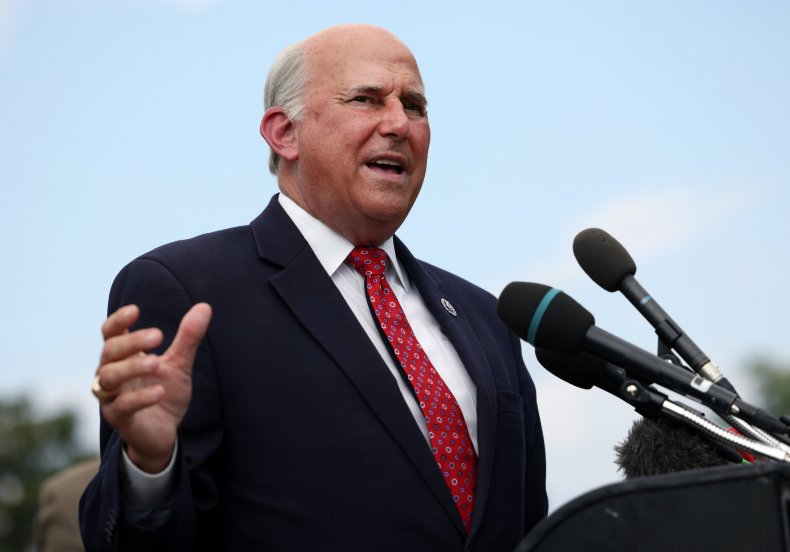 The FDA notes that ivermectin tablets "are approved at very specific doses for some parasitic worms, and there are topical (on the skin) formulations for head lice and skin conditions like rosacea." But it specifies that ivermectin is not a drug for treating viruses.
During his remarks on Friday, Gohmert also praised former President Donald Trump for "getting the government out of the way enough" so that COVID-19 vaccines could be developed quickly.
But he also raised some concerns about COVID vaccines.
"The trouble is, these vaccines, they were only approved for emergency use. Now you have Pfizer that's been approved, but there's so much long term they don't know," Gohmert said.
"And now that the pandemic is under more control," he added, "we need to get back to our freedom of saying ,'Look, here's my preexisting conditions, let's talk about which one I should take, if I should even take one.'"
In a story that aired on the Houston TV station KTRK on Wednesday, a Texas doctor said he had used ivermectin to treat thousands of COVID-19 patients.
The doctor, Joseph Varon, said that drug used in combination with other COVID therapies is effective.
"It's not just ivermectin," he said.
"That's where people get confused. Ivermectin helps you, but it helps you when you are giving it in addition to other components of treatment protocols that are out there."
Varon said that he hadn't seen "a single significant side-effect" from the drug.
On Friday, Senator Rand Paul claimed that "hatred for Trump" hindered research into ivermectin as a treatment for COVID-19, saying researchers were "unwilling to objectively study it."
Earlier this month, the FDA tweeted about ivermectin, "You are not a horse. You are not a cow. Seriously, y'all. Stop it."
Gohmert's office did not immediately respond to a request for comment from Newsweek on Saturday morning.