GOP Representative Votes Against Bigotry Resolution Over 'Intentional Omission of Christians and Caucasians'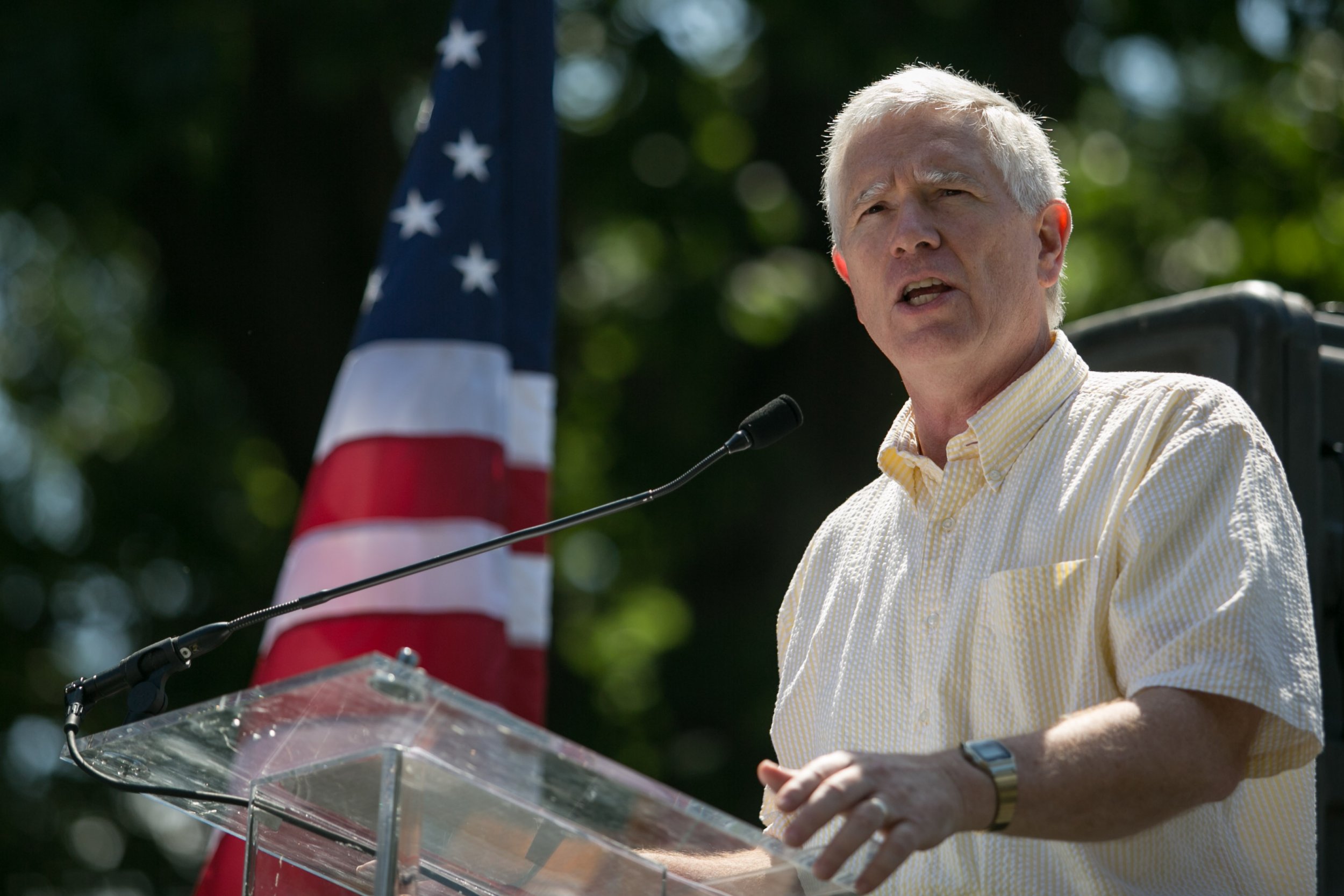 Representative Mo Brooks said he voted against the House Resolution condemning bigotry and hatred because it ignored discrimination against white Americans and Christians.
Brooks, of Alabama, was one of 23 Republicans who voted against H. Res 183 condemning hatred and intolerance, including anti-Semitism and anti-Muslim discrimination.
Following the vote, Brooks issued a statement saying he could not support a resolution "that explicitly condemned discrimination against Jews, Muslims, Hindus and Sikhs (but not Christians); and condemned discrimination against African-Americans, Latinos, Native Americans, Asian Americans, Pacific Islanders and other immigrants (but not Caucasians); and condemned discrimination against lesbians, homosexuals, transsexuals, and the like.
"I oppose discrimination against anyone based on inherent characteristics like ethnicity, race, sex or any other attribute over which a person has no control," Brooks said.
"Quite frankly, I am shocked the Socialist Democrats who sponsored H. Res. 183 refused to similarly condemn discrimination against Caucasian-Americans and Christians.
"In my view, discrimination against Caucasian-Americans and Christians is just as insidious as discrimination against any other race, ethnicity or religion and the failure to specifically state opposition to discrimination against Caucasian-Americans and Christians, while reflective of Socialist Democrat priorities and values, is, by omission, fatal to the bill," Brooks said.
"H. Res.183's intentional omission of Christians and Caucasians is insulting and suggests America's House of Representatives cares about virtually everyone except Christians and Caucasians. That implication is repugnant, and I reject it. This failure, this omission, is fatal to H. Res. 183 and why I voted against it."
Christians are mentioned in the text of the resolution when discussing how Americans across all faiths "have a stake in fighting anti-Semitism [and] have a stake in fighting every form of bigotry and hatred against people based on religion, race, or place of birth and origin."
The resolution was brought forward following the comments made by Representative Ilhan Omar, which some perceived as anti-Semitic in nature.
On March 2, Representative Nita Lowey, a New York Democrat, tweeted: "Lawmakers must be able to debate w/o prejudice or bigotry. I am saddened that Rep. Omar continues to mischaracterize support for Israel. I urge her to retract this statement and engage in further dialogue with the Jewish community on why these comments are so hurtful.
In response, Omar said: "Our democracy is built on debate, Congresswoman! I should not be expected to have allegiance/pledge support to a foreign country in order to serve my country in Congress or serve on committee. The people of the 5th elected me to serve their interest. I am sure we agree on that!"
Meanwhile, several of the 23 Republicans who voted against the resolution issued statements criticizing the "watered-down" text that did not mention Omar by name.
"If a Republican member was pushing the anti-Semitism that Omar keeps peddling, this resolution would name names, and be solely, emphatically focused on anti-Semitism and that member would be removed from their committee assignments," Representative Lee Zeldin said.
Representative Chip Roy added: "This is a sham cover vote designed to avoid dealing with a rogue member. Tonight, I voted NO on this resolution but will continue to strongly oppose anti-Semitism and religious hatred."
Following the vote, Omar and fellow Democratic Representatives Rashida Tlaib and Andre Carson praised the passing of the resolution.
"It's the first time we have voted on a resolution condemning Anti-Muslim bigotry in our nation's history," the three wrote in a joint statement.