'Gossip Girl' Reboot Cast List: Meet the New 'GG' Cast and Characters
The Gossip Girl reboot premieres July 8 on HBO Max. It's been nine years since the original series ended on The CW and Gossip Girl's identity was exposed. The reboot of the pop culture classic will revisit Constance Billard, an elite private school.
There is a brand new set of students and the original blogger Gossip Girl is back with a whole new platform to carry out her social surveillance. Kristen Bell is back to voice Gossip Girl but the original cast will be absent from the rebooted series. Newsweek has everything you need to know about the series brand new cast.
Who is in the cast of the Gossip Girl Reboot?
Julien Calloway—Jordan Alexander
Jordan Alexander stars as Julien Calloway, the most popular girl at Constance Billard High School.
With her character channeling Serena Van der Woodsen (played by Blake Lively) energy from the original Gossip Girl series, Alexander told the Herald Sun: "She knows the kind of power that she holds and she definitely utilizes that to create an image. That's what she's presenting and that works for her."
Alexander is an actress and musician, who has opened shows for Kehlani and worked with Carly Rae Jepsen.
Her acting credits include Sacred Lies and Unbury the Biscuit.
Obie—Eli Brown
Pretty Little Liars: The Perfectionists star Eli Brown plays the role of Otto 'Obi' Bergmann IV in the Gossip Girl reboot.
Obie is believed to be a mash-up of Dan (Penn Badgley) and Nate (Chace Crawford) from the original series. He has good intentions and a good heart but many of his actions can be self-destructive.
Brown has also appeared in Run Hide Fight, Spinning Out, and Wrath of Man.
Max Wolfe—Thomas Doherty
Scottish actor and singer Thomas Doherty portrays Max Wolfe in the Gossip Girl reboot.
Max, known as the "new Chuck Bass," is not only the show's new heartthrob but also a polyamorous pansexual who catches the attention of Audrey (Emily Alyn Lind), her boyfriend Aki (Evan Mock), and even his male teacher.
In a teaser on the official Gossip Girl Instagram, Max is described as a "debonair man about town" and a "habitual pleasure seeker."
Doherty, 26, is best known for playing Sean Matthews in Disney's The Lodge and Harry Hook in Disney's Descendants film franchise.
Most recently, Doherty appeared in the CW series Legacies as Sebastian, starring alongside Danielle Rose Russell, Jenny Boyd, and Matthew Davis.
His other credits include Catherine the Great and High Fidelity.
Kate Heller—Tavi Gevinson
American writer, magazine editor, and actress Tavi Gevinson stars as teacher Kate Heller in the Gossip Girl reboot.
At the age of 12, Gevinson launched her style blog Style Rookie and went on to set up and become editor-in-chief of the online magazine Rookie.
Her acting credits include Scream Queens, The Twilight Zone, and Neo Yokio.
Gevinson has also appeared on Broadway in productions of The Chery Orchard, The Crucible and This is Our Youth.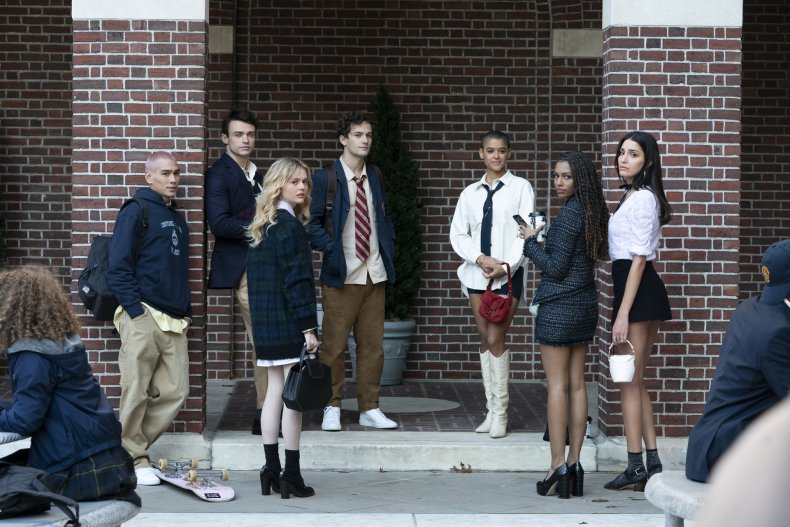 Audrey Hope—Emily Alyn Lind
Emily Alyn Lind stars as Blair Waldorf-inspired Audrey Hope in the Gossip Girl reboot.
Lind is best known for playing Snakebite Andi in The Shining sequel, Doctor Sleep, starring alongside Ewan McGregor and Rebecca Ferguson.
Viewers may also recognize Lind from her role as Melanie in Netflix's film series The Babysitter and The Babysitter: Killer Queen.
Her other credits include young Amanda Clarke on ABC's Revenge and Ariel on CBS's Code Black.
Aki—Evan Mock
Model, surfer, and skateboarder Evan Mock takes on the role of Aki in Gossip Girl.
Aki is the long-term boyfriend of Audrey and together, the pair begin to explore their sexuality with Max (Thomas Doherty).
Gossip Girl is Mock's first major acting role to date. He is best known for his modeling career, having worked with Louis Vuitton, Saint Laurent, Calvin Klein, Paco Rabanne, Jimmy Choo and Superdry in the past.
Mock is also an aspiring photographer. He was the photographer on Travis Scott's Astro World tour, traveling across Europe for two weeks and taking behind-the-scenes snaps and photographing the live shows.
He recently launched his own collection with RVCA, the Californian lifestyle brand specializing in surf and skate clothes.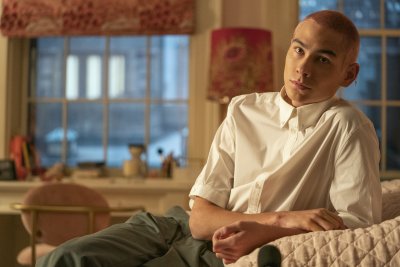 Luna La—Zión Moreno
Zión Moreno takes on the role of Luna La in the HBO Max reboot of Gossip Girl.
Luna is one of the most popular girls at Constance Billard and is best friends with Queen Bee Julien (Jordan Alexander).
On the official Gossip Girl Instagram, Moreno's character Luna was described in one word as "style" and in another video was teased as knowing everybody's secrets.
Moreno is an actress and model, best known for her role as Isabela de la Fuente in the Netflix series Control Z.
Zoya Lott—Whitney Peak
Ugandan-Canadian actress Whitney Peak plays Zoya Lott in the Gossip Girl reboot.
Zoya is the half-sister of Julien and is attending Constance Billard on a scholarship.
She is lower-class in comparison to Julien and their differences start a bitter cyber-rivalry
Peak is best known for playing Judith Blackwood in Netflix's Chilling Adventures of Sabrina Part 3 and Alpha Jessica in The Apple TV+ series Home Before Dark.
Monet de Haan—Savannah Lee Smith
Savannah Lee Smith plays Modet De Haan, the best friend of Zoya (Whitney Peak) and Julien.
Gossip Girl is Haan's first major acting role. She is currently studying acting at NYU's Tisch School of the Arts.
Speaking to Wonderland, Haan said: "It's already a dream to be able to be a part of this project, but on top of that I get to be a part of a greater responsibility that I feel as a Black, bisexual woman in the media.
"It's important for everyone to see Black bodies and Black female bodies and people of color in positions of power, and positions of wealth and status. It's just as important to see everyone in those positions and I feel like when you start to level out the playing field then we can start to see some real change."
Also appearing in the Gossip Girl reboot are Adam Chanler-Berat, Laura Benanti, Donna Murphy, Elizabeth Lail, Lyne Renée, Megan Ferguson, Jeremy O'Harris, and Kristen Bell.
The Gossip Girl reboot premieres Thursday, July 8 on HBO Max.