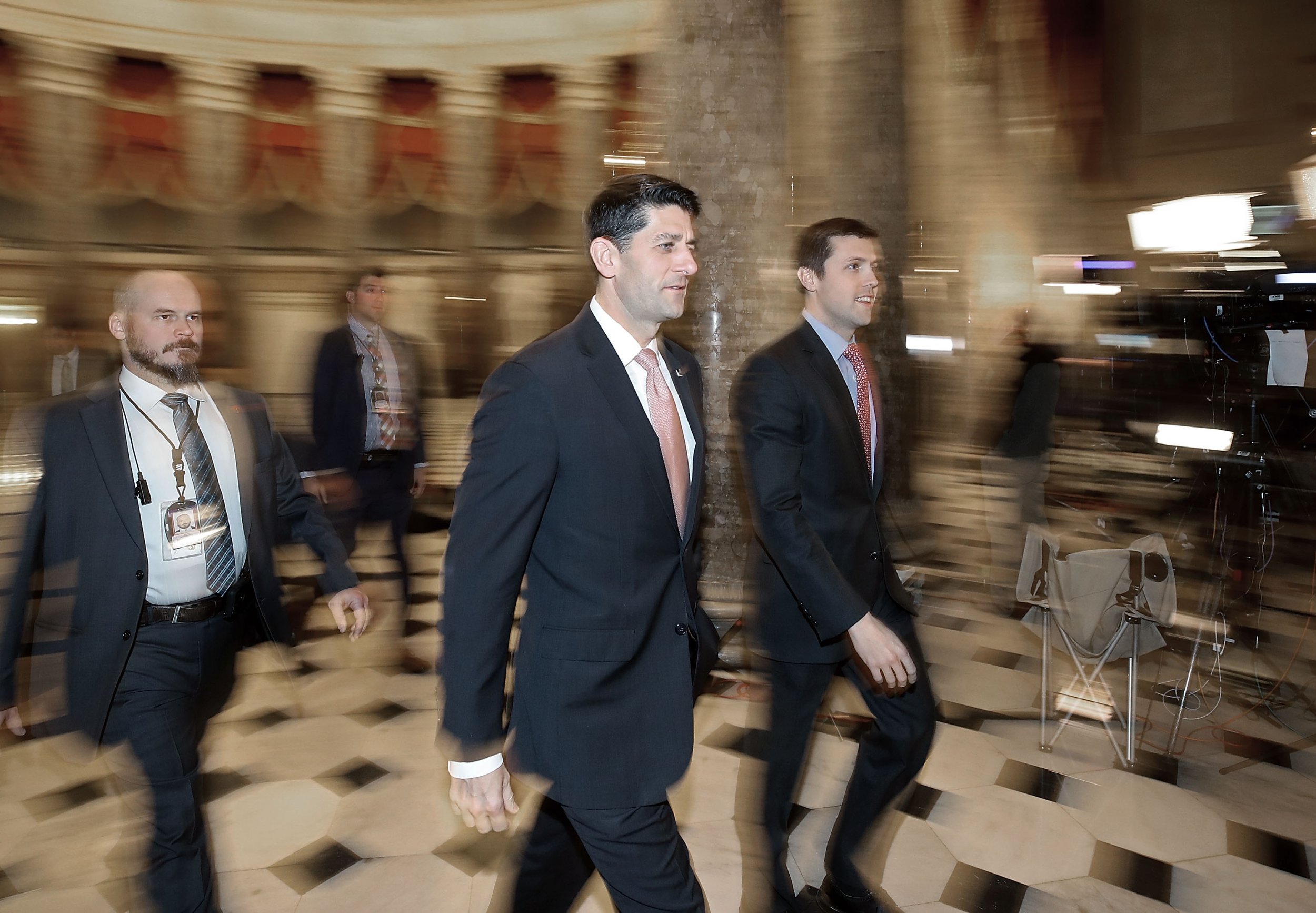 House Republicans ate Italian food Tuesday evening as they worked on a short-term spending bill they hope will avert a looming government shutdown, according to a report.
"LATE LAST NIGHT, in the bowels of the Capitol, HOUSE REPUBLICANS snacked on Carmine's Italian food — the smell was really, really strong — and heard their leadership's most recent plan to keep the government open," Politico reported in its newsletter.
Democrats and Republicans must reach an agreement on a number of legislative issues—including a battle over immigration and DACA, the Deferred Action for Childhood Arrivals program—by January 20 to avoid a shutdown.
Fueled by food from the family-style Italian eatery, Republicans devised a short-term solution that would allow the government to remain open through February 16, Bloomberg reported.
The bill would allow a bipartisan program called the Children's Health Insurance Program to continue for six years and delay certain health-related taxes, but "ignores the increasingly bitter immigration debate and Democratic attempts to address the plight of undocumented immigrants who arrived in the U.S. as children," according to the outlet.
It would also deal a blow to Obamacare by suspending the Affordable Care Act's main revenue sources "for up to two years," NBC News reported.
Politicians who attended the meeting left "seemingly willing to go along with the plan but unenthusiastic about voting for yet another short-term measure," the outlet noted.
California Democratic Representative Jackie Speier, however, told the outlet she would not vote in favor of the bill.
"I'm not going to unwind Obamacare as part of continuing to keep the government open for two or three weeks," she said.
President Donald Trump, for his part, has blamed Democrats for the possibility of a shutdown.
"The Democrats want to shut down the Government over Amnesty for all and Border Security. The biggest loser will be our rapidly rebuilding Military, at a time we need it now more than ever. We need a merit based system of immigration, and we need it now! No more dangerous Lottery," he tweeted on Tuesday morning.
A Hart Research Associates poll, however, found that more Americans would blame the president and Republicans for a shutdown than would blame Democrats.
The Republican lawmakers who reportedly ate Italian food Tuesday evening have been fighting Democrats over DACA, an Obama-era program that has allowed undocumented immigrants who arrived in the U.S. as children to stay in the country.
More than a century ago, Italian immigrants faced discrimination when they arrived in the U.S. Around 50 Italians were lynched between 1890 and 1920, illustrating "the animosity felt by some Americans toward Italians at this time," according to a PRI report.
Italian immigrants "were portrayed in parts of the media as ignorant, insular, superstitious, lazy, prone to crime, ignorant of the law, ignorant of democracy and prone to righting wrongs with personal vendettas and acts of violence," the report says.
"Even their food was seen as alien," it adds.