Governors Follow CDC Lead on Loosening COVID Measures
In a sure sign that COVID-19 is waning, governors in several states are following the lead of the Centers for Disease Control and Prevention in easing virus mandates.
As COVID-19 numbers continue to decline, the CDC on Friday rolled out a new framework intended to help communities determine precautions based on hospital capacity and the total number of new cases. The framework includes "low," "medium" and "high" risk levels meant to guide measures around masking.
"This tool uses an updated framework to better understand the risk COVID-19 poses to our communities and to focus our recommendations on minimizing severe disease, limiting strain on the health care system, enabling those at highest risk to protect themselves against infection and severe disease," Greta Massetti, a top CDC epidemiologist, said in a video Friday.
Each community can determine its level based on "a combination of new hospitalizations, current hospital capacity and new COVID-19 cases," she said. The framework provides county-level metrics that show swaths of the country at low or medium risk.
The shift in the CDC's response comes as governors have been easing masking and other COVID-19 restrictions that have marked daily life for nearly two years. More governors said on Friday they would further ease COVID-19 restrictions.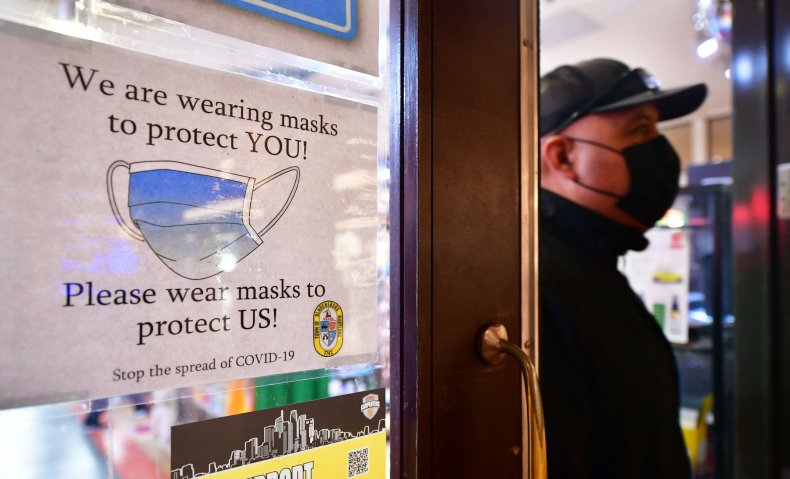 "We are now seeing the fastest rate of decline in our COVID-19 hospitalization metrics since the pandemic began," Illinois Governor J.B. Pritzker said in a statement Friday. "If these trends continue—and we expect them to—then on Monday, February 28, we will lift the indoor mask requirement for the state of Illinois."
He said that 20 percent of the state's intensive care unit beds were available.
Randi Weingarten, president of the American Federation of Teachers, issued a statement welcoming the new guidance. Previously, she had called on the CDC to issue new guidelines after Democratic governors in Connecticut, Delaware, New Jersey and Oregon broke with the public health agency on masking in schools.
"We welcome these long-needed new metrics for a safe off-ramp from universal masking," she said. "The CDC's guidance is informed by science, not politics, and sets us on a path to a new normal in schools and other public places."
In New York, which has mostly kept its mask mandate, Governor Kathy Hochul said on Twitter that she is evaluating the CDC's guidance.
California Governor Gavin Newsom announced Friday he was lifting almost all of his COVID-19 orders as he shifts the state's response to vaccinations and testing.
The Democratic governor said that he would significantly scale back his series of COVID-19 executive actions, some of which have been in place for nearly two years. California has taken one of the country's most cautious approaches toward the virus, and Newsom's move follows other blue-state governors who are scaling back pandemic restrictions.
"As we move the state's recovery forward, we'll continue to focus on scaling back provisions while maintaining essential testing, vaccination and health care system supports that ensure California has the needed tools and flexibility to strategically adapt our response for what lies ahead," he said in a statement.
Newsom has already scaled back many of the restrictions that upended daily life earlier in the pandemic. Following last year's vaccine rollout, Newsom began easing pandemic restrictions, and just 15 percent were in place at the time of his Friday announcement, according to his office.
Earlier this month, Newsom rescinded his indoor mask mandate. But he still allowed counties to enact masking requirements.
Newsom will begin gradually rolling back his COVID-19 executive orders, and by June 30, just 5 percent will remain in place, which his office said will be needed to maintain "critical measures that support the state's ongoing response and recovery efforts." Specifically, the remaining measures center around testing and vaccination programs as well as maintaining capacity at hospitals and health care facilities.
"California's health care delivery system remains deeply strained because of the pandemic," Carmela Coyle, president and CEO of the California Hospital Association, said in a statement. "Hospital capacity is still stretched beyond normal as people who delayed needed care are now being seen, and 20 percent of health care workers have left the field."
Earlier this month, Oregon Governor Kate Brown announced she would lift the state's indoor mask mandate by March 31. Washington Governor Jay Inslee announced a similar timeline for his state's indoor mask mandate.