Graduating College at Age 13: Teen Set to Begin Physics Ph.D. Program
Elliott Tanner began studying particle physics and memorizing the periodic table when he was in kindergarten. He's about to get his bachelor's degree at age 13.
Tanner majors in physics and minors in math at the University of Minnesota, where he currently has three school days left before graduating with an approximate 3.78 GPA. He will continue his education at the same institution, going for his doctorate in physics.
His mother, Michelle Tanner, told Newsweek that she and her husband, Patrik, enrolled Elliott in a Spanish-immersed version of kindergarten, for the aspects of socialization and to learn a second language. That was when the couple realized that in addition to understanding physics and memorizing elements' mass levels, their son was successfully computing fifth-grade-level math equations.
He even started picking up books on his own and reading them at age 3, which was soon followed by an admiration for textbooks.
"We didn't have any benchmarks to compare him to because he was an only child so we assumed his development was on par with everyone else," Tanner said. "That's when we realized he was a little bit different."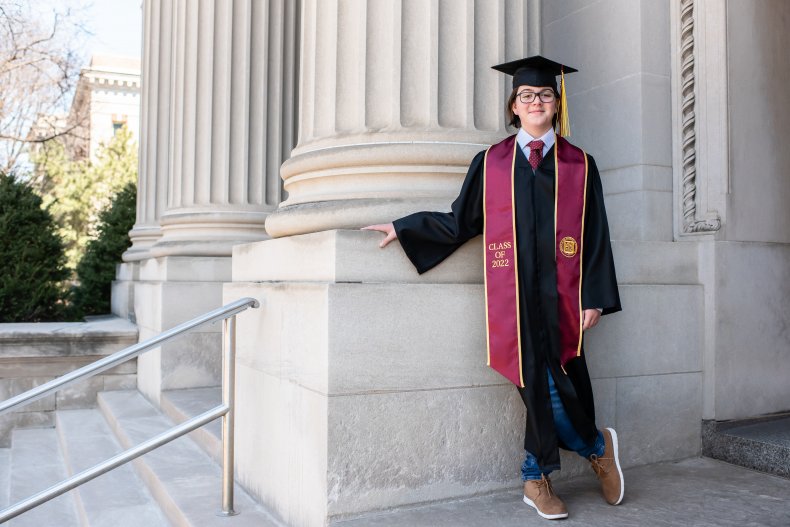 Elliott told Newsweek that while he was in Spanish immersion school, he "found that my interests and passions deviated from my peers."
When the couple found out that Elliott could not skip grades due to his academic performance, they decided to homeschool him because they "knew he was on a different path."
"The academic side wasn't natural to us so it was a lot of us kind of learning as we go," said Michelle, a professional photographer. Patrik is a musician. "It was kind of shocking to us. But now that we've been living this life it's kind of normal to us. Life is normal."
Elliott said his original passion was for mathematics.
"However, as I progressed through my education, I slowly became engrossed by how physics describes the world," he said.
For the family, the situation has become normal, but for most others, it certainly is not. Michelle said her family receives many comments about Elliott and his progression, some of them negative. Many pertain to his childhood and being a "normal kid."
"Every day I worry about him and his well-being and mental health," she said, adding that just today she again told her son that he can always change course and is not bound by academic commitments.
But Elliott, who attended two years of community college before transferring to the University of Minnesota, continually reassures his parents that he wants to one day be a professor at the same institution and share his physics knowledge with future students.
The family lives about 15 minutes from campus.
"That's never wavered even when we gave him outs," Michelle said. "But we're also aware he's a kid. [H]e's in this position where he's mature enough to understand the curriculum. He's exactly where he wants to be."
Elliott is in a unique position to have friends his age, as well as others who are between 18- and 22-years-old. He conducts artificial intelligence experiments with friends out of state and does Cardboard Camp with neighborhood pals.
"I tell (people) that my arrangement is what I perceive as normal, but somehow simultaneously surreal," Elliott said. "I'm effectively a normal kid, just going to a different school."
And while some college-aged students can be perturbed about having a 13-year-old among them, Michelle said he has "a pocket group of friends" at the university who game with Elliott or conduct physics and math tutoring.
"He's not going to frat parties and bars on the weekends," she joked. "But he's got some really great friends who took him under their wings."
The biggest challenge in regard to Elliott's future is likely not academics but finances. After paying about $6,000 for community college and then utilizing state and federal grants to finish undergrad, it is estimated that about $89,000 will need to be raised for Elliott to successfully get his Ph.D.
Michelle said her son is "stuck between a rock and hard place" because he is not old enough to receive private loans. Meanwhile, she and her husband don't have a lot of savings and the COVID pandemic "killed" her and her husband's industries.
"It's a humbling experience because you as a parent want to provide for your kids," she said.
At the encouragement of others, she set up a GoFundMe account that has raised over $32,000 for Elliott's doctorate program. That equates to three semesters' worth of classes or enough financing for 1 1/2 years of studies.
When asked how he is confident in his abilities and knows what his future holds, Elliott said, "Because sharing my knowledge and joy for physics is what I believe to be the best thing for everyone. Sharing is caring."