Grammys Seat Filler Spills J.Lo's Reaction to Ben Affleck Looking Bored
Jennifer Lopez and Ben Affleck saw the funny side of those "bored" memes emerging on the night of the Grammy Awards, according to a seat filler at the event who sat at their table throughout the night.
J.Lo and Affleck were subject to a litany of social media mockery after pictures of Affleck looking dejected started to emerge online. Another video clip showed the two have a seemingly tense exchange, which led some to believe they were arguing. However, according to a popular TikTok user, the two were incredibly "cute" the whole time.
AlmostAnna was a hired seat filler at Sunday night's 65th Annual Grammy Awards, and her account of the evening has received millions of views across her videos. Responding to all the online chatter around Affleck and J.Lo, she recorded a special video detailing her experience of sitting next to the couple.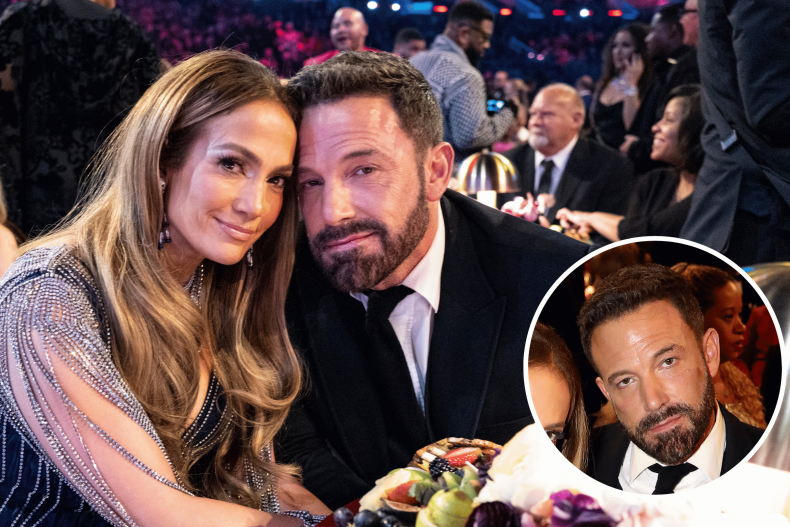 "I was next to them for a good bit of it. That was my favorite seat because I was right in front of Beyoncé," AlmostAnna explained, revealing that she was taking Dwayne Johnson's seat when The Rock was away from the table.
"So I didn't know the meme about Ben Affleck being upset at award shows. I didn't know that was a thing, but we also didn't talk to them because Ben Affleck didn't look happy. I didn't want to talk to him and be like, 'Oh my god, Good Will Hunting is one of my favorite movies. You're my hero' because I [...] I didn't want to be embarrassed."
Commenting on how Lopez and Affleck behaved on the night, AlmostAnna said "the whole time they were cute and s***."
She continued, "J.Lo showed Ben Affleck the phone and was like, 'Oh my god, honey, look at this meme circulating about you' and he was like, 'Oh god, this again.' Like, he knew during the performance that he was a meme. He knew and he also chose not to change his expression. I love how unbothered that is.
"So I know that she was like on her phone and saw it and was like, 'Honey, this is so funny. Look at this,' and he was like, 'Jesus Christ.' But they were super lovey-dovey. Their hands were intertwined. I don't know how to describe it, but they just were. So it wasn't like 'Oh my god, this is gonna lead to divorce.' Like they were cute."
AlmostAnna hung around long enough to see the couple—who got married in August last year—get up to leave when she saw an adorable moment the pair shared.
"Also, they left early and Ben took the skirt of her dress and lifted it up too much and J.Lo was like, 'Honey!' It was really silly," AlmostAnna recalled laughing.
Her account of the evening may be reassuring to many fans of the couple who were left worried for them after seeing footage and pictures from the night. It also followed a seemingly tense exchange the pair had at the Shotgun Wedding premiere—J.Lo's latest movie. TikTok lip readers thought they were having a public argument.
According to body language expert, psychiatrist, and author of Bad Boys: Why We Love Them, How to Live with Them, and When to Leave Them, Carole Lieberman, Affleck's demeanor at these events can be explained quite easily.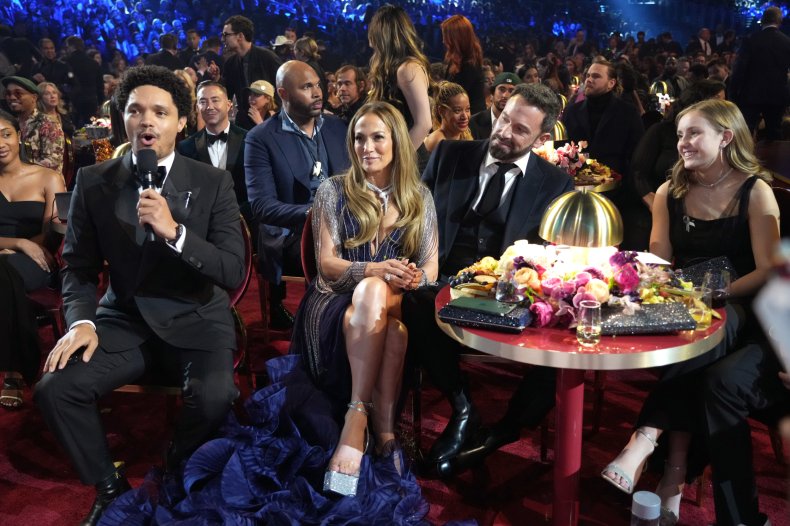 "Ben looked miserable at her Shotgun Wedding after-party and at the Grammy's," Lieberman told Newsweek. "He wanted to be alone with her and not have to share her with others."
She also acknowledged that Lopez and Affleck's marriage is put under more stress than the average couple. "Being in the spotlight does take its toll on celebrity marriages because it magnifies the little problems that most marriages go through," Lieberman said. "Little spats are normal. They just don't happen in front of the camera for most people."