Jennifer Lopez Appears To Snap at Ben Affleck in Viral Video
Newlyweds Jennifer Lopez and Ben Affleck had another awkward moment in front of the world, but J.Lo is insisting everything's fine.
The power couple went viral in January for seemingly having an argument over alcohol during the premiere of Lopez's movie Shotgun Wedding, and a similar interaction was caught live on camera at the 65th Annual Grammy Awards on Sunday.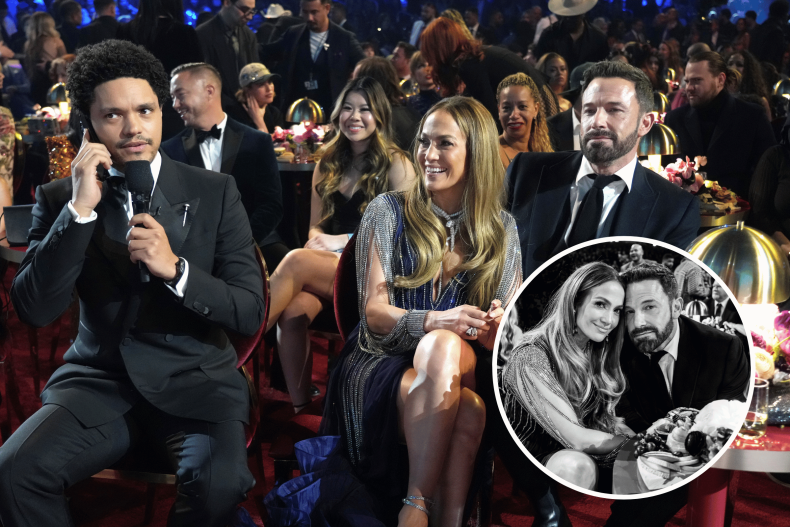 Affleck has already gone viral for looking "bored" at the music event, attending as J.Lo's plus one. Some social media users commented on Affleck's lack of enthusiasm for the event.
Another moment that has gone viral seems to prove their point, as Affleck and Lopez were seen having a tense exchange live on TV, while the Grammys host Trevor Noah presented just in front of them.
TikTok user Erikkalynne0 spotted the exchange and shared the seven-second clip on their account. So far it has 10.3 million views, as well as hundreds of thousands of likes and comments. It can be watched here.
While Noah sits by at a table doing a comedy bit on the phone, the married couple sit beside him. Affleck whispers something in Lopez's ear, which seemingly annoys her. She taps him on the chest as the tense exchange continues, he sits up straight, before they both notice the camera is on them, and they relax their expressions. "And on live TV," wrote Erikkalynne0 in their caption to the viral video.
Commenting on the state of their relationship, some of the comments on the TikTok video brought up Affleck's ex-wife. "Jennifer Garner at home eating popcorn and laughing," joked andreasavgousti.
Popular TikToker and podcaster Elyse Myers didn't think the moment was as bad as it looked though. "Idk how y'all are reading this as an argument. This is for sure something else," she commented.
Others suggested this wasn't an argument between a married couple too, and could have been a more playful and private exchange.
Discussions over this seemingly awkward moment continued over on Twitter too.
Writer Meecham Whitson Meriweather, popularly known as Meech, also shared the video. "Okay I kinda feel bad for Ben Affleck, I can't lie," he wrote, before addressing people who commented that Affleck knew what he'd married into. "Can I not have sympathy for a man who was really good in Shakespeare in Love, and works his fingers to the bone EVERY single day holding Dunkin Donuts cups and sometimes stopping by for photo ops?????? Where is the humanity?!"
Many others called on the lip readers of the internet to help decrypt what Affleck and J.Lo said to each other. Twitter user @BasicCaliBetch slowed down the video to make it easier for people.
"What is J Lo saying? Jlo and Ben Affleck at the #GRAMMYs Where are my lip readers at?! #jlo #BenAffleck," they tweeted.
The Barstool Sports podcast account Chicks in the Office asked for someone to "please check on Ben Affleck."
Some lip readers have attempted to dissect the moment in question already, with most interpretations suggesting J.Lo told her husband to "sit straight" when she tapped him on the chest.
Self-professed favorite author of Donald Trump, Nick Adams, also shared the video. He simply said, "Ben Affleck can do better."
Affleck and Lopez got married in July 2022, after they were first romantically linked two decades ago.