Video of Ben Affleck, Jennifer Lopez in Apparent Spat Over Drink Goes Viral
A brief video showing Ben Affleck, who has talked about his alcohol addiction in the past, protesting to Jennifer Lopez that he hadn't been drinking while they attended a party has gone viral on TikTok.
In the clip, which was posted to the video-sharing platform on Sunday, Lopez, 53, is accompanied by Affleck, 50, at an afterparty for the Hollywood premiere of her new movie Shotgun Wedding on January 18.
As Lopez's hit track "Let's Get Loud" rings out in the background, Lopez is seen holding a wine glass as Affleck yells over the music: "I didn't drink anything, OK?"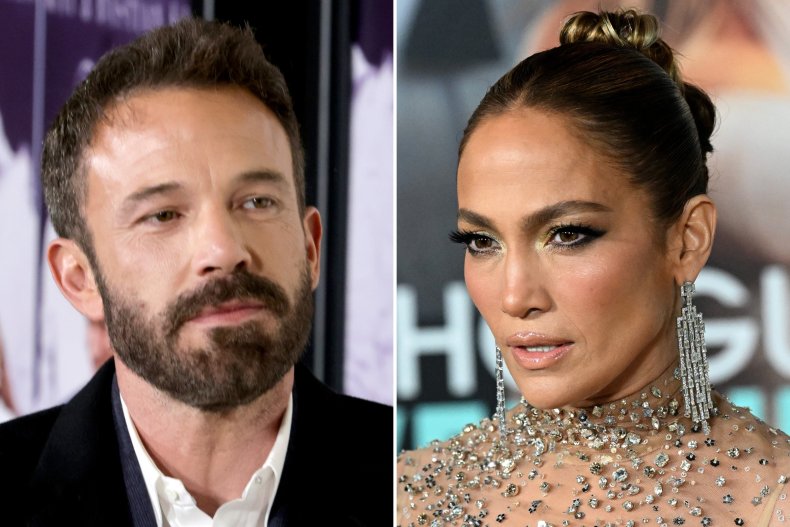 Lopez is then seen lifting the glass and maintaining eye contact with Affleck as she cautiously tastes the drink before placing it down, as her husband shouts: "Jen!"
The video has been viewed more than 1.5 million times in the hours since it was uploaded on TikTok, and has sparked a debate among users.
A number of TikTok users slammed Lopez, suggesting that she was being unsupportive to Affleck by drinking alcohol. Others insisted that Lopez was actually just tasting the drink to check whether it contained any alcohol. Affleck, who has talked about his alcoholism, has been to rehab on several occasions.
Newsweek has reached out to representatives of Affleck and Lopez for comment.
Affleck most recently entered rehab for alcohol addiction in August 2018, after his ex-wife Jennifer Garner staged an intervention. Photos showed the two of them headed toward a treatment facility in Malibu, California.
The screen star first entered a rehab facility in 2001. In March 2017, he announced on Facebook that he had completed treatment again.
"I have completed treatment for alcohol addiction; something I've dealt with in the past and will continue to confront," he wrote. "I want to live life to the fullest and be the best father I can be."
The father-of-three then added: "I want my kids to know there is no shame in getting help when you need it, and to be a source of strength for anyone out there who needs help but is afraid to take the first step."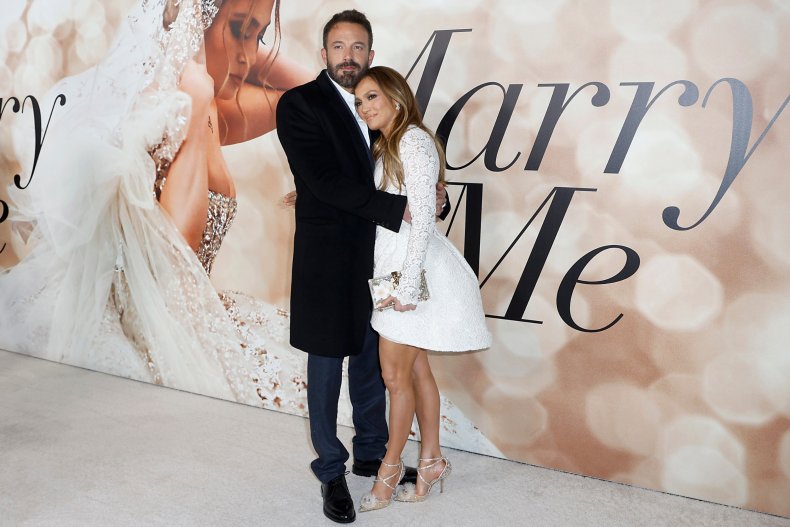 In December 2021, Affleck drew criticism when he said that feeling "trapped" in his ill-fated marriage to Garner was a factor that led to his drinking problem. The Pearl Harbor and Daredevil co-stars wed in 2005 and separated in 2015. Their divorce was finalized in 2018.
Affleck told titular host Howard Stern that had they stayed together, they "would have ended up at each other's throats" and he "would probably still be drinking."
"That was part of why I started drinking alcohol, I was trapped," he said. "I was like, 'I can't leave because of my kids, but I am not happy. What do I do?' What I did was drink a bottle of scotch on the couch, which turned out not to be the solution."
The actor has been open about his struggle with addiction in the past, mentioning his father who also dealt with alcoholism issues before getting sober.
"Getting sober actually helped me be more forgiving and recognizing, 'You know what? He had it f****** rough too,'" he said of his father, per Entertainment Tonight. "What happens when you get sober is you stand around and you see a lot of people and you develop empathy for [people] who have done the same f****** thing."
Addressing his own road to sobriety, the Oscar winner said that "the cure for addiction is suffering."
"You suffer enough that something inside you goes, 'I am done,'" he explained. "I am lucky because I hit that point... when I felt as if [my addiction] impacted [my kids]. I recognized it. It was the worst day of my life.
"I made amends. For a while, I thought it was temporary, 'Maybe this feeling is going to go away.' But since that day, I swear to Christ, I have not ever wanted to drink once."
Affleck is now married to his Gigli co-star Lopez, to whom he was first romantically linked to two decades ago. The pair tied the knot in July.
Do you have a tip on an entertainment story that Newsweek should be covering? Let us know via entertainment@newsweek.com.