'Shotgun Wedding' Release Date, Trailer and Cast Led by Jennifer Lopez
Shotgun Wedding is the highly-anticipated new movie from Prime Video, starring Jennifer Lopez and Josh Duhamel in the lead roles.
The movie, which was originally due to star Armie Hammer opposite Lopez before he stepped away from the project, follows a couple, Darcy and Tom, as they gather their "lovable but very opinionated families for the ultimate destination wedding just as the couple begins to get cold feet."
The film's synopsis continues: "If that wasn't enough of a threat to the celebration, suddenly everyone's lives are in danger when the entire party is taken hostage, and 'Til Death Do Us Part' takes on a whole new meaning as Darcy and Tom must save their loved ones—if they don't kill each other first."
Shotgun Wedding, which was filmed in the Dominican Republic, was directed by Pitch Perfect's Jason Moore from a screenplay co-written by Mark Hammer, of Two Night Stand, and Liz Meriwether, of Bless This Mess.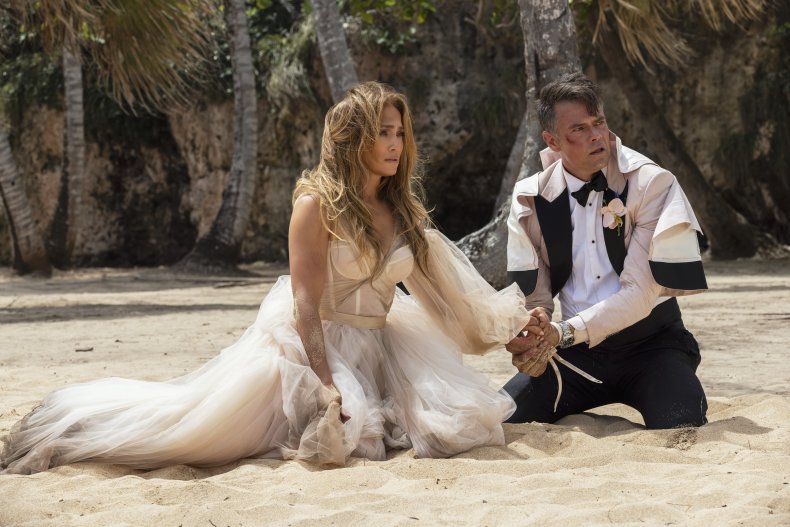 Newsweek has everything you need to know about Prime Video's Shotgun Wedding, including when it is released and who else is on the cast.
Shotgun Wedding Release Date
Shotgun Wedding is scheduled to be released on January 27. The film will land on the streaming platform at 12 a.m. ET.
Shotgun Wedding Cast
Lopez and Duhamel are the leads for the Prime Video comedy, starring as engaged couple Darcy and Tom.
Musician and movie star Lopez, who married Ben Affleck in 2022, is no stranger to the romantic comedy genre, with projects such as The Wedding Planner and Maid in Manhattan under her belt.
She also recently starred in another wedding-theme movie, STXfilms' Marry Me, alongside Owen Wilson.
Jennifer Coolidge plays Duhamel's mother in the movie, despite the actors only having an age gap of 11 years. Duhamel has acknowledged their age gap, or lack thereof, joking with The Hollywood Reporter that he knows it "makes no sense" to have the legendary actress playing his mom.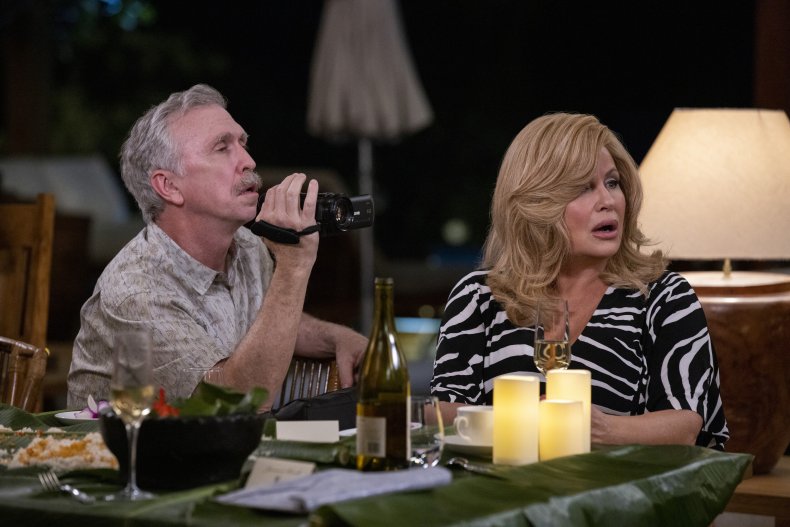 Coolidge, 61, is currently enjoying something of a renaissance thanks to her performance in Mike White's drama The White Lotus, and she recently won the Golden Globe for best actress in a supporting role for playing the ill-fated Tanya McQuoid in the HBO show.
Meanwhile, in Shotgun Wedding, Darcy's family is played by Sônia Braga, in the role of her mother, Cheech Marin who plays her father, and Callie Hernandez who plays her sister.
Lenny Kravitz may be best known for his music but the star has also landed a spot on the Shotgun Wedding cast. This isn't his first foray into acting, however, as he also featured as Cinna in the Hunger Games trilogy, amongst other roles.
D'Arcy Carden is an actress and comedian who is best known for her role as Janet in the NBC sitcom The Good Place. More recently she wowed as Greta Gill in the Prime series A League Of Their Own and, now, she also stars in Shotgun Wedding.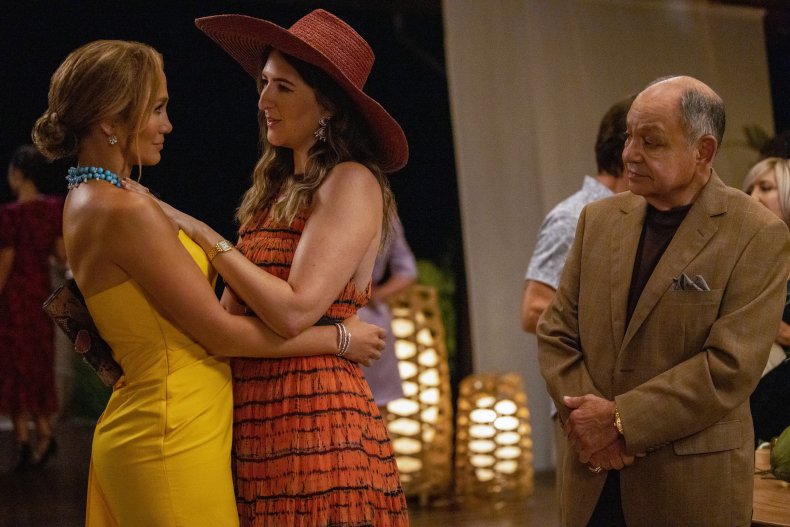 Elsewhere, Alex Mallari Jr., Selena Tan and Desmin Borges are also listed on the Shotgun Wedding cast.
Shotgun Wedding Trailer
The trailer for Shotgun Wedding was released in October 2022 and gave fans a glimpse at what antics to expect from the comedy.
The clip starts with a hilarious scene of Coolidge's character walking in on Darcy and Tom as they were about to get intimate the night before their wedding and asking Darcy, played by Lopez, who is standing in her underwear: "Is that genetics? Or is it, like, Pilates?"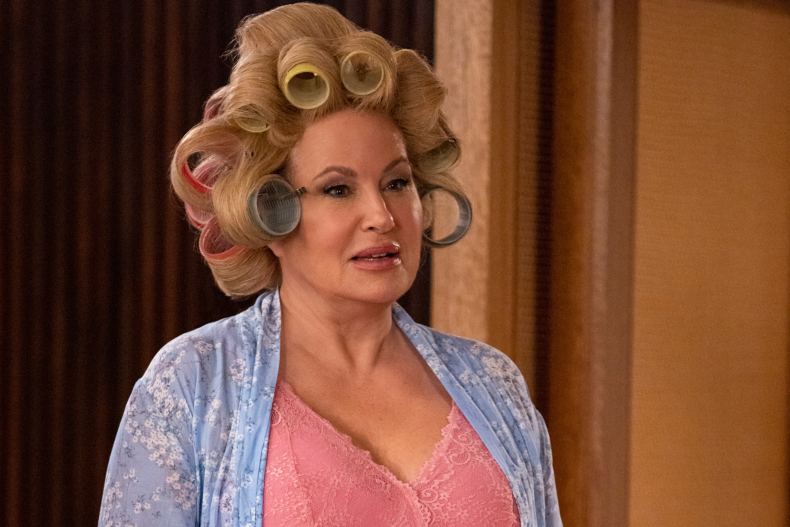 We also see Kravitz, who appears to be playing Darcy's ex, arriving at her wedding via helicopter. "Oops, he forgot to button his shirt up," Duhamel, as Tom, quips, as the musician's character makes his way to the celebrations.
The next morning Darcy is then seen looking panicked as she gets ready for the wedding, and even says to her family that "something doesn't feel right."
We then see a scene of gunmen storming the beach where the wedding was due to be held as it becomes clear that the nuptials are not going to go as smoothly as Darcy and Tom had hoped.
Shotgun Wedding is scheduled to be available for streaming on Prime Video from January 27.