Grand Jury Dismisses Charges Against Cops Who Pushed Elderly Protester Martin Gugino
Members of a New York grand jury dismissed felony assault charges against two Buffalo, New York police officers who pushed elderly protester Martin Gugino to the ground during a Black Lives Matter march in June 2020.
Officers Aaron Torgalski and Robert McCabe were captured on video shoving Gugino onto the sidewalk in front of Buffalo City Hall. Officers can be observed in the video walking past Gugino as he lay on the ground with his head bleeding. Gugino was 75 years old at the time of the incident, which left Gugino with a fractured skull and a temporary inability to walk.
Torgalski and McCabe were charged with felony second-degree assault. Erie County District Attorney John Flynn announced the dismissal of the charges during a Thursday press conference.
"A full grand jury presentation was given and at the end of the grand jury, the grand jurists voted to no-bill the case," Flynn told reporters, "which means that they dismissed the case."
Flynn said that while an investigation into the shoving incident was pursued, he did not believe the case was a difficult one to decide.
"This was not the JFK assassination, okay," Flynn said. "This was not that complex of a case."
In a statement, the Buffalo Police Benevolent Association said Thursday they were "extremely pleased" with the grand jury's decision.
"As we have stated all along," the statement read, "Officers McCabe and Torgalski were simply following departmental procedures and the directives of their superiors to clear Niagara Square despite working under extremely challenging circumstances."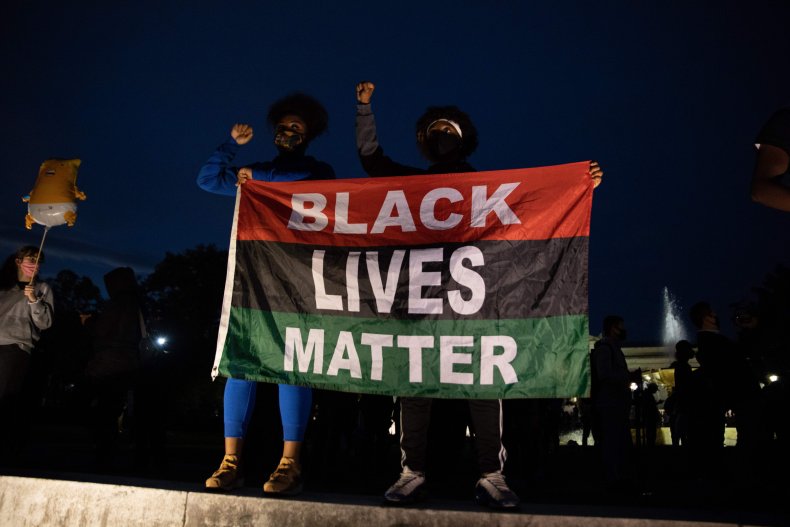 "The District Attorney saw the June 4th incident and concluded, we think correctly, that it deserved serious scrutiny," said Gugino's attorney Kelly Zarcone in a statement sent to Newsweek on Friday. "We thank the Grand Jurors for their service. Our position remains that the government's use of unnecessary physical force against peaceful protesters is patently wrong and unAmerican."
Protests over the May 2020 death of Black Minnesota resident George Floyd while being detained by Minneapolis police officers broke it in multiple U.S. cities. Eyewitness video captured white Minneapolis officer Derek Chauvin placing a knee on Floyd's neck while Floyd said, "I can't breathe."
McCabe and Torgalski were suspended without pay by the Buffalo Police Department after the video of Gugino lying on the ground went viral. At the time, New York Governor Andrew Cuomo praised that decision.
"Why was that necessary?" Cuomo said at a June 2020 press briefing. "Where was the threat—an older gentleman—where was the threat?" Cuomo added that the city should have considered firing McCabe and Torgalski.
Gugino, a peace activist who graduated from a Catholic school, had worked for many advocacy groups including Black Lives Matter. Former President Donald Trump suggested in a since-deleted June tweet that Gugino was an outside agitator that was attempting to interfere with police communications.
"Buffalo protester shoved by Police could be an ANTIFA provocateur," Trump wrote. "75 year old Martin Gugino was pushed away after appearing to scan police communications in order to black out the equipment. @[One America News Network] I watched, he fell harder than was pushed. Was aiming scanner. Could be a set up?"
Then-presidential candidate Joe Biden responded to Trump's allegations with a tweet of his own.
"My Dad used to say there's no greater sin than the abuse of power," Biden wrote. "Whether it's an officer bloodying a peaceful protester or a President defending him with a conspiracy theory he saw on TV. I'm a Catholic – just like Martin. Our faith says that we can't accept either."
Updated 2/12/2021 6:13 p.m. EST: This story has been updated with a statement from Martin Gugino's attorney, Kelly Zarcone.