Grandfather and Grandson Killed in Two Separate Tiger Attacks Over 24 Hours
A 75-year-old man and his teenage grandson have been killed in separate tiger attacks in India within 24 hours, the Deccan Herald reported.
Raju, a farm laborer in Kodagu district, in the southwestern state of Karnataka, was attacked on Monday morning by the apex predator at his front door. The night before, Raju's 18-year-old grandson, Chethan, was killed in a separate tiger attack while harvesting coffee at a plantation site just 2 miles away, on the border of the Nagarahole Tiger Reserve, news agency Press Trust of India reported.
Raju's son, Chethan's father, was also severely injured in the attack on Sunday and is now being treated at the hospital.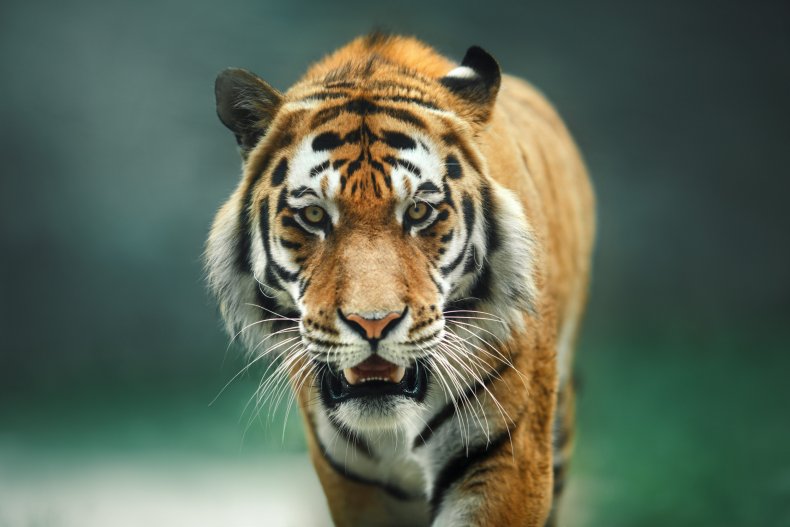 Tigers are the largest cat species in the world and can weigh up to 660 pounds, as estimated by the Smithsonian's National Zoo and Conservation Biology Institute. They used to live freely all over Eastern and Southern Asia, but human-tiger conflicts have forced officials to largely confine these animals to allocated tiger reserves. As a result, the endangered species has lost an estimated 93 percent of its historical range.
In 2018, India's Ministry of Environment, Forest and Climate Change estimated that, under the protection of these parks, tiger numbers rose 33 percent in four years. However, some scientists have been skeptical about the methods used to calculate these estimates.
The Nagarahole Tiger Reserve covers over 320 square miles between the Kodagu and Mysuru districts in the state of Karnataka. The reserve boasts one of the highest tiger populations in the country.
Today, India is home to 60 percent of the global wild tiger population. The increase in tiger numbers as a result of these reserves is a victory for conservation efforts, but it has also led to an uptick in human-tiger conflicts, as many of India's tiger reserves are located in areas where people still live and work.
In January, near the Pilibhit Tiger Reserve in Uttar Pradesh, northern India, the half-eaten body of a construction worker, who appeared to have been mauled to death by a tiger, was found in a sugar cane field.
Residents in Kodagu district have complained about a rise in man-tiger conflicts in the last five years and have demanded that authorities introduce new strategies to control the dangerous predators.
After the most recent attack on Monday, forest officials have been working to capture the tiger, or tigers. Representatives for the Nagarahole Tiger Reserve have visited the site.
Do you have an animal or nature story to share with Newsweek? Do you have a question about tigers? Let us know via science@newsweek.com.