Great Dane Puppy Filmed Sitting Patiently Like a Human While at the Vet
A video of a large dog sitting like a "human" has gone viral on TikTok, bagging 292,000 views at the time of writing.
A message overlaid on the clip shared from @plussize.gus, the TikTok account of Gus, a Great Dane puppy, read: "Sat waiting for his best friend (the Vet)."
The video showed Gus sitting with his butt perched on the seat and his hind legs dangling over the sofa, while standing up with his front feet on the floor.
A caption posted with the clip said: "Human sits at the vet."
In a later comment, the original poster said Gus "always sits on chairs or lies down, it's so funny."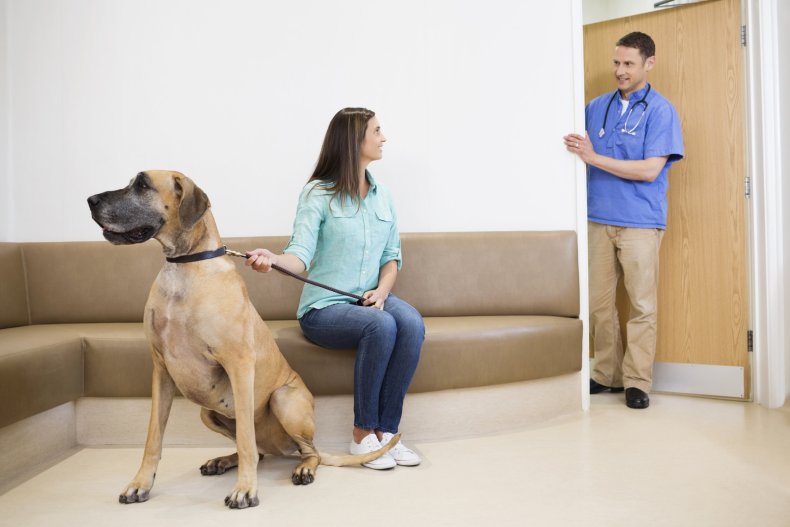 As unexpected as the dog's posture in the latest viral video may seem, several studies have shown that dogs are capable of both automatic and deferred imitation of human actions.
A July 2013 study published in the peer-reviewed journal Animal Cognition found: "Dogs were typically able to reproduce familiar actions after intervals as long as 10 minutes, even if distracted by different activities during the retention interval and were able to match their behavior to the demonstration of a novel action after a delay of 1 minute."
Another study, published in July 2010 in the journal Proceedings of the Royal Society, found that, similar to humans, "dogs are subject to 'automatic imitation.'"
The research suggested that the development of imitation depends on "sensorimotor experience and phylogenetically general mechanisms of associative learning."
Its findings showed that "the imitative behavior of dogs is shaped more by their developmental interactions with humans than by their evolutionary history of domestication."
Another study published in Animal Cognition back in September 2006 found that a dog, after being trained to repeat nine human-demonstrated actions on command, "was able to use different human actions as samples against which to match his own behavior."
The study suggested that "dogs might acquire abilities by observation that enhance their success in complex socio-behavioural situations."
The dog in the latest video has delighted users on TikTok.
User shugheshews said: "I love it when big dogs do this. Or sit on a person's knee [crying laughing emoji]," to which the original poster replied: "The best [crying laughing emojis]."
User @holldoll0209 said: "My Dane sitting just like this on the couch [crying laughing and skull emojis]," to which the original poster replied: "They're the funniest dogs."
User caitlin wrote: "all danes sit the same i swear [crying laughing emoji]. he looks just like my baby boy!"
Newsweek has contacted the original poster for comment. This video has not been independently verified.
Do you have funny and adorable videos or pictures of your pet you want to share? Send them to life@newsweek.com with some details about your best friend and they could appear in our Pet of the Week lineup.