Woman Hilariously Films Great Dane Slapping Her: 'Not How To Get Your Way'
A dog has a hilarious way of indicating to her owner when she's ready to play, as shown in a video posted on TikTok on February 7 that has become a hit on social media.
Scout, a merle Great Dane lifts up one of her giant paws and swipes at her owner, Nikki, who posts as @lifeaccordingtoscout. Nikki has come to expect the dog's "slapping" technique now as she usually does it around the same time every afternoon.
The caption over the video reads: "Explaining to my dog that slapping people is not how to get your way." The video then shows the enormous dog swatting her owner's phone out of her hand.
According to the American Kennel Club, a female Great Dane can weigh up to 140 pounds and reach a height of up to 30 inches. But their powerful frames are by no means testament to their character, as the AKC refers to them as "gentle giants" with a very affectionate nature.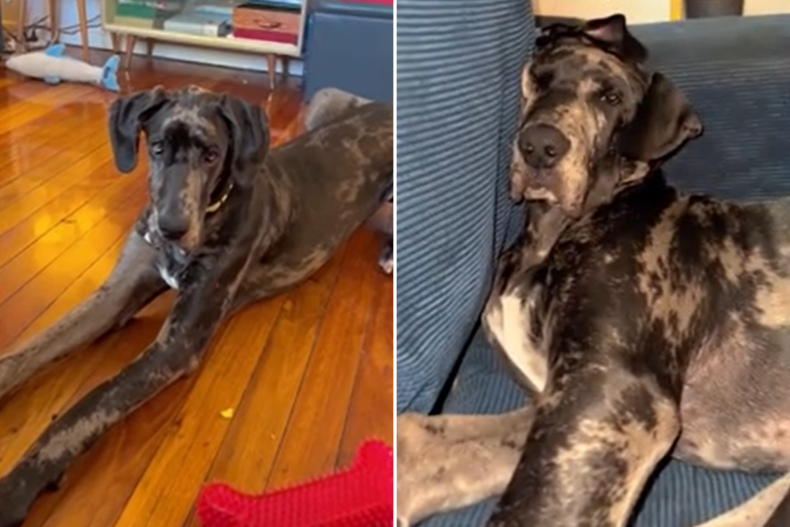 While Scout might be loving and playful, patient is not something that her owner would describe her as, given how quick she is to throw a paw at her owner each afternoon.
After sharing the hilarious video on TikTok, Nikki told Newsweek about her dog's hilarious antics.
"She slaps like that when it's around 4:30 every day because by then she is ready to go to training and play," Nikki said. "This is her way of telling me each time."
"I wish she spoke English so I could tell her just how happy her slapping my hand has made the world."
Despite her size and strength, Scout is just 10 months old, which means her slapping will only become more forceful as she continues to grow. Luckily for Nikki, she can anticipate the dog's behavior and it hasn't caused her any injuries or problems.
Describing the Great Dane as "the funniest and weirdest creature," Nikki wouldn't have her huge dog any other way and loves Scout's hilarious way of communicating. The dog's fan base is much bigger than just her owner now because she has become quite the viral sensation on TikTok.
Since the video was posted less than a week ago, it has amassed more than 5 million views and over a million likes. Scout's playfulness has generated thousands of comments, including from dog owners whose pooches have also developed a slapping technique.
One TikTok user commented: "I swear Great Danes are part boxer because my girl always paws me."
Another person wrote: "It's for sure a Dane trait."
Do you have funny and adorable videos or pictures of your pet you want to share? Send them to life@newsweek.com with some details about your best friend and they could appear in our Pet of the Week lineup.