Greece to Use 'Emergency' Powers to Build Migrant Detention Centers Across Overcrowded Islands
The Greek government is planning to use "emergency" legal powers to expedite plans to build detention centers for migrants and asylum seekers across five islands.
Stelios Petsas, a spokesperson for the Greek government, announced the plans on Monday, asserting that locations for the new facilities had already been identified, according to The Associated Press.
It is unclear how soon construction on the sites would get underway. However, Petsas said the government would be issuing an emergency decree, which could be ratified by parliament at a later date.
Expanding on past reporting regarding Greece's plan to build detention centers across Greek islands, Petsas said the "closed facilities" would be "governed by strict rules and [limitations] for movement for the occupants."
Detainees, Petsas said, would receive "exit cards for controlled leave," while the detention centers would remain closed during the night time.
The new plan comes just days after the United Nations' Refugee Agency (UNHCR) suggested that the Greek government use its emergency powers to take action to address the "alarming overcrowding and precarious conditions" for migrants and asylum seekers on the islands of Lesbos, Chios, Samos, Kos and Leros.
However, UNHCR had specifically called for the government to use its powers to expedite plans to transfer migrants and asylum seekers from the overcrowded islands to the mainland—not to speed up the construction of island-based detention centers.
In a statement on Friday, UNHCR spokesperson Andrej Mahecic described how, in recent weeks, the situation on Lesbos has grown increasingly desperate. Migrants and asylum seekers have clashed with Greek police during protests over conditions at the overcrowded Moria refugee camp.
"More than 36,000 asylum seekers are now staying in reception centers across five islands that were originally designed for 5,400 people," Mahecic said.
"Greece has been generous and compassionate towards refugees, despite a very complex and difficult situation, and the East Aegean islands have taken on a vastly disproportionate burden and responsibility," the UNHCR spokesperson said.
Now, Mahecic said: "It is critical that other regions in Greece step up their solidarity to help alleviate pressures by receiving transferred asylum seekers and opening up reception places. Continued European resources, capacity and solidarity are also needed to boost Greece's response."
According to Mahecic, as of Friday, Lesbos' overcrowded Moria refugee camp was hosting as many as 18,342 people at a facility meant for roughly 2,200, while others had been forced to sleep just outside the camp in tents erected across adjacent olive groves.
Meanwhile, Mahecic said, on Samos, 6,782 people were staying at a center designed for 660.
"Reception centers on Chios, Kos, and Leros are also overcrowded," Mahecic said, noting that "the majority of asylum-seekers and migrants are families," with a third of the population being children, many under the age of twelve.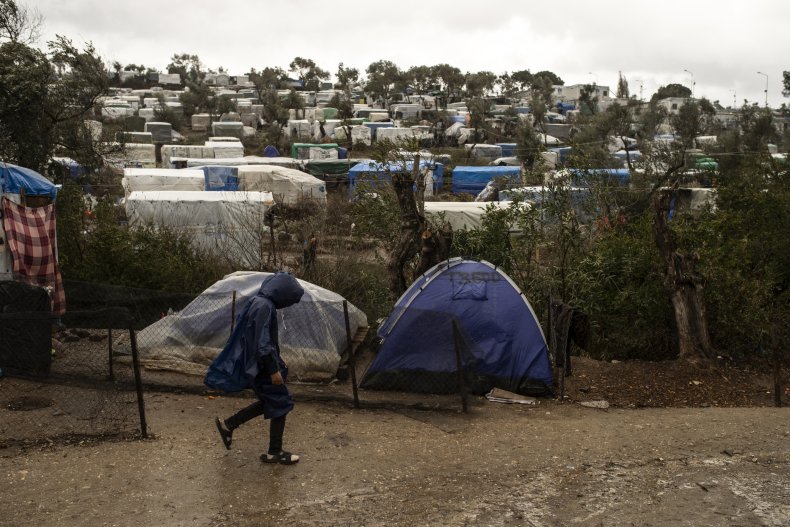 The Greek government's plans to use emergency powers to bring plans for the construction of detention centers to fruition is reminiscent of President Donald Trump's decision to declare a national emergency last year in order to obtain funds to build his long-promised border wall between the U.S. and Mexico.
Trump declared a national emergency over an influx of migrants and asylum seekers arriving at the U.S. border on February 15, 2019, with the president using his emergency powers to bypass Congress and pursue the construction of his border wall.
While it is unclear whether Trump's own use of emergency powers has inspired Greece's center-right government, Greek immigration officials have had multiple meetings with Department of Homeland Security officials since the start of the year to discuss the two countries' strategies on immigration.
In addition to plans to use emergency powers to see detention centers built, the Greek government also recently unveiled plans to build a "floating" sea barrier in a bid to prevent migrants and asylum seekers from arriving at the country's islands by boat.
The southeastern European country announced the plans to keep immigrants and asylum seekers out, even as it pushed forward with a campaign to encourage residents of Greece to help grow the population with a "baby bonus" for families with newborns.