Green Goblin Times Square Hoverboard Video Viewed Over 4 Million Times
New Yorkers have likened a man flying a hoverboard down the street to the Green Goblin scenes from Spider-Man.
Crowds around Times Square were brought to a standstill after a man, wearing a helmet, was spotted gliding a few feet above the ground.
The clip was first uploaded by Morgan Nevins to her Instagram account, @molivefreeordie, after she captured the unbelievable sight on Saturday.
She submitted it to viral account @whatisnewyork who uploaded it on Monday, and since then it's gone viral after being shared across multiple social media platforms, amassing more than four million views on Twitter alone.
The 10-second clip shows the masked man, who has not been identified, appearing to pilot a type of hoverboard.
The craft, which flies down 7th Avenue, makes a loud buzzing sound, as it appears to be made from numerous drones.
Nevins told Newsweek she captured the sight in the early hours of the morning, saying: "It was around 5 a.m. in Times Square, this past Saturday. I had left with a friend from a dance party that was nearby—our first after the pandemic. We were talking about our plans for getting home and chatting with a few people we met at the party, enjoying the privilege of getting to chat with strangers after this past 2020-21 year. There were runners forming a line for a race of some kind near our end of Times Square. Interesting mix of people at that hour as always.
"We heard a crazy noise further down Times Square—sounded like a terrible drone and thought maybe it was someone taking pictures overhead with a drone but we saw this person flying on this hoverboard, [a] giant airborne drone. They did some flights at the further end of the square—and then came toward our table. That's when I caught the video. A crowd formed quickly—even for Times Square at 5 a.m. Then the drone craft flew back towards us hovering over our heads at this little table and then landing right near us.
"When it landed near us I could feel the wind draft from the propellers, almost like a helicopter. It seemed wild! My friends and I had a lot of questions about how this could even be legal or how it worked. No idea who the man operating the craft was. He was strapped to the machine with what looked like ski or snowboard-type foot holds. It felt like out of a movie, but there was no filming crew, very surreal and never seen anything like that. Being out for a dance party had seemed exciting enough but this was next level!"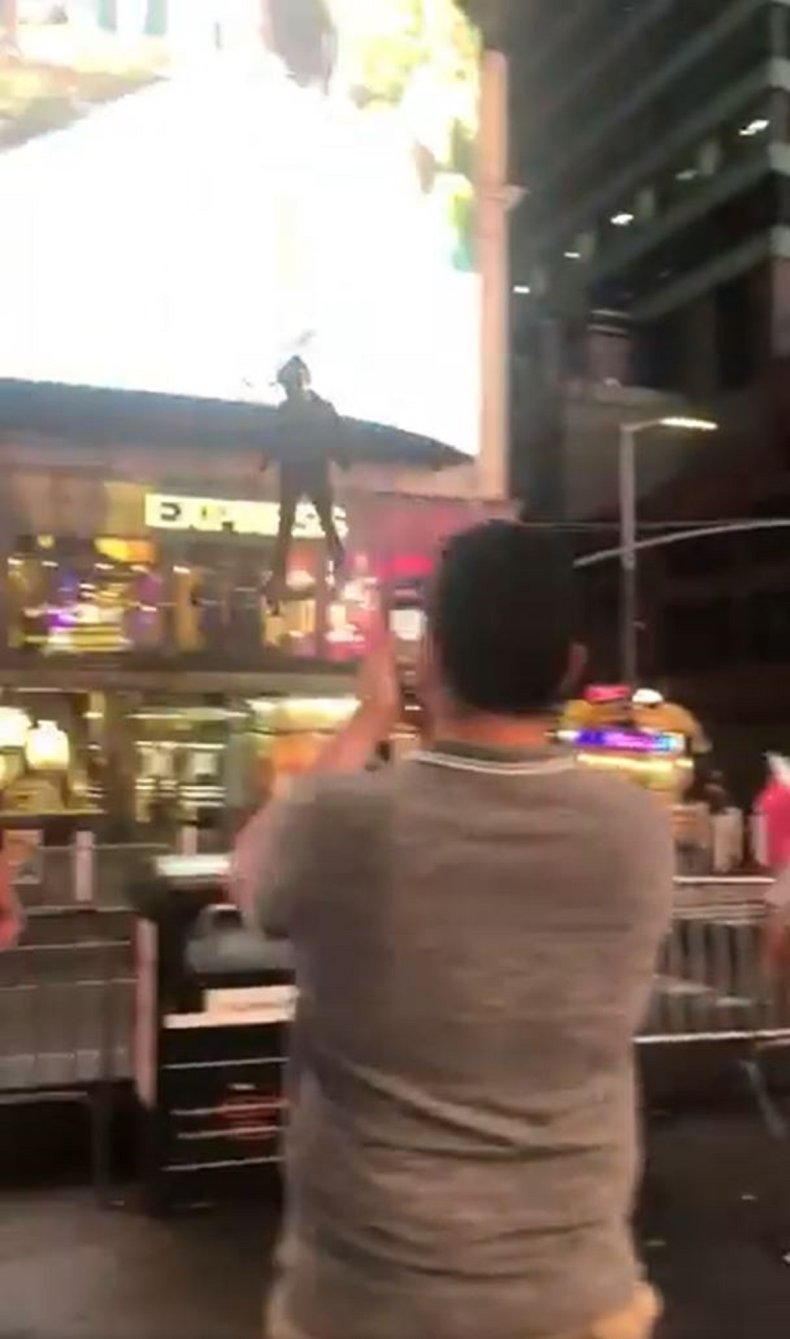 Numerous people compared the man to the Green Goblin, the Marvel character who appears in the 2002 Spider-Man film, directed by Sam Raimi.
The first installment of the Spider-Man trilogy saw Toby Maguire play the titular character, aka Peter Parker, while Willem Dafoe was cast as the villain.
Also known as Norman Osborn, the Green Goblin terrorizes his nemesis, and the people of New York, as he flies around on a stolen glider dressed in his trademark flight suit.
Commenting on the video, @RedDMartalArts asked: "Do you want Green Goblins? Because this is how you get Green Goblins."
"I'm getting very Green Goblin Spiderman NYC vibes," Amit in NYC wrote.
TrueHoax asked: "Great... just great... now in 2021 we got green goblins about... what's next, jokers?"
Chris Jacobsen admitted: "Legit thought that was the Green Goblin."
New York City's administrative code is thought to prohibit "avigating," which is defined as: "To pilot, steer, direct, fly or manage an aircraft in or through the air, whether controlled from the ground or otherwise."
Section 10-126 of the public safety section states: "It shall be unlawful for any person avigating an aircraft to take off or land, except in an emergency, at any place within the limits of the city other than places of landing designated by the department of transportation or the port of New York authority.
"It shall be unlawful for any person to navigate an aircraft within the limits of the city in any manner prohibited by any provision of, or contrary to the rules and regulations of, the federal aviation administration."