'Simply Not True': Green Line Test Debunked by Body Language Experts
The "green line" test has been trending for a second time online, and making bold statements about relationships. Statements that are a "mistake," according to body language experts that Newsweek spoke to.
Despite the "green line" rule having gone viral and TikTok users trying it out on their own relationship pictures, the incel-supported theory has no real credible roots. When Newsweek spoke to experts on body language who analyzed the theory, it was entirely debunked and could actually show something quite different.
To put it bluntly, according to the experts: "This is simply not true."
What Is the 'Green Line' Test?
The theory itself is purported to be an indicator of the dynamics in a relationship—claiming to show which partner "wears the pants," which rules in said relationship. According to the rule, the one standing straight—to those who believe in this theory— should always be the man in a heterosexual relationship in order for it to last. Leaning in, the unproven theory suggests, is a sign of "weakness."
This position can be decided by drawing a top-down line on each person to see which line is leaning more into the other.
In 2020, a Twitter user with a long history of discussing pick-up techniques and incel-backed theories, introduced the rule, starting a fiery conversation around the theory and inducing a pile-on of "don't lean in" memes.
The term "incel," or "involuntary celibate," is often used to describe "men who feel unable to obtain romantic or sexual relationships with women, to which they feel entitled to," according to a Secret Service report. Incels represent a type of "misogynistic extremism" that can also be referred to as anti-feminist, said the 26-page report, which was published by the Secret Service's National Threat Assessment Center (NATC) in March.
But the rule has managed to outgrow just the community it's hosted by, and has in the past month become a full-blown TikTok trend, after a TikTok user explained the theory using the internet-breaking Instagram post of Kim Kardashian and Pete Davidson. Now, TikTok users are applying the rule to their own photos of their relationships.
"Simply Not True," Say the Experts
With a theory managing to take over online so strongly, it must be true, right? Wrong. In fact, body language experts told Newsweek that it couldn't be further from the truth.
"It's a mistake if you're judging the health of your relationship based on your partner 'leaning in' towards you in a photo," said body language expert, Blanca Cobb.
"The simplest thing about relationships is that they're complicated. There are many reasons why your partner might lean in that has nothing to with weakness or dependency. What if they feel close to you? What if leaning in shows their connection? What if they're feeling loving in the moment? What if touch and closeness are part of their love language?"
Fellow body language expert Dr. Lillian Glass is more certain about what leaning in likely means instead, telling Newsweek: "I have analyzed thousands of people in relationships throughout the years and this [the green line rule] is simply not true. Leaning into the other person usually means that they are into that person—that they like the other person and are connecting with them. It's not about power and control. It's about affection and emotional feelings. When you really like a person your body tends to gravitate towards that person. You want to be close to them."
"It has nothing to do with power or who is in charge," she certified.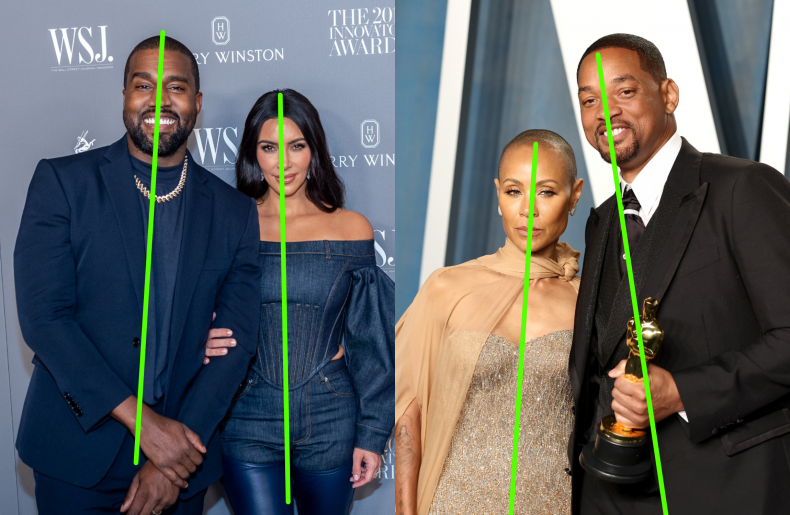 That's not to say panic should set in if your partner isn't leaning in pictures either, as Dr. Glass noted being preoccupied and not being comfortable with PDA as two other possible reasons for not leaning in.
So contrary to the green line theory, leaning in can actually be a good thing and something you should potentially want your partner to be doing. It's because of this that Cobb is confused at the reluctance towards leaning in.
"Considering that many people want partners who are loving and aren't afraid to show their affection, it's a headscratcher that there's an arbitrary guideline that suggests that leaning in equals weakness and dependency," she told Newsweek.
"How many people emotionally pull back from partners who won't show affection? Or, don't seem into them? It's dangerous to use one single criterion to decide that your partner is weak because they cross over into your space in a photo. Remember that a single photo is a snapshot of time, and doesn't reflect patterns of behavior."
A Picture Doesn't Always Tell a Thousands Words
That's a whole other factor. A picture can only tell you so much—which is not very much at all.
"When you look at two people in a photo or video and attempt to analyze them you need to look at a number of different things like position of their feet, facial language, hands, head position and body posture," agreed Glass.
"You can't just look at 'proximity' in this green line theory and come up with a conclusion. It is like looking at the tail of an elephant and describing an elephant by its tail instead of describing the whole elephant—mass, ears trunk, legs."
Cobb provided one last anti-green line rule message: "If leaning in shows weakness, then we should all strive to be weak in our relationships because your partner will feel more love by your closeness than any physical aloofness."
Correction 04/27/22, 5:24 a.m. ET: This article was corrected to attribute a quote to Blanca Cobb.