What Is the Green Line Test? Viral Relationship Rule Explained
The "green line rule" theory has been taking over online and according to some, it can tell you a lot about your relationship.
Following the "green line rule," the way a couple stands next to one another, especially when posing for pictures, is a prime indicator for their dynamic and exactly who is in charge.
Newsweek spoke to body language experts who debunked the entire incel-endorsed theory, dubbing it "simply not true," but that hasn't stopped it from spreading online as social media users rush to try it out on their own relationship pictures.
TikToker @jackmacbarstool set the trend into high speed last week when he analyzed the internet-breaking image of Kim Kardashian and Pete Davidson. As per the "green line rule," Davidson was very clearly leaning into Kardashian, something the rule doesn't suggest is hopeful.
"Ladies, if your man is leaning in like Pete in this and does not pass the green light rule, it's time to consider and come to terms with the fact that you are not dating a man, you are dating a child," recommended Mac.
What Is the 'Green Line Rule'?
According to the rule, the individual leaning into the other person, who is standing straight instead, is the one with the strength and power in the relationship. The one leaning is the one "entering the world" of the other.
The rule, its believers suggest, can be applied accurately to all relationships from just photos. Mac in a follow-up video used Prince Harry and Meghan Markle, Brooklyn Beckham and Nicola Peltz and Jada and Will Smith as other examples - all of them showed the woman in the couple standing straight, meaning they "failed" the test.
But the test doesn't exactly have scientific backing. In fact, it was simply invented by a Twitter user who has a history of discussing pick-up techniques and incel-backed theories like the "red pill."
According to the original theory, as explained in the tweets: "When a man leans into his girl, he reveals that he feels needy and lower value. He reveals that he has a weak mindset, and that he feels dependent on her.
"This is exactly what turns her off. She is looking for strength and confidence in a man, not weakness."
The suggestion of the "green line rule" went viral on Twitter after its introduction in 2020, but it was mocked as much as it was supported. It sparked the "Don't lean in" meme, which joked about men steering clear from leaning into their partners.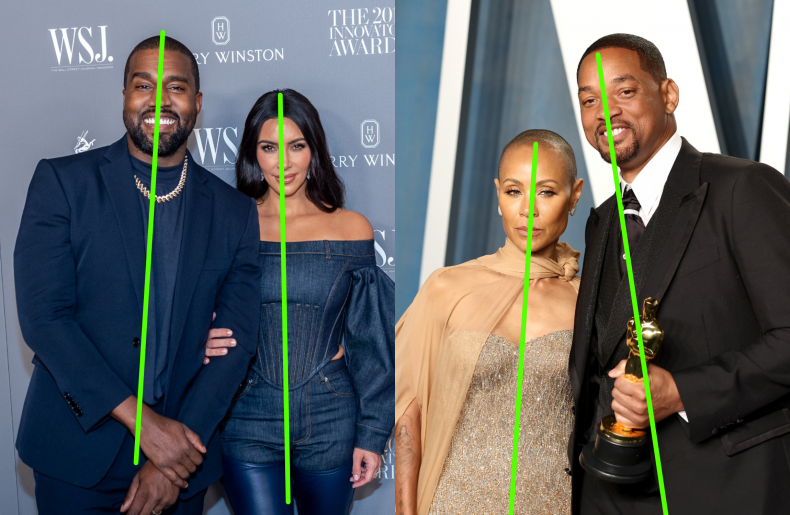 Now, It's Viral on TikTok
Not only did Mac's video alone go viral, but the audio has since become a trend as people attempt to apply the rule to their own relationships.
For the most part, TikTokers' relationships are proving unsuccessful with the test, as videos show men leaning into their girlfriends. It's not something that seems to worry them though, as they pair the clip with songs like "Material Girl".
Update 04/27/22, 6:25 a.m. ET: This article was updated to include a link to another Newsweek article on body language experts' opinion of the "green line rule."