'Scientifically, the Right Year' to Implement Green New Deal 'Was Yesterday,' 2020 Hopeful Pete Buttigieg Says
2020 presidential hopeful Pete Buttigieg has said that the United States is already lagging behind in addressing the threat of climate change, arguing in support of a what has become known as the Green New Deal.
Buttigieg, the mayor of South Bend, Indiana, appeared on Fox News Sunday for an interview with host Chris Wallace to discuss his presidential campaign, which recently reached the 65,000 donor threshold to guarantee a spot in the first Democratic primary debate.
During the interview, Wallace questioned the 37-year-old mayor about climate change and the Green New Deal, a proposal to deal with issues both ecological and financial, which has been backed by the majority of Democratic candidates who have announced their 2020 ambitions.
Explaining what the Green New Deal would entail, Buttigieg said "it's a handful of pages laying out a goal for us to cut carbon emissions, before they lead to changes that really destroy our economy and any prospect for people in my generation to do well."
"I'm thinking about what the world's going to look like in 2054, when I get to the current age of the current president," Buttigieg, who if elected would become the youngest president ever, said. "And if we don't act aggressively and immediately on climate, it's not going to be a pretty picture."
Explaining that the U.S. must rapidly curb carbon emissions, Buttigieg said "the bottom line is, scientifically, the right year to do that was yesterday."
"We've got to do this," he added. "This time table isn't being set in Congress; it's being set by reality."
A December poll conducted by the Yale Program on Climate Communication and the George Mason University Center for Climate Change Communication showed that the majority of Democrats and Republicans support the Green New Deal. The proposal for the deal was formally put forward by Democratic Representative Alexandria Ocasio-Cortez from New York and Democratic Senator Ed Markey of Massachusetts earlier this year. The resolution sets ambitious goals to cut carbon emissions across the economy, from electricity generation to the agriculture sector.
NASA's most recent report on climate change revealed that 2018 was the fourth warmest year on record, and that nine of the warmest years have occurred since 2005.
"The key message is, the planet is warming, the long-term trends are extremely robust. There's no question about those trends existing however we slice it, and our understanding of why those trends are occurring is also robust," Gavin Schmidt, director of NASA's Goddard Institute for Space Studies in New York, said with the reports release.
Late last year, the United Nations also released a report warning that the world only had about 12 years to keep global temperature increases below a maximum of 1.5 degrees celsius, according to The Guardian . Otherwise, the risk of severe droughts, extreme heat, floods and widespread poverty is expected to increase significantly.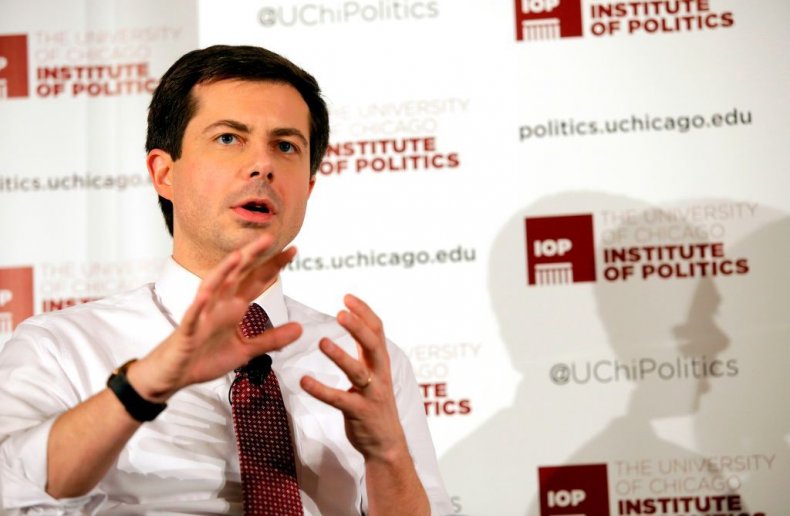 In a recent interview with Newsweek , Buttigieg explained that the negative impact of climate change is something mayors like him across the country are already forced to address.
"Right now it is unseasonably warm in South Bend, just 10 days after a polar vortex was starting to come to our community," the mayor explained. "A year ago something similar happened, the only difference is that there was a lot of snow on the ground. And the consequence was a 500-year flood," he continued. "That 500-year flood came after what we were told was a 1,000-year rainfall, causing flash floods in the city."
"To me climate change isn't something that's happening over in the Arctic, or in coastal cities or the Pacific islands, it's also something that's happening right here in the American Midwest and it's only going to accelerate," he warned.