Greg Abbott's Re-election Chances Dented by Texas Power Outages—Bookmakers
Texas Governor Greg Abbott remains odds-on favorite to win the gubernatorial election in 2022 although his chances have slipped slightly in the last week after he was criticized over his handling of power outages triggered by severe snow storms in the state, a leading bookmaker said.
Betfair said Abbott was still the "strong favorite" to win the Texas contest next November and was priced at 1-5—an implied probability of 83 percent, according to the bookmaker.
That had slipped slightly from odds of 1-10 (90 percent chance) he was offered the same time a week ago, before the Texas energy sector was plunged into chaos.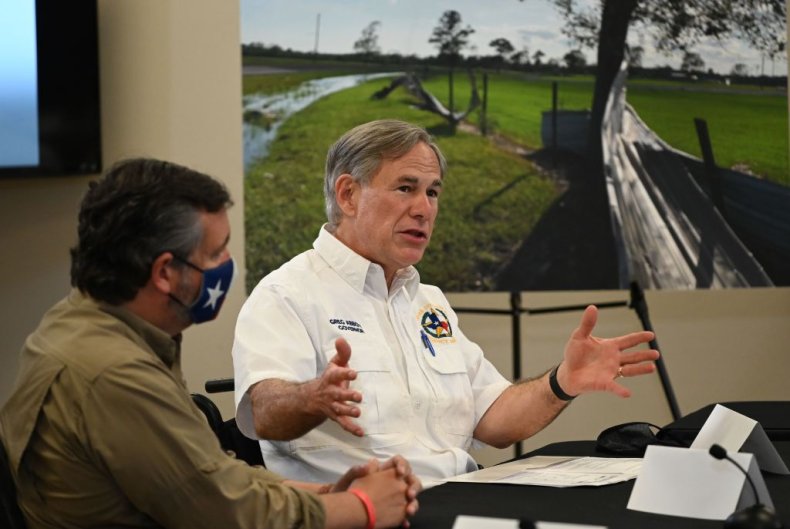 As Texas does not have gubernatorial term limits, Abbott has already announced plans to run for re-election to a third term in office.
Candidates for the Texas governor's race have until November to ensure the necessary paperwork is submitted and primaries will be held on March 1, 2022.
Abbott has been strongly criticized after the power grid in Texas failed amid a record winter freeze. Millions of residents have been left without electricity and heating for more than 36 hours.
The widespread blackouts and threats of more bad weather to come turned frustration to anger with residents asking why many living in the energy capital of the U.S. were still without power.
Abbott sought to blame wind and solar energy for the outages but the operator of the state power grid, Electric Reliability Council of Texas (ERCOT), instead said the problem was largely down to issues with natural gas.
Alexandria Ocasio-Cortez said Abbott appeared not to have "grasp on his state."
"I go offline a few days and return to a GOP Gov blaming policies he hasn't even implemented for his own failures," the Democratic representative tweeted.
"Gov. Abbott doesn't seem to have a grasp on his state, so here's a reminder: Texas runs 80-90% on fossil fuels. The real 'deadly deal' is his failed leadership," she added, referring to his opposition to the Democrat's Green New Deal proposal.
Abbott reportedly has a campaign war chest worth $38m to fight the upcoming election.
Beto O'Rourke, who represented Texas's 16th congressional district in the U.S. House of Representatives until 2019, is one possible challenger.
"I want to make sure that we have someone in the highest office in our state to make sure that all of us are okay," O'Rourke told Texas radio station KLAQ last month.
"Whether I'm a candidate for governor or I support someone who's a candidate for governor, I want to make sure that we have excellence in leadership and that excellence goes to every single part of the state, including ours."